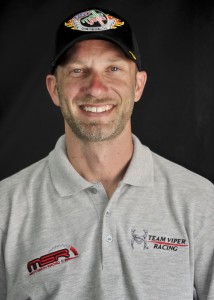 Matt Smith (left) feels right at home at zMAX Dragway, in part because he lives an hour away from the track that annually hosts the thrilling NHRA Four-Wide Nationals. That comfort level also comes from the fact that Smith, the reigning world champion in Pro Stock Motorcycle, won the inaugural race at the track in the class in 2010.
But with a testing schedule that includes frequent visits to nearby zMAX Dragway, the site of the only four-lane, all-concrete dragstrip, Smith revealed perhaps the most important reason why the facility could practically be considered a second home for his Matt Smith Racing/Stockseth Racing Buell.
"Since this track has been built I've probably made the most passes on it than anybody out there," Smith said, referencing his team's testing schedule at the track. "I feel confident we're going to run well. It's a really big race for us and we're going to hit it hard and go for that No. 1 spot right away in qualifying. We've got a target on our back this year but the best thing we can do is throw our best shot out there."
The NHRA Four-Wide Nationals, which take place this weekend in Charlotte, is the second of 16 races for the PSM class on the 2014 NHRA Mello Yello Drag Racing Series circuit. A year ago Spencer Massey (Top Fuel), Matt Hagan (Funny Car), Mike Edwards (Pro Stock) and Hector Arana Jr. (PSM) won at the Four-Wide Nationals, which will once again be televised on ESPN2.
For a variety of reasons, including each of the ones listed above, the Four-Wide Nationals is a favorite for Smith, who also won a world championship in 2007. Smith has embraced the unique and exciting challenges the races provides, and has zeroed in on what it takes to be successful at an event that can be a sensory overload for competitors.
"I love the Four-Wide race," Smith said. "It's just one of those races where I felt comfortable right off the bat. The key to being successful is running your own lane. If you focus on lane and do your job, it can be just like any other track. Once you start overthinking at a track like this that's when you're going to be in trouble. We have a great team that doesn't make a lot of mistakes. We've been consistent at going down the race track and that's huge in a race like this."
Smith also enters the Four-Wide Nationals with a chip on his shoulder after a self-admitted disappointing effort at the PSM opener in Gainesville. After qualifying second, Smith bowed out with a red light in the second round, denying the chance for Smith's three-bike team, which includes John Hall and Gainesville finalist Scotty Pollacheck, to advance to the semifinals.
It will be a four-bike team in Charlotte, as Smith's wife, Angie, will also compete against a loaded field. The top names in the two-wheeled class will be stacked across all four lanes and defending event champion Arana Jr. will face tough competition in his quest to repeat. Everyone is currently chasing points leader Steven Johnson and the likes of Eddie Krawiec, Andrew Hines, Michael Ray and more of the two-wheel contingent will also try to add their names to the winner's list.
"I messed up on the tree at Gainesville," Smith said. "We've got two brand new motors and the biggest thing I wanted to work on since Gainesville is my reaction times. We've got a good baseline on these new motors now and it should be a really good weekend."
(Photos courtesy NHRA/National Dragster; Click to enlarge)