NHRA Sportsman racer Mark Sharrock has announced the formation of a new Top Fuel team to compete on a limited schedule in the 2023 NHRA Camping World Drag Racing Series.
Sharrock Motorsports has acquired the Top Fuel dragster formerly owned and built by NHRA Funny Car driver and team owner Terry Haddock. Haddock has a passion for teaching drivers and growing the sport of drag racing. He has trained and licensed over a dozen NHRA drivers, including some who have gone on to be team owners.
Haddock is working with the Sharrock Motorsports team as a consultant and will be training Sharrock Motorsports team driver Sydney Shaw as she begins licensing runs in the car in the coming weeks.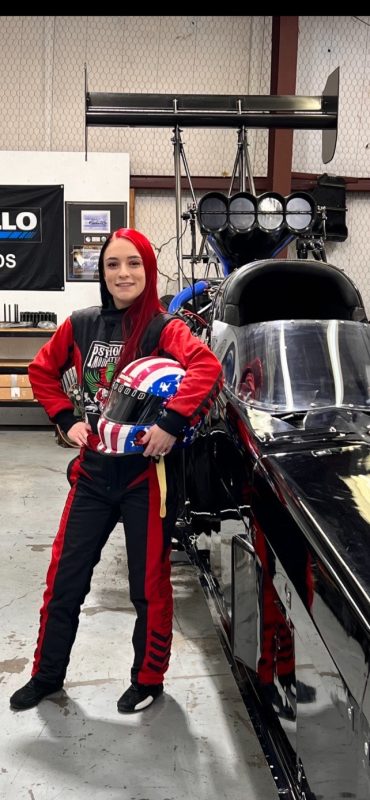 Shaw is an accomplished barrel racer who hopes to take her strength and abilities from the rodeo arena to the dragstrip.
Shaw, a Terrell, Texas, native, is looking forward to the opportunity to compete against the best Top Fuel drivers in the world. She stated she is proud to add her name to the limited list of female Top Fuel drivers who have successfully competed in the NHRA's top class. Shaw also stated she is excited to work with Haddock, who will be working hard to help Shaw develop her skills as she works to complete her licensing runs in the car.
Mark Sharrock, a Deputy Constable in Kaufman County, Texas, and a longtime sportsman racer, explains Sharrock Motorsports is a privateer Top Fuel drag racing team consisting of owner Sharrock, former Competition Eliminator standout and notable engine builder Ronnie Seeliger, veteran Super class driver and tuner Ricky Powell, as well veteran tuner Gary Robinson, Mike Viehe, and other volunteer crew members.
The team is currently slated to race a limited schedule in 2023 with hopes of gaining financial assistance to expand the program by 2024 in an effort to allow Shaw the opportunity to compete for a Top Fuel World championship in the not-so-distant future.