Ron Capps closed out qualifying at the Route 66 NHRA Nationals by powering to victory in the Mission Foods #2Fast2Tasty Funny Car challenge on Saturday evening. Capps clocked a winning run of 3.941 seconds at 328.30 MPH aboard the NAPA AUTO PARTS Toyota GR Supra to defeat Terry Haddock, who suffered a mechanical malfunction on the starting line and was unable to make the run. By clinching his first #2Fast2Tasty win, the twice defending NHRA Camping World Series Funny Car world champion earned the $10,000 purse in addition to three bonus points which will be added to his tally when the points reset for the Countdown to the Championship playoffs in September.

"Since NHRA came around to talk to the owners and drivers last year about the possibility of running a program like this, I can tell you that everyone I've talked to was pumped because it took a Saturday of qualifying and made it insane," said Capps. "When we saw the first #2Fast2Tasty Challenge race in Phoenix and we weren't in it, we were bummed, so I'm so glad we got a chance to be a part of this specialty race this weekend. We've always concentrated on racing on Sunday, and this #2Fast2Tasty Challenge completely flipped everything upside down in a great way, so thank you, Mission Foods for doing this. Such a great program, and so excited we won it today."

Capps earned a spot in the Route 66 NHRA Nationals specialty race when he advanced to the final round at the NHRA Winternationals in Pomona, Calif. earlier this season. During the first round of the #2Fast2Tasty Challenge, Capps squared off against his semifinal opponent from the "WinterNats," going toe-to-toe with Bob Tasca during Q2. Like many of their competitors, both Capps and Tasca struggled to get down the track, but Capps' woes occurred further down, allowing him to capture the win with a 4.127 E.T. versus Tasca's 4.996-second effort.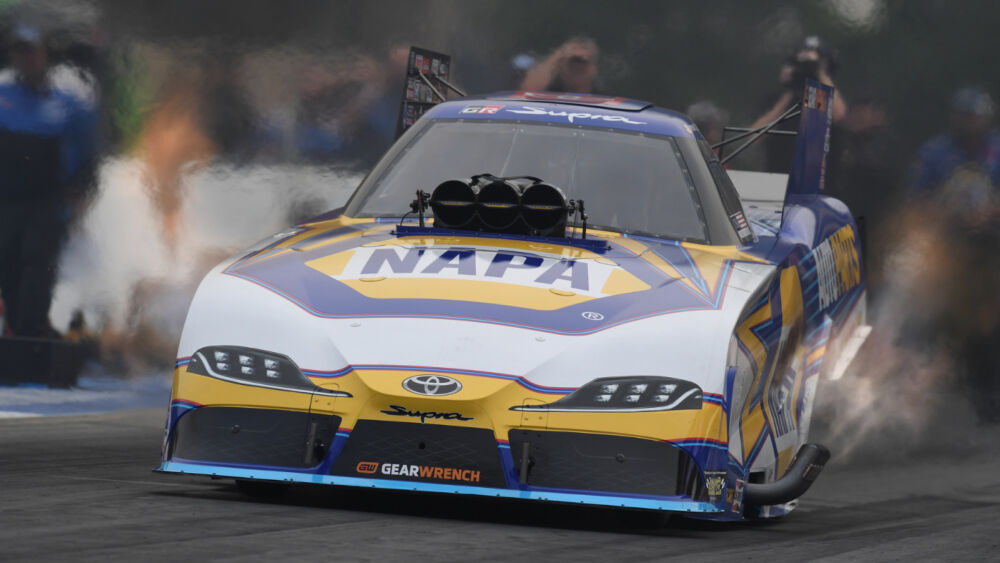 When Capps and the NAPA team pulled up for the third qualifying session and their final round match-up versus Haddock, they hadn't yet completed a full pull down the Route 66 Raceway track, but crew chief Dean 'Guido' Antonelli had the winning combination dialed in and sent the NAPA Supra rocketing down the 1,000-foot stretch.

"We haven't raced here in a long time. The fans packed this place, so, thank you to them for showing up, and thank you for being so patient with all of the teams. These crew chiefs are battling a track that hasn't been run on in four years. NHRA has been putting in long hours to get this track prepped for us, so it wasn't for lack of effort, it's just a tricky track. But, the rubber got better, and we were last pair to run in Q3, so the conditions got better and better by the time it was our turn to run," Capps explained of the challenges crew chiefs faced throughout qualifying.

Capps' 3.941-second Q3/#2Fast2Tasty final round run propelled him up to the No. 6 seed and set up a #2Fast2Tasty final round rematch with Capps slated to line up against Haddock once again on Sunday morning.

"I love what he does," said the two-time Route 66 Raceway winner about Haddock, a part-time racer. "I would bet 99% of the fans were cheering for him today, and I would be too if I was sitting up in the grandstands. He grinds to get out here. They're true racers, they do whatever it takes to come out here and compete, and it takes me back to when I was a kid. They're out here grinding because they love it, and I love that about them. I'm glad we won, of course, but I wish we could've raced them in that final round."