He only wanted to earn a trip to the NHRA U.S. Nationals.
For Competition Eliminator racer Rick Brown, he's not only in the driver's seat for the $50,000 Rooftec NHRA Competition Eliminator Cash Clash, the special race-within-a-race at the Dodge Power Brokers NHRA U.S. Nationals at Lucas Oil Indianapolis Raceway Park, but he could also get paid handsomely ($30,000) if he drives away with the win over 15 other contestants participating in the Rooftec Comp Eliminator Bonus Fund.
Brown faces a monumental challenge starting on Thursday, as the NHRA's Div. 4 Lucas Oil Drag Racing Series heads to the Texas Motorplex for the double event, May 18 – 21, at one of the wonders of the drag racing world outside of Dallas, Texas.
No driver has won a second Competition Eliminator race title in a season where all three NHRA D4 events have filled a 32-car field. This is why Brown has been sharpening up his index strategies for the upcoming race.
"I had my chance to win a second one," Brown said. "I held the car. You have to make up your mind. Do you want to have more index for the rest of the year, or do you want to run a race and take the lead in the points even more? And I made a choice."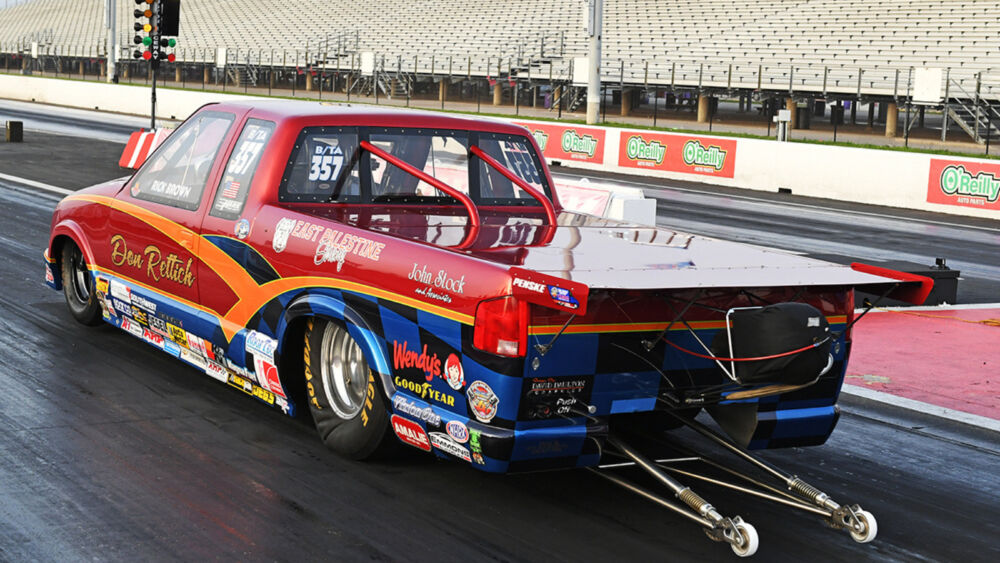 Brown currently leads series sponsor Rodger Brogdon by one point, while Craig Bourgeois sits in third place, 21 points out of the lead. If he can hold the lead through the end of the NHRA FallNationals in October, also at the Texas Motorplex, Brown can win $100,000 if he emerges as the Rooftec Competition Eliminator Bonus champion.
Brown knows it's like a poker game when one has to know when to hold and fold. Competition Eliminator is a class of strategy that transcends reaction times and win lights.
Brown scored his first win in the Rooftec Competition Eliminator Bonus fund by winning the final NHRA drag race held at Houston Raceway Park in April. He was only the No. 12 qualifier in a 32-car field. He stopped heavy-hitter Craig Bourgeois in the final round.
At 71 years old, Brown said he's proud to be part of something big.
"I've always wanted to be part of an organization, and that being NHRA, any kind of a fund or a championship of any kind, you always want to do your best at what you can do at these events," Brown said. "To be part of this Rooftec Comp Bonus Fund is the biggest thing that I've ever been a part of in my lifetime, other than going for the division championship, which I won twice, or winning national events.
"The only thing I haven't been able to do is to win the national championship, which would be a dream of most people's lives. I've been in the Top 10 many times in almost every car I've driven since 1989. I really love doing this. I just can't explain."
As Brown understands, it's self-explanatory if he wins big at the Texas Motorplex.