Long before Mark Charcalla parked his 1990 Ford Mustang in the winner's circle at North Carolina's Farmington Dragway after winning the richest stick-shift race in history, he was once a teenager back in 2000, gazing admirably at this same car, even though the eye-catching Ford was already 10 years old and had more than 300,000 miles on the odometer.
[Editor's Note: This story originally appeared in DI #184, the State of Drag Issue, in September/October of 2023.]
Charcalla didn't care that this raspberry red Fox-body Mustang had seemingly seen its better days. He'd always wanted one, and he wasn't about to pass up the opportunity. A guy in town owned the car, and it just so happened that he wanted Charcalla's Ford Ranger that he'd equipped with a V8 engine. A trade was negotiated, and Charcalla wound up with the worn-out Mustang equipped with a 5.0 engine and factory 5-speed. Fast-forward 22 years and it's safe to say that the trade has served him very well.
Charcalla and his family are lifelong natives of North Bend, Pennsylvania, and have been regulars at Beaver Springs Dragway for decades. While Charcalla couldn't wait to take his new toy to the dragstrip right after he bought it, the Mustang was clearly in need of some TLC. "The car was pretty much worn out when I got it, so the modifications started immediately," he recalls. "I think initially we swapped rear-end gears and put an exhaust on it."
Soon afterward, Charcalla rebuilt the engine, installed a different cam, a set of aluminum heads, and a different intake, and swapped carburetors. "When I first took it to Beaver Springs, it ran like 14s in the quarter mile and I hardly had a clue how to launch a stick car," Charcalla says. "After watching other people do it and asking questions, I realized I had to feather the throttle – we didn't have line-locks or two-steps in those days."
Charcalla probably made 10-12 passes that first night at Beaver Springs. "I finally got the car down in the 13s that night," he remembers.
Even though Beaver Springs is his nearest dragstrip at approximately 77 miles away, it's all back roads from rural North Bend and takes every bit of an hour and 45 minutes to get there. The drive was well worth it, though, especially in the early 2000s when Charcalla first got the Mustang. "Back in those days, there were easily 40-50 street-driven stick cars that would show up at Beaver Springs on a Friday night…so many of us, in fact, we had our own stick-shift class that ran on Friday nights."
The stakes were pretty high, too, as these gear-banging zealots battled it out every Friday for a pizza and $5 worth of racing gas. "Yep, that's what we raced for in those days!" laughs Charcalla.
With every pass in the Mustang, the desire was to go faster, which is only the natural progression in racing. Several decades later, the Mustang still retains the factory look – even the side mirrors are still attached – but the car now performs anything but stock, clocking 8.50s at 157 mph in the quarter mile, with plans to take it into the 8.40s soon. The car consistently runs 5.40s in the eighth mile at around 126 mph.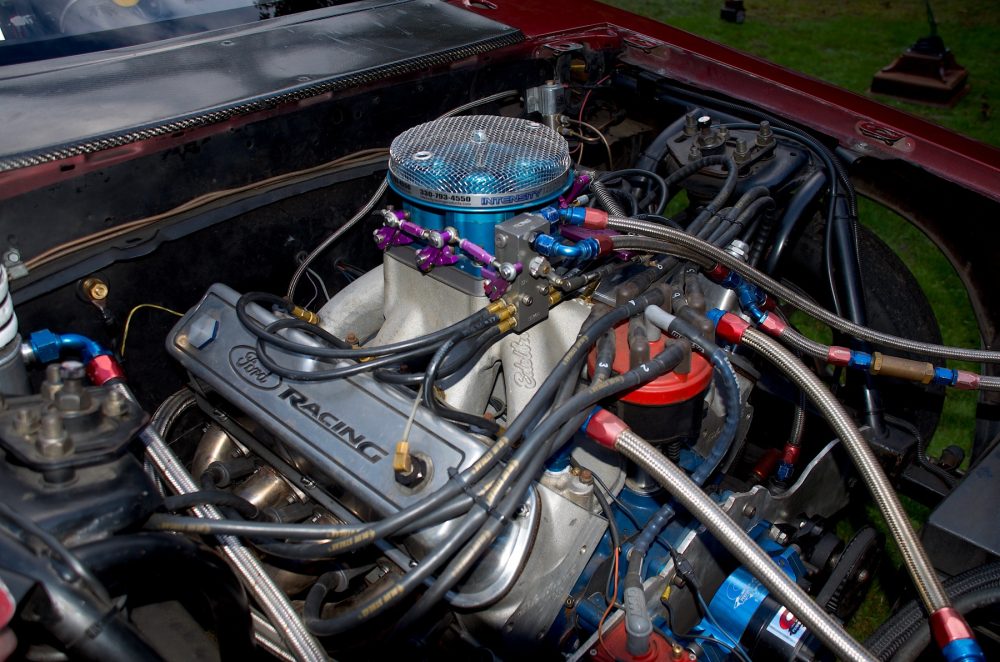 Over the years, the car has been stripped of anything that wasn't necessary, now weighing in at just 2,500 pounds with driver. The Mustang is motivated by a 429 small-block Ford powerplant built by Jim Stugart. Charcalla uses a Ram Pro Billet 10-inch clutch and a Leonard Long G-Force clutchless 5-speed, which transfers the power to the Mickey Thompson slicks mounted on Champion wheels.
"Leonard Long and the whole crew are top-notch people," Charcalla said of his transmission builder. "I've ran every transmission he's made in the Mustang. That latest GF2000 shifts like butter, and it's maintenance-free for me."
The car was back-halved a few years ago to accommodate larger tires. "I'm on a two-year plan with tires, though. I'm a poor racer – I gotta make 'em last two years!" he laughs.
After all these years, the desire to go faster still gnaws at him, but then reality sets in. "I have to remind myself that the chassis is probably at its limit without putting a different cage in the car," Charcalla admits. "We built this thing ourselves in our garage using mail-order tubing and a Harbor Freight tubing bender!"
Mark's dad, Mark Charcalla Sr., and his uncle Andrew are also drag racers who've been converted to the stick-shift movement. "My dad owned a dragster at one time, but he sold it and the following week drove to Virginia and bought a Ford Falcon that we put a stick in," says the younger Charcalla. "Then my uncle Andrew made a pass in one of Leonard Long's cars, and after that he was hooked, so a stick then went into his Mustang."
All in total, seven members of the Charcalla family race in some form or fashion, including Mark's son, Landon, who races a Honda Grom at Beaver Springs.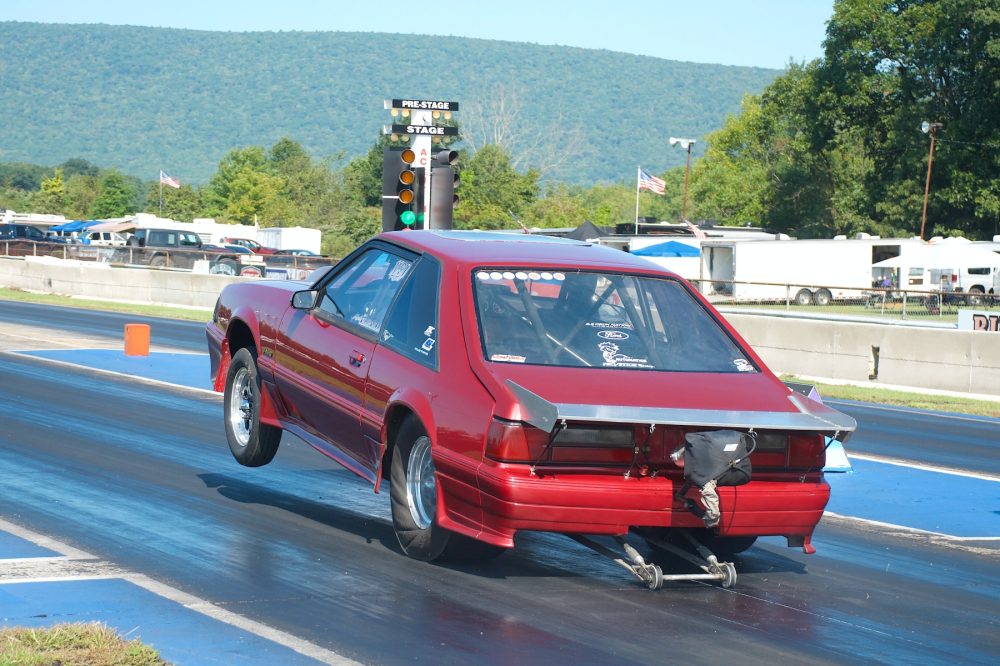 The Charcallas are also regulars on the Pro Stick tour, a stick-shift organization that schedules 12-14 events a year at venues such as Beaver Springs, Maryland International Raceway, and Keystone Raceway, to name a few. Mark won the Pro Stick championship in 2012 and placed runner-up in 2021.
"Last year was a great year of racing in Pro Stick," he says. "The championship came down to the last race at MIR, and there were probably five different drivers that could have won it. My dad and uncle and myself all placed in the top six in points."
That brings us to his most celebrated win ever: the Stick Shift Nationals, held at North Carolina's Farmington Dragway each June. The race is famous for a couple reasons, namely its free-entry format and three separate events to cash in big, including Saturday's main event that pays $10,000.
Charcalla had a particularly good outing during the most recent running, scoring a runner-up finish in the Friday night gamblers race, then going the distance in Saturday's main event thriller to collect the 10-grand payday. "For our kind of racing, there's just nothing that compares to that event," Charcalla says, "and I still have strangers coming up to me at the track and congratulating me for winning that race!"
Charcalla, who turns 40 his next birthday, has had quite a history with his beloved Mustang, including driving it to high school, making his first pass ever down a dragstrip in the car, and eventually winning the richest event and largest gathering of stick cars in the nation.
Other than making some passing in his dad's Falcon, his 1990 Mustang is the only car he's ever raced…and that's just fine by him. "I can see myself drag racing forever, and I'll also have this car forever," Charcalla says. "Even if the stick-shift scene fizzled out, as long as I can get parts, this car will always have a stick in it!"