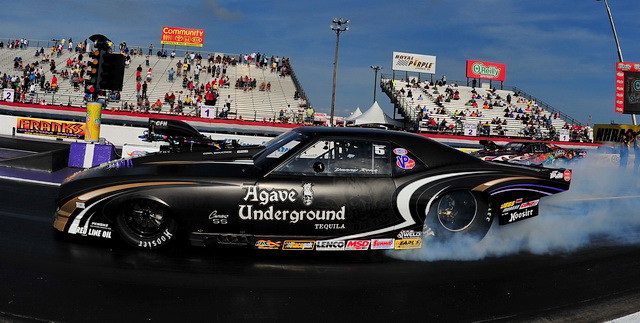 The Real Pro Mod Association (RPM) announced Mar. 9, that it will reward its members participating in the NHRA Pro Mod Series with cash and prizes.
"We are extremely excited about our 2014 program," says Real Pro Mod Association liaison and longtime proponent of Pro Modified drag racing John Waldie. "This group has worked tirelessly alongside NHRA on a number of programs for our racers. We're thrilled to have the program finalized and get this information out to our racers."
NHRA this week announced to competitors in the class that it will pay prize money of $10,000 to each event winner and $3,000 to each event runner-up.
The RPM Association is pleased to announce that at the NHRA Pro Mod Drag Racing Series season-opener in Gainesville, Florida, dues-paying members who participate will earn $750 for finishing in the semifinals, $500 for quarterfinals and $300 to qualify.
"We are very proud to have put together a number of great relationships with new marketing partners for the 2014 NHRA Pro Mod Drag Racing Series season including Powerocks, J&A Services, JEGS, Aeromotive Fuel Systems and Precision Turbo & Engine, as well as a recently finalized partnership with Redhorse Performance, Inc. – a leader in fuel line fittings, hoses and hose ends that will benefit RPM member racers," says Waldie.
"We've also worked with a number of RPM sponsors, such as Mickey Thompson Tires & Wheels, to offer RPM member racers special awards, drawings and raffles that we'll organize at each event during pre-race driver's meetings.
"The manufacturers are really stepping up to provide us with some great product to put in the hands of our racers," continued Waldie. "We're very appreciative to everyone who's jumped at the opportunity to get involved."
In addition to purse money, NHRA has also developed one of the largest contingency programs for any class with more than 40 companies posting a collective $280,000 in prizes for the 2014 season.
NHRA Pro Mod Drag Racing Series year-end championship points funds of $50,000 to the first place finisher and $20,000 to the second place finisher were also released this week, and will be awarded at the annual banquet following the conclusion of the 14th annual NHRA Toyota Nationals in early November.
The 2014 NHRA Pro Mod Drag Racing Series gets underway March 13-16 at the 45th annual Amalie Motor Oils NHRA Gatornationals in Gainesville, Florida. The traditional East Coast opener is one of drag racing's most revered events with a rich tradition of history-making performances. Gainesville Raceway, a truly hallowed drag strip, has entertained spring-break-loving race fans for over four decades and will continue to do so in 2014 with better than two-dozen five-second, 250-plus-mph capable Pro Mod cars and their colorful, courageous and flamboyant drivers.
To learn more about the Real Pro Mod Association and NHRA Pro Mod Drag Racing, visit www.realpromod.com.