Leah Pruett powered to the provisional No. 1 spot in Top Fuel on Friday, as the Tony Stewart Racing standout looks to pick up her second straight No. 1 qualifier of the 2023 season at the Summit Racing Equipment NHRA Nationals at Summit Motorsports Park.
Ron Capps (Funny Car) also was a provisional No. 1 qualifier at the ninth of 21 races during the 2023 NHRA Camping World Drag Racing Series season. Due to weather, only Top Fuel and Funny Car made qualifying runs on Friday. Pro Stock and Pro Stock Motorcycle are scheduled for two passes on Saturday.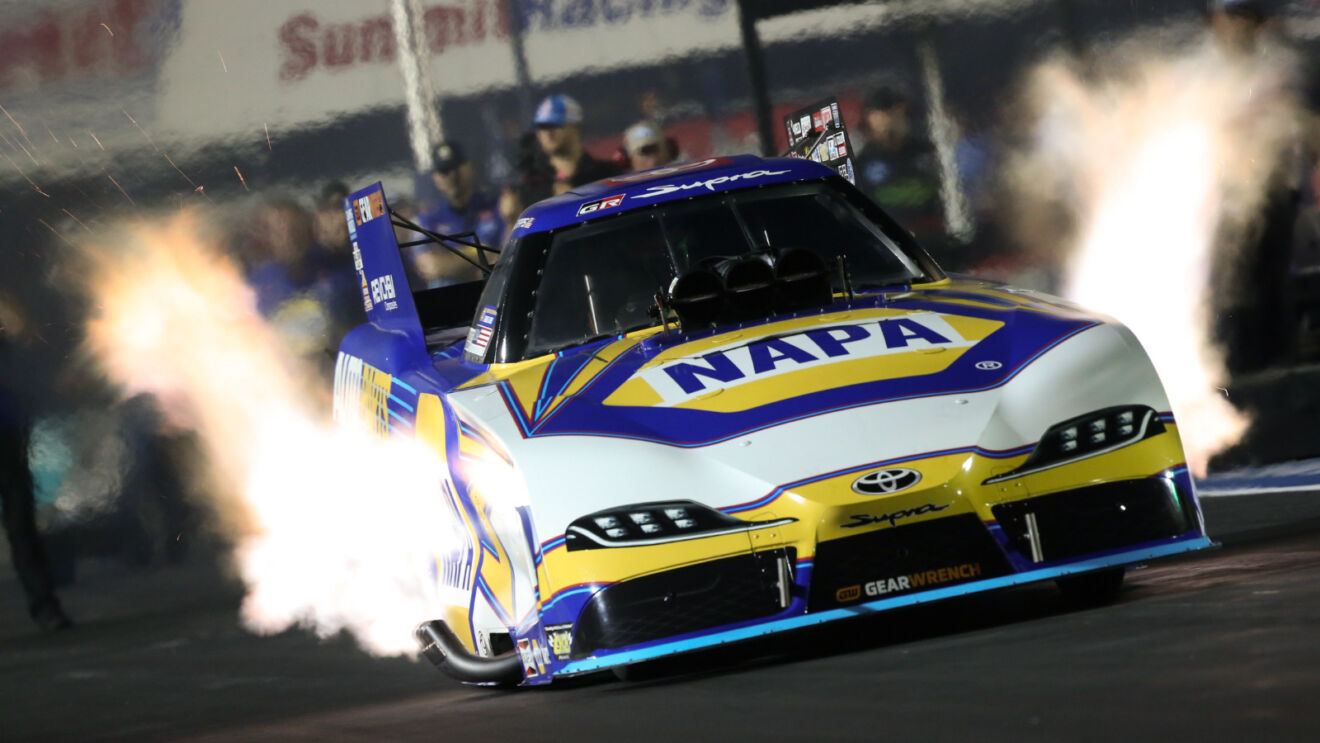 After a series of lengthy weather delays on Friday, Pruett drove her 11,000-horsepower Dodge Direct Connection dragster to a pass of 3.684-seconds at 333.08, putting her in contention for her 15th career No. 1 qualifier. She picked up her first No. 1 spot two weeks ago in Bristol and followed it up with a standout performance to kick off the race weekend in Norwalk. It continues a strong trend of qualifying performances for Pruett, who hopes to finish it off with her first win of the 2023 season this weekend.
"That was definitely the most exciting part of our whole day, and I would say our last two weeks," Pruett said. "(Crew chief) Neal Strasbaugh is pretty good about giving a target of what we're going to run, especially when we're later in the pack like that, but this time we really didn't know. The track was so good, and NHRA Safety Safari and Summit Motorsports Park did an incredible job throughout the whole day, making sure that the track didn't go away. I was ready to go fast, and like I said last time we were No. 1, it's one of my favorite things to do.
"There's no feeling like when you get that text that says Funny Car at 9 p.m. At that moment, everyone that's been wiping down the car and checking their notes for hours, at that moment you kick into high gear and turn it on. The fans got a good show tonight."
Steve Torrence made the other run in the 3.60s on Friday, going to the second spot with his pass of 3.688 at 332.10. Doug Kalitta is right behind, going 3.700 at 330.23, one of three drivers to make a 3.70 run during the lone session.
Capps continued his strong month as the back-to-back Funny Car world champion followed up his Bristol win with a stellar run under the lights, going 3.898 at 331.28 in his 11,000-horsepower NAPA Auto Parts Toyota GR Supra. If it holds, it would give the Funny Car points leader his second No. 1 spot this season and 38th in his career. Capps and his standout team waited through the lengthy weather delays and then put on an impressive show at night to close out Funny Car qualifying.
"Back in the staging lanes, I was getting in the car and watching the scoreboards light up and get better and better," Capps said. "Funny Car is so talented right now, it's incredible. I saw Guido [crew chief Dean Antonelli] come back in the box a couple times, and working on these cars when I was younger, I kind of know what he's thinking. It's kind of a cool thing, sometimes, and I knew he was going to get after it as soon as we saw a couple more 3.90 flats go up on the board.
"There's something to be said about turning this corner and seeing how many fans stuck around after the rain. So part of you is like, I'm not lifting. I'm going to go low E.T. for Guido and the guys. That was huge."
Alexis DeJoria continued her solid season, making the second-best run of the session with a 3.901 at 331.20. Hagan, who ran side-by-side with Capps, is a spot behind with a 3.905 at 328.70 with a handful of drivers right behind.
Qualifying continues at 1 p.m. ET on Saturday at the Summit Racing Equipment NHRA Nationals at Summit Motorsports Park.