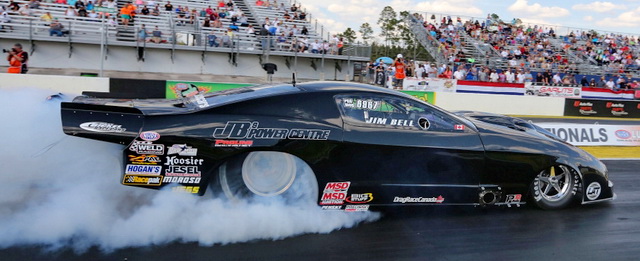 At this past weekend's Amalie Motor Oil NHRA Gatornationals at Gainesville, Florida, Canadian racer Jim Bell carded a career-best 5.959-seconds pass at 246.89 mph in his twin-turbocharged JB's Power Centre 2013 Mustang to qualify 15th in NHRA Pro Mod.
It set up a first-round pairing for eliminations against Mike Janis, who ran 5.862 at 247.93 to start number two in his supercharged 2012 Camaro.
"We knew it would be tough just to make the field this weekend against 27 of the best Pro Mods in all of North America," Bell stated after qualifying concluded Saturday night (Mar. 15). "We also felt that we could run with Mike with some minor tuning changes."
It was not meant to be, however, as Bell's car drove towards the center line shortly after launching and the Edmonton, Alberta-based driver had to momentarily lift just to remain in his own lane. Janis, meanwhile, also encountered traction problems of his own, but Bell ran out of real estate before he could recover in time to advance to round two.
"The car made the same move as it did in the final qualifier and it was all I could do to keep it in my lane. We had tested extensively prior to the Gators and the car was tracking straight at the launch and then out of nowhere we ended up with a race car that wanted to drive to the left just after the launch in the right lane at the Gators," Bell explained.
"We will work on the problem and if required make the necessary rear steer adjustments. Once we get that we should be able to run very close to the top NHRA turbo cars of Kevin Fiscus and Troy  Coughlin (who both posted 4.89s during eliminations)."
Bell and the JB's Pro Mod team left Gainesville tied for 13th place in the standings with 31 points. They congratulate Mike Castellana for his victory in the Pro Mod final over defending series champion Ricky Smith. Bell also thanked his crew chief, Rob Nascimento, tuner Jamie Miller and crew man Tyler Coots for their hard work in the season-opening weekend, along with his wife Barb for taking care of the crew at the track.
The next NHRA Pro Mod race is scheduled for Apr. 25-27, as part of the 27th annual O'Reilly Auto Parts NHRA SpringNationals at Royal Purple Raceway in Baytown, Texas.
(Photo courtesy Jim Bell/Dean Murdoch)