Around 30,000 spectators witnessed the kickoff of the 2023 European Drag Racing season May 26-29 at Santa Pod Raceway's FIA Main Event under almost perfect weather conditions. Over 230 teams from all over Europe met to battle it out on the famous quarter-mile strip in the Northampton area. A healthy field of 18 Pro Mods and six Top Fuel cars running in an eight-car field highlighted the entry list.
After Top Fuel qualifying was concluded, Susanne Callin sat on the top spot with a 3.840 at 320.20 mph, shortly followed by Ida Zetterström, who posted a best of 3.843 at 304.84 mph. Jndia Erbacher rounded out the top three with a 3.916 at 282.90 mph.
In the first round of eliminations on Monday, all three women advanced into the second round. Erbacher did so by beating Duncan Micallef with a 3.850 at 316.56 mph run to Micallef's 4.106 at 213.82 mph. Zetterström ran a stout 3.805 at 317.75 mph to beat a struggling Dennis Nilsson, whose engine had some wet pipes from the start, resulting in a big fireball and a coasting 5.753 at 108.73 mph. Callin won over a tire-smoking Stig Neergard with a solid 3.880 at 275.11 mph, while Neergard coasted to a 7.450 at 64.21 mph.
During elimination round two, Callin had a bye run into the final, so she only broke the beams for the sake of saving on parts. Zetterström beat Erbacher and her 3.945 at 252.19 mph run by resetting both ends of her own European records with a stellar 3.773 at 321.01 mph.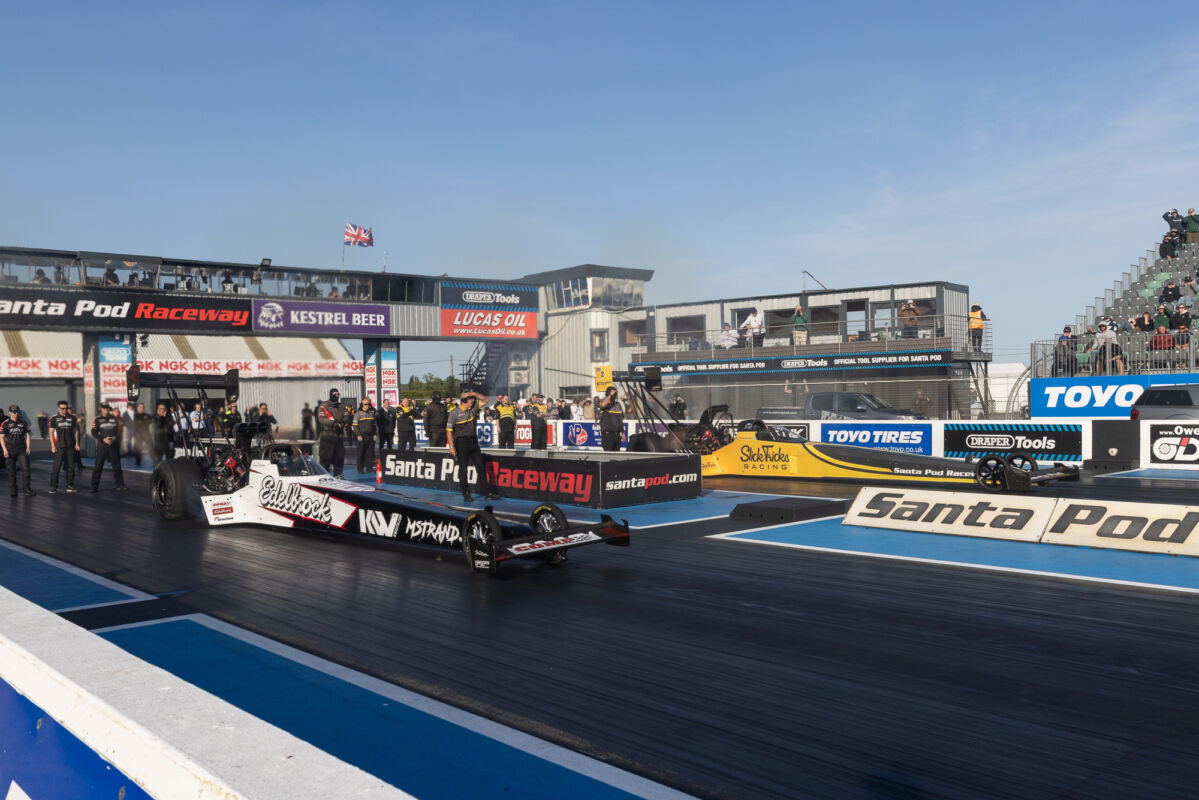 So it was Zetterström and Callin who were slated to run each other in the final. Zetterström was off the line first and never looked back, racing to a winning 3.803 at 311.95 mph while Callin went up in smoke just right after the hit, coasting to a 11.673 at 79.10 mph to become runner-up.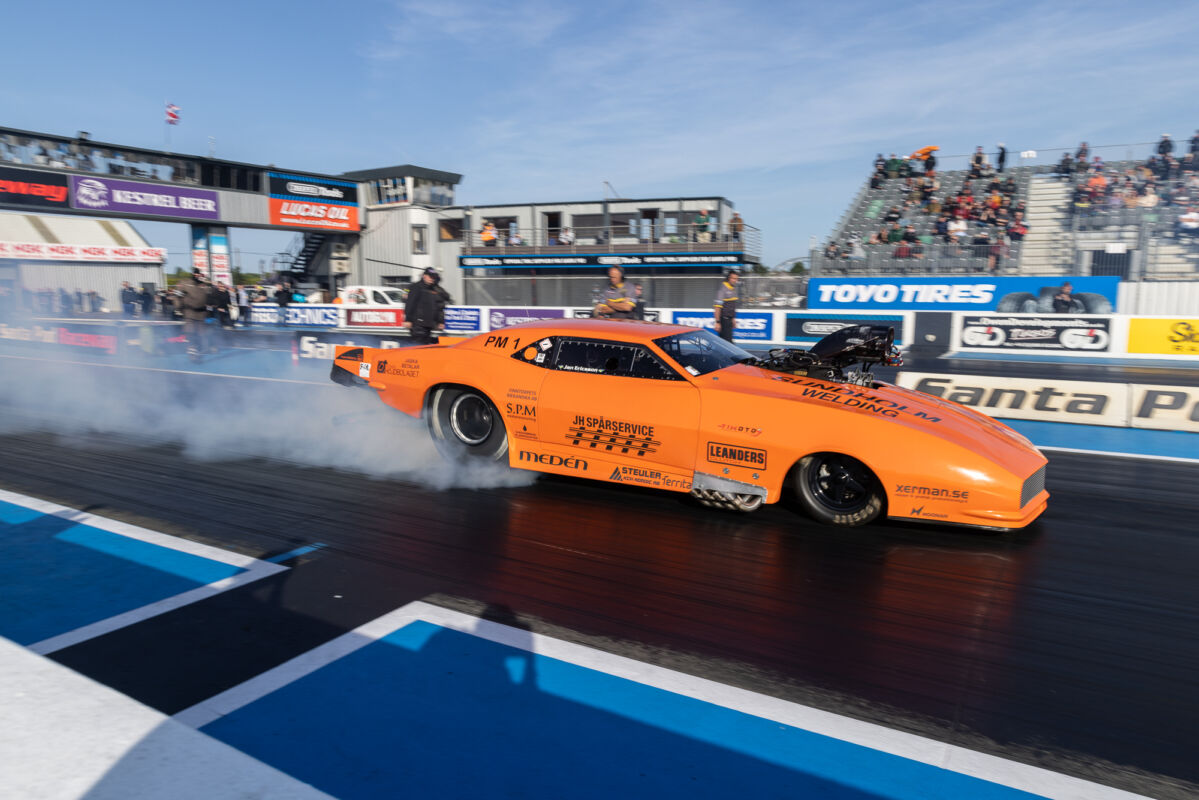 After having struggled a bit in the first three qualifying rounds, reigning Pro Modified champ Jan Ericsson was back to old form in the fourth round, coming out on top of the ladder with a storming 5.769 at 250.59 mph run. During eliminations, he went through the field running consistent 5.7s, beating Marcus Hilt in the first round and Mark Harteveld in the second to advance into the semifinal against Bruno Bader. Bader's car went into tire shake and made a hard turn towards the left. Bader hit the wall but thankfully did not sustain any injuries and was reported to be fine after undergoing a quick medical evaluation at the hospital.
Ericsson went into the final, where he met last year's event winner, Bobby Wallace. Wallace himself first beat Andy Robinson and secondly David Vegter to advance into the semis, where he met Andres Arnover. Unfortunately, Arnover suffered from engine problems and wasn't able to make the call, so Wallace just had to break the beams to easily advance into the final against Ericsson.
Wallace got sideways and had to lift, while Ericsson didn't take any prisoners and posted the low elapsed time of the entire event, a 5.743 at 250.61 mph, to the boards to take home the trophy and with it the points lead.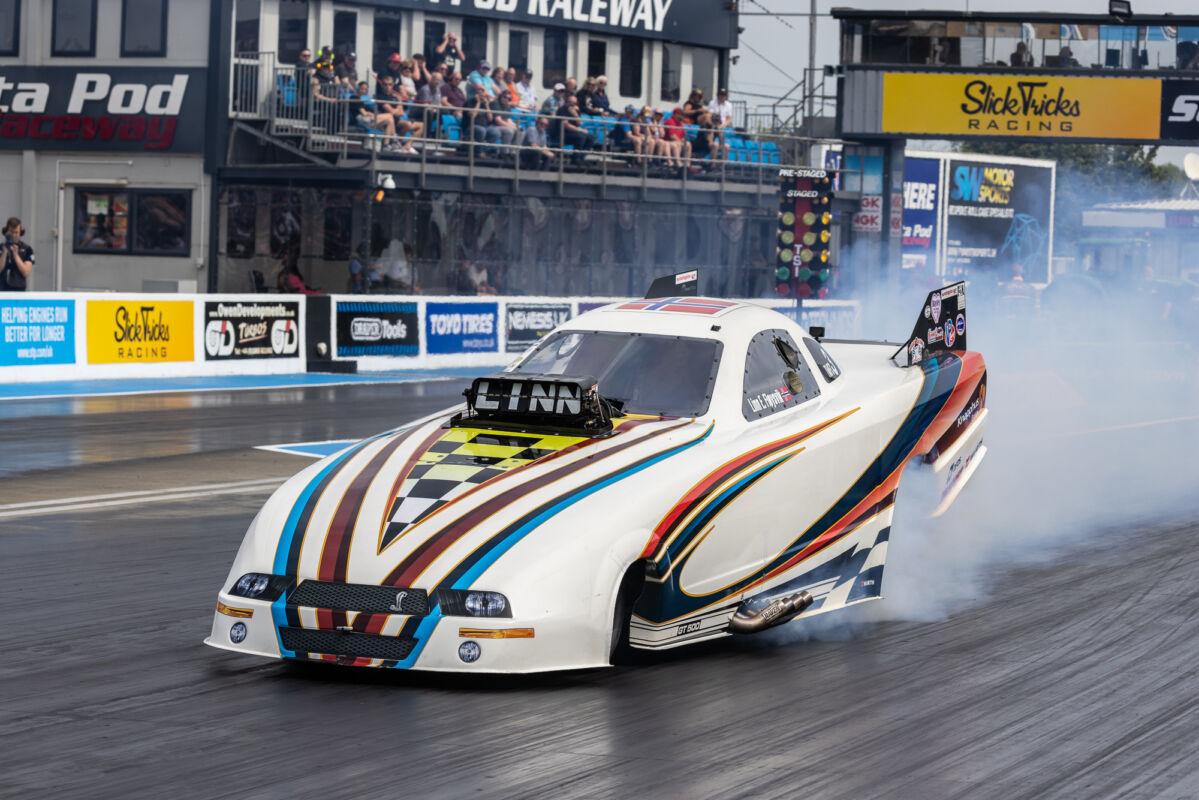 After all Top Methanol qualifying rounds had been contested, Sandro Bellio was sitting on top of the ladder with his best run of 5.500 at 267.19 mph to lead the pack of four. He squared off against Dragster pilot Silvio Strauch in the semifinals. Bellio with the starting line advantage but popped a burst panel during the run, which allowed Strauch to drive by him with a 5.517 at 263.51 mph. Funny Car pilot Linn Fløysvik beat Jonny Lagg in the dragster on the other side of the ladder to advance into the final against Strauch. Linn Fløysvik ran a new personal best of 5.5192 at 259.64 mph to defeat Strauch's quicker 5.446 at 262.08 mph on a big holeshot to earn her first win in FIA competition as well as the points lead.
Other highlights included a new Top Fuel Bike speed record of 260.65 mph ran by Rickard Gustafsson and a new Street Bike speed record of 230.22 mph by Alan Morrison Jr.
After a splendid weekend of racing, we're already looking forward to the next round of the FIA European Drag Racing Championship, which will be held at Tierp Arena, Sweden in June.
Other winners in their respective classes were:
Nitro Funny Car Cup: Kevin Kent
Nostalgia Funny Car: Tim Garlick
Comp Eliminator: Nic Williams
Fast Super Comp: Stuart Doignie
Super Gas: Pete Creswell
Pro ET: Kirstie Tramm
Super Pro ET: Joe Kellett
Street Eliminator: Al McSweeney
Junior Dragster: Luke Mugridge
Top Fuel Bike: Neil Midgley
FIM-E Super Twin Bike: Marcus Christiansen
FIM-E Pro Stock Bike: Bertrand Maurice
Super Street Bike: Alan Morrison
Junior Drag Bike Cup: Richard Willcox