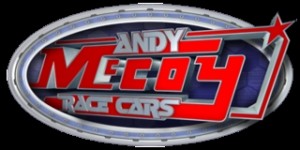 Since Pro Modified arrived on the drag racing scene in 1990, it and a number of related spin-off doorslammer categories have evolved at a tremendous rate, establishing performance records that class originators would have likely thought unattainable.
Evolutionary leaps forward in the design and production of racing engines, be they of the supercharged, nitrous-injected or turbocharged persuasion, unarguably have contributed greatly to this astounding escalation in speed and elapsed times.
Another major factor in the overall enhancement of the total package certainly has to be the design of more and more aerodynamically superior bodies, made with the latest in modern composite materials, lighter and stronger than ever before.
A leader in the high-tech world of state-of-the-art race cars, bodies and associated components is Andy McCoy Race Cars, of Washington, Missouri.  The company specializes in the fabrication of high-performance Pro Modified and Top Sportsman drag racing components, from chassis to competition-ready vehicles.
The organizers of the PDRA are pleased to be associated with this ground-breaking company for 2014, and are proud to announce that Andy McCoy Race Cars has put together a generous contingency program for racers using their products in the Pro Extreme, Pro Boost and Top Sportsman classes.
"We are very excited to have Andy McCoy Race Cars as part of the PDRA's sponsorship program for 2014," said Bob Harris, PDRA Race Director. "Andy is an accomplished racer and fabricator, and he and his team will provide the kind of credibility that will help us attain our long-term goals as a top-rated racing organization."
McCoy is an experienced competitor as well as a true innovator, and the latest creation to roll out of his composite shop underscores that point in no uncertain terms. On the heels of the successful introduction of the company's 1970 Plymouth Duster comes an amazing 1969 Chevelle, a long, low and altogether sleek and slippery classic Chevy, available in fiberglass, carbon fiber and ultra-lite versions. The top of the line offering is a clear carbon version which has to be seen to be believed.
"The Chevelle has really taken off," said McCoy. "Since we introduced the Duster in 2007 we have sold around 12 of them. Since the debut of the Chevelle in November of 2012 we have already sold 20, so it has become a really hot item. The first one we built was a clear carbon version for Russell Miller, and he'll be running it in Pro Boost with PDRA this season. As a matter of fact, we will be helping him as well as Terry Leggett at the races this year.
"We're really excited that we've got a stable eighth-mile organization to work and race with because as builders that's what we rely on," said McCoy. "If there's no organization like the PDRA then it makes it pretty tough to build race cars. We're very blessed and grateful that Jason Scruggs and the whole group behind PDRA have stepped up and created such a solid eighth-mile program. We can't wait for opening day!"