Usually in the Smoky Mountains of Tennessee, January is not the month you consider for drag racing, but YouTube personality "Turbo" John Phillips wasn't going to let some cold weather and snow bring down great no-prep racing. As the snow fell, racers still pulled into the gates of Knoxville Dragway for the first-ever "Backwards Brawl" featuring some of the best in back-of-the-track, small-tire action. With $10,000 on the line to the winner, we would see one of the best in Carolina street racing/no-prep take the crown.
Charles Corriher is no stranger to the no-prep/street scene. From starting out taking on racers in the street with his Tesla, he is now apart of the powerful no-prep group "Team Denver" and pilots "Patches," a turbo LS-swapped Fox body Mustang tuned by Jarrett Bradshaw.
Seventeen other racers separated Corriher from a $10,000 payday in Knoxville and he faced no easy races on his way to the finals. First round saw "Patches" battling local Jonathan Romine and his nitrous Mustang, moving on the below-freezing temperatures to a second-round matchup with Scotty Whitehead. Whitehead recently purchased Bobby Park's old twin-turbo LS Pinto, but he had issues and Corriher drove off with a win to the third round.
Corriher got the lucky break and drew the bye run third round, granting him a date in the semifinals with Jake Boswell. Boswell has become one of the baddest in back-of-the-track racing with his turbo LS Mustang, setting up a clash of no-prep titans between him and "Patches." With bets going in every direction as it was a 50/50 split amongst the betting crew on the line, flagman Destry Turner hit the light and Corriher jumped out a car and never looked back.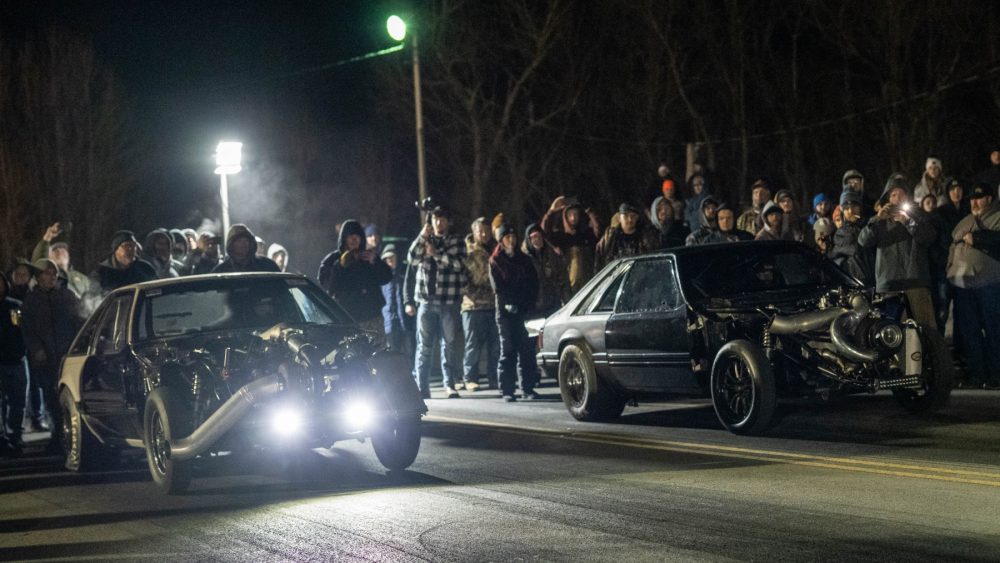 It was an all-Team Denver final at Knoxville as Corriher met his tuner, Jarrett Bradshaw, in the finals. These friends didn't hold back. Bragging rights were on the line as Bradshaw's "Willie Dynamite" left side by side with Patches, but it went into a power wheelie and Corriher drove away into the frigid Tennessee night, crossing the finish line first and putting $10,000 into his pocket.