Rickie Smith, Jason Harris, & Tommy Franklin have been nearly untouchable in NHRA Pro Modified and PDRA Pro Nitrous
MOORESVILLE, NC – While most of the drag racing community was enduring a harsh US winter, Pat Musi was making the most of a last-minute opportunity to refine his 903 cubic inch fuel-injected engine combination.
"The 2014 Arabian Drag Racing League series was about to begin in Qatar, and I didn't have any plans to be there," Musi explained. "Then at the last minute Shaikh Mohammad Al Sabah of Kuwait put together a deal for me to go over there and work with his Drag965 team. That set everything in motion to get us here."
By "here," Musi is referring to the top of the Pro Modified world.
Just three months into the 2014 racing season, Musi-powered cars have dominated the fast doorslammer arena. In NHRA Pro Modified competition, 2013 series champion Rickie Smith has led the way, while Jason Harris and Tommy Franklin have dominated in the Professional Drag Racers Association (PDRA) and Extreme Outlaw Pro Mod (EOPM) organizations. All three veteran racers use the Pat Musi Racing Engines 903 EFI powerplant featuring the new all-billet cylinder heads custom-built by Dart exclusively for Musi.
"In Qatar I had the opportunity to really test a lot of stuff and just repeat on the same track in the same conditions day after day," said Musi. "Robert Hayes and I worked with Rickie and his driver Mahana Al-Naemi, the EKanoo team, and Bader Khoursheed and the Drag965 team. All of us combined made over 150 runs and gathered invaluable data. We tested all-new EFI software and fuel maps and had completely revamped the Edelbrock fuel injection system after those 150 runs. That, along with the incredible new Dart billet head, has given us tremendous gains."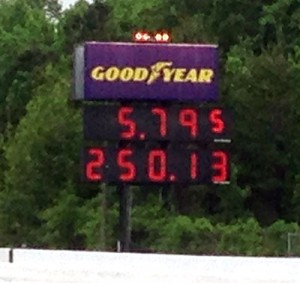 After a runner-up finish at the season-opening race in Gainesville, "Tricky" Rickie Smith, regarded by many as one of the best door car racers of all time, put on a jaw-dropping performance during the 34th annual Summit Racing Equipment NHRA Southern Nationals at Atlanta Dragway. Smith qualified number one with a track record 5.795 at 250.13 MPH, making him the first nitrous-assisted Pro Mod to break the 250 MPH barrier. His 5.778 elapsed time in the first round of eliminations set a new nitrous Pro Mod record and was only six one-thousandths of a second shy of a new national ET record. Smith then marched through the field in his IDG-backed, Jerry Bickel-built 2013 Camaro en route to his first win of the season.
"Like Pat said, we worked all winter and spent two months away from our families to work on this combination," Smith said from the Atlanta Dragway winner's circle. "This Musi 903 is just awesome, and now with these billet heads it's so durable. We're setting records and not tearing anything up, and that's a huge deal."
Meanwhile in eighth-mile competition, Jason Harris is undefeated in PDRA Pro Nitrous after scoring victories at the fledgling series' first two races. Harris' "Warbird" '68 Firebird built by Robert Hayes Motorsports has recorded more runs over 200 MPH in the eighth-mile than any other nitrous car to date; that power has carried him to consistent elapsed times in the high 3.70-second range and wins at the season-opening Spring Open at Rockingham Dragway as well as the Georgia Drags at South Georgia Motorsports Park.
Virginia native Tommy Franklin has had instant success with his new Jerry Bickel '69 Camaro, notching two wins in two races thus far in the EOPM series along with a runner-up finish at the PDRA Spring Open.
Musi's daughter, Lizzy, also made her Pro Nitrous debut at the PDRA Spring Open and wasted no time in becoming the first woman to break 200 MPH in eighth-mile Pro Mod racing.
"All the years of hard work are paying off," Pat Musi said. "Things started to come together this winter, and we've been able to carry that over to start the season in 2014. Now we're focused on maintaining consistency through the year and taking home a championship or two."