Friday's second qualifying session at the Drag Illustrated World Series of Pro Mod presented by J&A Service will be more than just another qualifying session. Over 20 grudge races are locked in to make up WSOPM Rivals Night this Friday, March 3 at Bradenton Motorsports Park.
Before WSOPM Rivals Night fires off at 7 p.m., take a look at the 22 and counting matchups that will add an exciting edge to Friday qualifying. Some of these are just for bragging rights, but many of them also have big money on the line.
Watch WSOPM Rivals Night – and all the action from the WSOPM – live on FloRacing.
PRO MOD
Jim Halsey vs. Jay Cox
One of the very first Rivals Night matchups to be announced, we'll see perennial PDRA Pro Nitrous hitter Jay Cox take on the four-time and defending world champion Jim Halsey. Cox has several wins in the class, but Halsey is coming off one of his best seasons that ended with a $50,000 win at the Snowbird Outlaw Nationals at Bradenton in December.
Steven Whiteley vs. Mike Bowman
Original World Series of Pro Mod fans will recognize this as a rematch of the 2017 WSOPM final round between Colorado's Steven Whiteley and California's Mike Bowman. Bowman has been out of the Pro Mod game for a few years to focus on Street Outlaws: No Prep Kings competition. He's back with a vengeance, though, as he's made a litany of test passes this week in his newly ProCharged Chevelle. Whiteley has been staying sharp in Mid-West Drag Racing Series Pro Mod competition in his screw-blown Camaro.
Rickie Smith vs. Scott Palmer
Where else will you see multi-time Pro Mod world champion "Tricky" Rickie Smith line up against Top Fuel veteran Scott Palmer? An unlikely pairing, sure, but these two are close friends who will become fierce opponents come Friday. Smith is in his nitrous-fed Mustang, while Palmer is the lone clutch-equipped driver in his supercharged '63 Corvette.
Bubba Stanton vs. Spencer Hyde
It's a classic North vs. South matchup between Canada's Spencer Hyde and Mississippi-based outlaw legend Bubba Stanton. The two originally had a big-money grudge race scheduled in Texas late last year, but Hyde wasn't able to make the trip. The race is back on, with Hyde in his screw-blown '69 Camaro versus Stanton in one of Jason Scruggs' screw-blown, late-model Camaros.
Lyle Barnett vs. J.R. Gray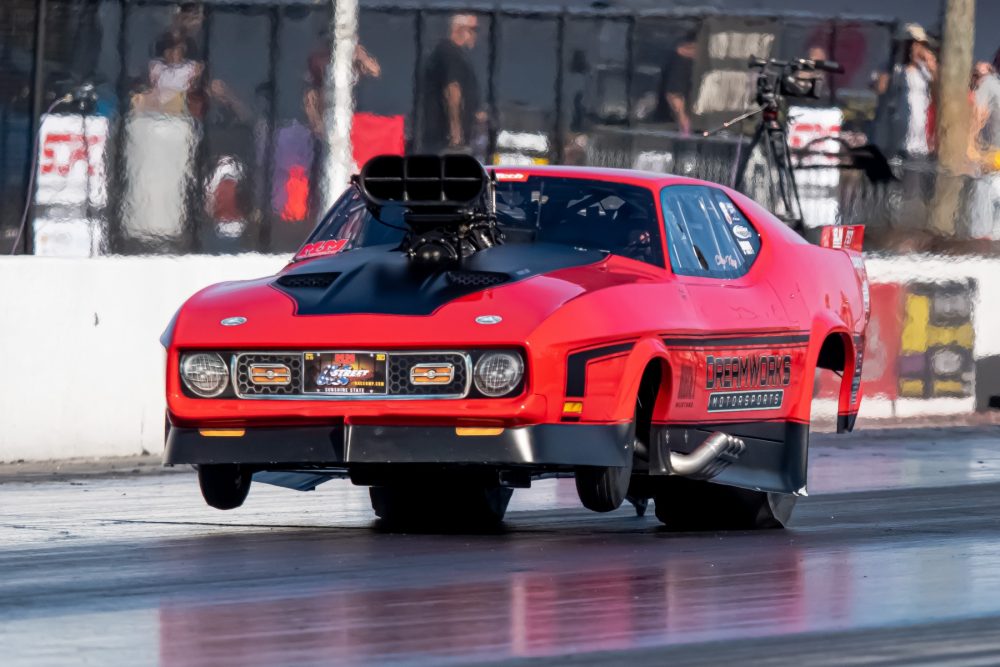 Two of NHRA Pro Mod's rising stars battled back and forth during their rookie season. When the two met up in a $10,000 grudge race during Snowbird Outlaw Nationals qualifying back in December, Barnett in Marty Robertson's screw-blown Camaro knocked out Gray in the Janis family's screw-blown Camaro. This time, Barnett will be behind the wheel of Chip King's roots-blown '67 Mustang.
Tommy Franklin vs. Keith Haney
It's the ultimate PDRA vs. MWDRS matchup! PDRA co-owner and two-time Pro Nitrous world champion Tommy Franklin will duke it out with MWDRS founder and Pro Mod standout Keith Haney in an all-nitrous pairing. Franklin will be in his Musi-powered "Jungle Rat" '69 Camaro, and Haney will be in his Brandon Switzer-tuned, Musi-powered "Black Mamba" Camaro.
Scott Wildgust vs. Rob Cox
Two of PDRA Pro Boost's toughest drivers are set to face off. Wildgust, a Canadian Pro Mod veteran, is piloting the screw-blown Smokies Garage '67 Mustang and Cox is the driver of his ProCharged Cox Trucking Camaro. Both drivers are capable of strong passes – Cox ripped off a 3.59 in U.S. Street Nationals testing in late January.
Mark Werdehausen vs. Mark Micke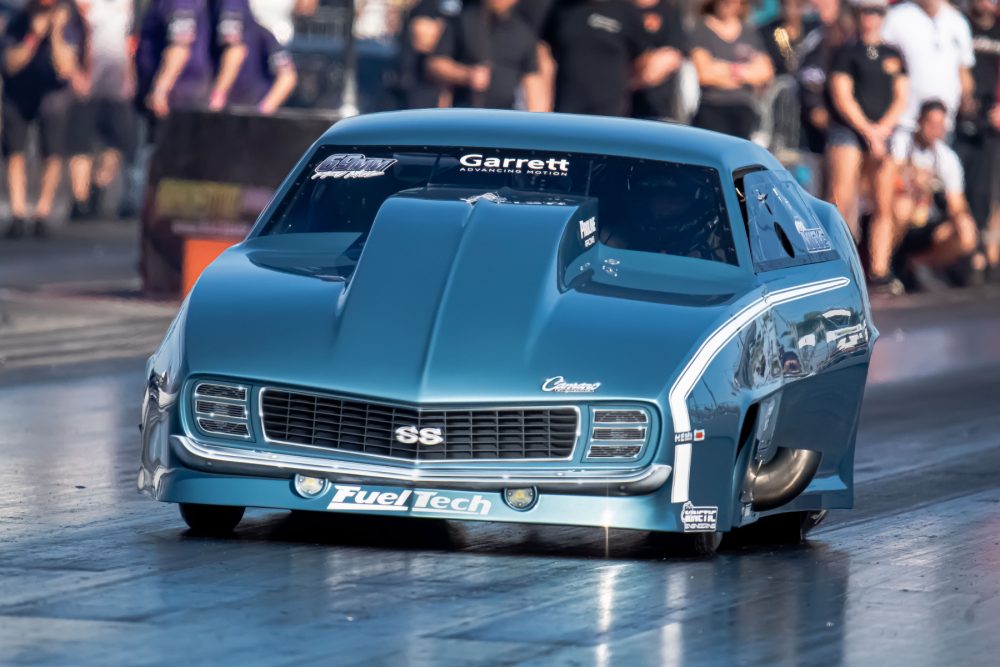 These Missouri-based hitters have been racing in the same circles for years. Both are known for their mechanical abilities along with their driving prowess. Werdehausen, better known as "Tydo," is driving the twin-turbocharged "Wolverine II" '69 Camaro that was built for and originally campaigned by the late Tim Slavens. Micke is going into just his second race with his new M&M Transmission twin-turbo '69 Camaro.
Tommy Cunningham vs. Craig Sullivan
In a class packed full of Camaros, these two guys do things a little differently. Cunningham, the owner of Stroud Safety, is rolling into WSOPM with his screw-blown '67 Mustang. Sullivan has one of the most photographed cars in the class right now, the screw-blown "El Mero Mero" '49 Mercury. It's show quality, but it also run well into the 3.60s.
Manny Buginga vs. Marty Robertson
Buginga and Robertson, two longtime outlaw/small-tire racers, have ventured into Pro Modified action. They both tried their hand at Street Outlaws: No Prep Kings competition last season, both with considerable success. Now, they're focused on making a splash in Pro Mod.
Jason Scruggs vs. Frankie "the Madman" Taylor
This matchup is for the fans of the now-defunct Pro Extreme category. Scruggs in a brand-new, screw-blown "Mississippi Missile" Camaro will pair up with Texas outlaw Frankie "The Madman" Taylor in his new screw-blown Yenko '69 Camaro. These two have raced countless times in Pro Extreme, and one of them will add another notch on their side of the scorecard.
Jason Harris vs. Travis Harvey
Two of the best drivers to emerge from Piedmont Dragway's Big Dog Shootout series will face off not in the nitrous-fed doorslammers that fans typically see them in, but in a pair of ProCharged Camaros. Harris recently purchased his from 2018 WSOPM champion Carl Stevens Jr., who took it into the 3.50-second range in testing before selling the car to Harris. Harvey will be steering the GALOT Motorsports entry, which he'll also drive throughout the 2023 PDRA season to compete for a Pro Boost world title.
Todd "King Tut" Tutterow vs. Mike Thielen
This was a surprising matchup when it was announced in the days leading up to the event. These two drivers aren't rivals, but Thielen, a relative newcomer to NHRA Pro Mod, wanted to call out "the biggest, baddest guy at the bar." The helicopter pilot did just that – Tutterow is one of the most prolific drivers in Pro Modified history, most recently securing his second PDRA Pro Boost world championship. He's also tuning or consulting on no less than six other cars in the field.
Jason Lee vs. Mike Decker Jr.
These names are perhaps most well-known by small-tire racing fans, as Lee is the 2022 FuelTech Radial Outlaws Radial vs. the World champion, and Decker is an Outlaw 10.5 veteran who is coming off his second consecutive Northeast Outlaw Pro Mod Association championship. Lee is driving Eric Gustafson's ProCharged Coast Packing '69 Camaro, while Decker is in his screw-blown Decker's Salvage "Big Change" late-model Camaro.
Mike "Hollywood" Decker III vs. Ty Tutterow
This is the first of two pairings featuring the young guns of Pro Mod. Decker grew up racing with his aforementioned father, recently joining him in Pro Mod with a matching screw-blown Camaro known as "Spare Change" after success in radial classes and Outlaw 10.5. Tutterow, the son of Todd Tutterow, is returning to driving this season after multiple years as his father's right-hand man in the pits and at the race shop. He's driving Tyler Jenkins' screw-blown '57 Buick.
Brandon Pesz vs. Randy Merrick
This one is as much a battle between two engine builders – PJS Racing in Pesz's lane and Wyo Motorsports in Merrick's lane. Pesz – the "P" in PJS Racing – is a veteran tuner and driver with success in multiple different Pro Mod classes, from NHRA Pro Mod to Pro Extreme. Merrick, another doorslammer veteran, is fresh off the 2022 NMCA Xtreme Pro Mod championship in his Jeffers-built, Tutterow-tuned '79 Corvette. Pesz is driving his "Headhunter" '53 Corvette as a teammate to Justin Jones.
Kurt Steding vs. Robert Abbott
Another North vs. South battle will see Pittsburgh-based contractor Kurt Steding square off against local Florida citrus grower Robert Abbott. The commonality between these two? They credit Todd Tutterow for calling the shots and building the engines in their screw-blown hot rods – Steding's P2 Contracting '20 Camaro and Abbott's '68 Camaro.
Justin Jones vs. Preston Tanner
The second young gun showdown is an all-C7 Corvette race between Texan Justin Jones and Indiana's Preston Tanner. Jones runs PJS power, while Tanner utilizes a Wyo Motorsports bullet. Jones has had success in MWDRS and NHRA Pro Mod, while Tanner won in PDRA Pro Boost and MWDRS Pro Mod last season. These are two of the brightest young stars in the class.
MOUNTAIN MOTOR PRO STOCK
Johnny Pluchino vs. Erica Enders
This is another matchup you'll only see at WSOPM Rivals Night. Pluchino, the two-time and defending PDRA Extreme Pro Stock world champion, called out Enders, the five-time and reigning NHRA Pro Stock world champion. Enders is at the top of the game in 500-inch Pro Stock, but she's making her debut in Mountain Motor Pro Stock. She's already made several solid test passes this week. Along with her usual Elite crew, she has Frank "The Flying Meatball" Gugliotta in her corner.
Jordan Ensslin vs. Dillon Voss
These two Florida-based young guns squared off a time or two in Outlaw 632, the increasingly popular eliminator that was popularized at Sunshine State tracks like Bradenton. Now that the two drivers have moved up to Mountain Motor Pro Stock, they're ready to line up Ensslin's "Seabiscuit" Mustang and Voss' "Bad Banana" Cavalier.
Chris Powers vs. Richard Freeman
An online war of words between Powers and the Elite Motorsports camp will come to life on the eighth mile as Powers, the 2021 PDRA Extreme Pro Stock world champion, squares off against Elite team owner Richard Freeman, who's making his return to Mountain Motor Pro Stock in the car formerly campaigned by JR Carr.