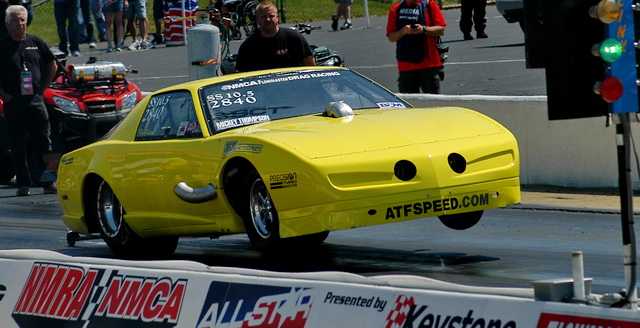 Effective Mar. 28, the NMCA Flowmaster Muscle Car Nationals has added a new category, Radial Wars, which will be sponsored by Mickey Thompson Performance Tires & Wheels. It will be contested in the eighth-mile distance and will compete in the five remaining national events on the NMCA schedule.
Class winners compete for an increased purse of $4,000 to win, plus pro level contingencies, and the ultimate prize: NHRA Wally trophies at NHRA-sanctioned tracks under the Aerospace Components NHRA Unleashed program.
The Radial Wars class debuts April 10-13, 2014, at Atlanta Dragway (Commerce, GA) with the Nitto Tire NMRA/NMCA All-Star Nationals, presented by Miller Welders.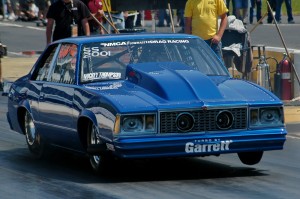 "I think it's a big step forward for NMCA and it's great to see them listening to the racers," said Tom Kundrik, Motorsport Manager at Mickey Thompson. He continued, "It's awesome for radial racing to have a sanctioning body where they can run for a championship and the NMCA is a great place for them to compete."
The 2014 Radial Wars champion will be recognized on stage at the prestigious NMCA Awards Ceremony, held each year at the Performance Racing Industry (PRI) trade show in December, and will receive a champion's jacket as well as a Nitto Tire Diamond Tree Championship Ring, which is exclusive to all NMCA class winners. All top-10 class competitors will receive custom embroidered leather jackets.
"We are thrilled to unleash this new class in the NMCA, which will incorporate our current Super Street 10.5W competitors," said Rollie Miller, NMCA National Event Director. "The NMCA is long known for its extremely well organized events with a full-time technical staff to ensure the rules are enforced, offering continuity across the board.
"The response to this move has been overwhelming as many of our current racers support it as well as the biggest names in radial racing," Miller continued, "The Radial Wars rules package is very similar to Radial vs. The World, which is contested all across the country. This allows an incredible group of racers to easily step into the NMCA brand of drag racing."
Radial Wars rules: http://www.nmcadigital.com/cat/rules_purses/docs/nmca/2014/2014-nmca-radial-wars.pdf
Purse: http://www.nmcadigital.com/cat/rules_purses/docs/nmca/2014/2014-nmca-payouts.pdf
For more information on Radial Wars, please contact NMCA Technical Director Dave Werremeyer at [email protected].
(Photos by Ian Tocher: Click to enlarge)