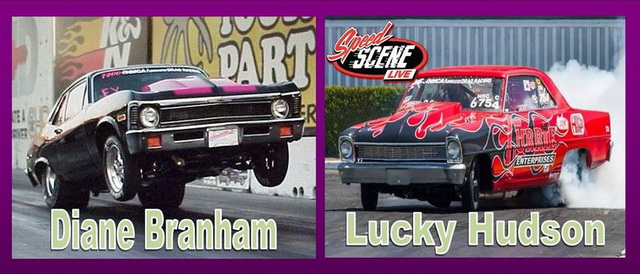 By Scott "Lucky" Hudson
I have been involved in index racing in the nostalgia circuit for many years and love that type of racing. It is very similar to heads up; my 9.50 car races the other 9.50 car; we leave the line at the same time; we see each other while racing the whole time. It is almost heads-up racing; at least as close as I have gotten so far.
However, on April 19th I get to try another type of racing called Match Race Madness at Barona Dragstrip. This is a series that takes place at the Barona drag strip just outside of San Diego, California. It is a group of cars that have an established best-run number that gets paired up to each other. It is a best-two-out-of-three race with the same pair facing each other and racing heads up.
I will be racing a young lady named Diane in her Nova, and we are both running about 6.0 in the eighth mile. It will be fun and exciting to know I have to cut a light and make it to the finish line first. There will also be lots of other pairs that have qualified and will now have to prove who is the best.
This Match Race Madness has been drawing a lot of spectators and creating a fun night of racing at Barona. Racers and spectators alike have been filling the stands and having fun. No throttle stops, no computers, just good, old-fashioned, heads-up racing.
Right now, the race tracks are looking at their bottom line and trying to decide how to fill the stands and make a profit. Lots of tracks have brought in Street Outlaw racing like the Florida Street Outlaws and all the other states that have put together a top ten list. Pinks All Out was a concept that lots of racers hated, but the tracks loved seeing all the fans come in the gates. Even the Speed Scene Live Nationals at Great Bend saw a lot of new racers come to the track.
Maybe Match Race Madness is a model that will spread and create some excitement at your own local track. Maybe drag racing in general is just evolving and bracket racing is changing as well. To me the main thing is that the tracks continue to make a profit and don't go away. Drag racers need a place to race, and the financial health of every race track is a big concern.
So come down to Barona Dragstrip in Lakeside, California, April 19th and watch all of us racers go at it heads up. Cheer on your local favorite, and see if Match Race Madness is something you would like to be involved in. Or watch footage of the race on Speed Scene Live TV and see if your favorite wins.
They have several Match Race Madness races per year, so they are always looking for a good match up. Come down and race, or come down and watch. Either way, you are sure to have a good time at the drags!