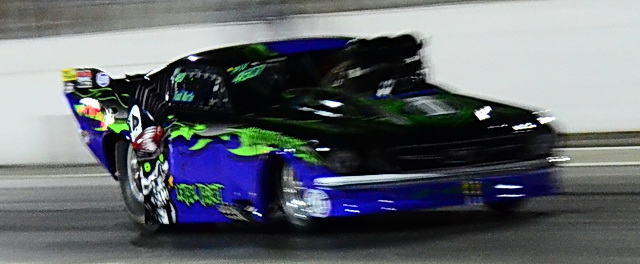 With a dramatic last run of the night on the very first day of competition for the Professional Drag Racers Association (PDRA), Todd Martin of Tulsa, OK (above), took over the number-one position in NAS Racing Pro Extreme qualifying for the inaugural PDRA Spring Open at Rockingham (NC) Dragway.
Also securing provisional poles in the pro classes after completing one of four scheduled rounds of qualifying were Jason Harris in Switzer Dynamics Pro Nitrous, Cary Goforth in Aruba.com Extreme Pro Stock, Troy Coughlin in Pro Boost and Paul Gast in Pro Extreme Motorcycle.
It wasn't an easy path for Martin, who struggled through last-minute builds of both his 1968 Mustang and crew chief Brandon Pesz's '53 Corvette, a broken race hauler, a flat tire on the trailer while traveling to Rockingham, a body-ripping explosion on the Vette during Friday afternoon's test session and damage to his own car's body with severe tire shake in his first test pass.
"I almost quit today, I really did. It's been a rough week and I'd just about had it," Martin  admitted shortly after covering the Rockingham eighth mile in a career-best 3.567 seconds at 207.30 mph to steal away the top spot from Texan Frankie Taylor, who ran 3.599 at 210.44 earlier in the session. "This makes up for a lot of it," he added.
Martin was the last of 12 Pro Extreme entries and the final car of the day to make a qualifying run, but there was additional drama both before and after the pass. An electrical line to his transbrake came unplugged and had to be fixed right before the start and then his parachutes failed to deploy at the finish line. "I almost crashed down there; it got completely sideways, or at least it felt like it, but thankfully this is a long track and I was able to get it stopped okay," Martin said.
Rounding out the top five were Tommy D'Aprile, Eric Dillard at 3.629 and 215.89 with the quickest and fastest eighth-mile pass ever on American soil, and PDRA co-founder Jason Scruggs.
"That was all Steve (Petty, crew chief)," said Dillard, who earlier this year ran 3.591 at 217.04 in Qatar with a different car. "Steve made the call, we put the exact same tune-up in this car and he said we would run a .62; pretty badass!"
With a brand-new Musi-built 903 c.i. engine in his '68 Firebird, Pittsboro, NC's Harris posted a 3.823-seconds run at 197.51 mph to lead an all-three-second field in Pro Nitrous. Another PDRA co-founder, Tommy Franklin, placed second with a 3.845 at 194.83 in his new  '69 Camaro, followed by Chris Rini, John DeCerbo, David Janes, DeWayne Silance, Pat Stoken and Lizzy Musi in her first Pro Nitrous start rounding out the top half of the 16-car field.
"We were actually looking for a .70, but that was only the second pass on that motor; we ran .80-flat earlier today (in testing) and now the .82, so I guess that's okay," said Harris. "We definitely can go faster, though."
In Extreme Pro Stock, Goforth put together a 4.068 pass at 177.72 mph in his Holdenville, OK-based 2013 Camaro to edge out John Montecalvo's 4.093 at 178.19 for the lead over seven entries. Goforth's teammate Todd Hoerner placed third, followed by Richard Penland, Lester Cooper, John Pluchino and Cale Aronson.
"We're pretty satisfied with that run. I don't think it's safe from getting beat tomorrow, but we definitely have something to work from," Goforth said. "I think the first session tomorrow will be the one to make your move if you've got it in you, but I guess we'll see."
A nearly full field of 15 entries made qualifying runs in the PDRA's all-new Pro Boost class with the twin-turboed 2013 Corvette of Delaware, OH's Coughlin leading the way at 3.925 seconds and 198.88 mph.
Sweden's Adam Flamholc in a supercharged '69 Charger Daytona placed second, with the blown '63 Corvette of Greenville, DE's Gerry Capano third. Tommy D'Aprile, who also is driving in Pro Extreme for team owner Mel Bush, was fourth in a supercharged '62 BelAir and the supercharged '67 Mustang of Todd Tutterow filled out the top five.
Veteran rider Gast posted the only 4.0 of the initial Pro Extreme Motorcycle session with a 4.069 at exactly 175 mph aboard his 2012 Suzuki ahead of defending two-time class champion Eric McKinney at 4.105 and 173.85 mph.
In Top Sportsman qualifying Ronnie Davis of Suwanee, GA, led 19 entries with an impressive 4.032 at 182.92 in his Roush-Yates-powered '63 Vette, more than a full tenth quicker than Canada's Barry Daniluk in his '68 Camaro. The top position in Top Dragster went to Chesterfield, SC's Jody Stroud, who ran 3.755 at 185.49 in his brand-new Iron Man dragster.
Additionally, Breanna Wall of Kenly, NC, ran just four-thousandths over the 7.90 dial in to lead Huddleston Performance Pro Jr. Dragster, with Allie Wiesner of South Mills, NC, led the Huddleston Top Jr. Dragster class after one round of qualifying.
Beginning at 10 a.m. three more qualifying sessions for all PDRA classes are on the schedule for Saturday, Apr. 5, with eliminations set for Sunday.