Transitioning from a Jr. Dragster to a Super Comp dragster is quite a feat, but famed racer and transmission builder Marco Abruzzi's daughter, Emily Abruzzi, made it look easy while obtaining her competition license at Frank Hawley's Drag Racing School.
Emily was fortunate enough to grow up in a racing-oriented family as her father, Marco, has won multiple championship titles in both the NHRA and IHRA. Owner of the renowned Abruzzi Transmissions and Converters business, Marco wanted his daughter to have the best opportunity for success with her budding career and booked Emily into the School's December 27-28, 2022, session at Gainesville Raceway in Florida.
"I had a few friends that took their kids to Frank Hawley's Drag Racing School and they highly recommended it to me," shared Marco, who knew it would be far easier for Emily to get her NHRA Super Comp license in a safe, controlled classroom environment as opposed to making multiple trips to other tracks. "Frank [Hawley] was an excellent instructor and I'm glad she went. I sat in on the classroom lectures and learned some things, too."
Emily was slightly apprehensive at first, but quickly acclimated thanks to Hawley's teaching process. She appreciated how he instilled the basics and fundamentals in all of the students so they were comfortable before they got on track. "After every pass, we would get critiqued and the feedback was very helpful for me to improve every time," said Emily, who also learned the critical lesson that, if something doesn't feel right, just let out. "You can never do anything wrong by staying safe and stopping."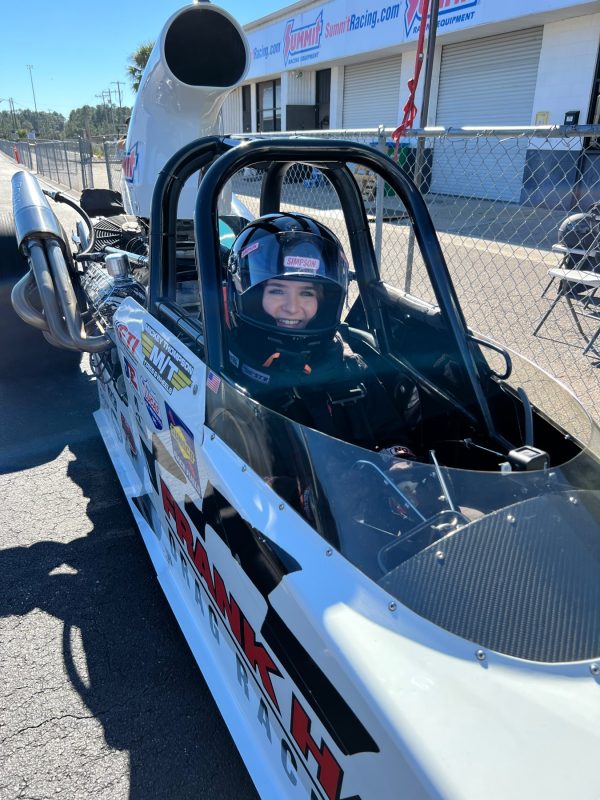 Letting go of the trans brake button and experiencing the difference between going 80 mph in a Junior to 160+ mph in the Super Comp chassis was certainly a huge step for Emily, but she relished the opportunity and enjoyed the thrill. "I'm used to racing eighth-mile, and I wasn't sure if I would make the full quarter-mile pass the first time I went, but I did and it was very rewarding," she added. "Leaving the line in a Junior is smooth, so I wasn't ready for the launch in the Super Comp car and it was a big shock… but in a good way!"
Marco was, admittedly, a little nervous about his 16-year-old daughter stepping up to quarter-mile runs at full tilt after having watched her run the eighth-mile at limited speeds for the last eight years of her life. "She handled herself like a professional and had no problems at all, even though this was her first time in a full-size car," noted the proud father. "Frank has found his calling – he's an excellent instructor and an expert at starting kids from scratch."
For her recent sweet sixteen birthday, Emily's parents gifted her with a 2022 American Dragster of her own. Coupled with a 598 cubic inch Chris Wilson engine and an Abruzzi Racing Powerglide transmission and 9" converter, the car will surely serve Emily well as she pursues a future as a big money bracket racer alongside her father.
"It was quite a compliment for us to have such an accomplished racer like Marco Abruzzi bring Emily to our School," affirmed founder Frank Hawley, who especially enjoyed meeting and talking with both Marco and his daughter. "Emily was one of the fastest drivers in the class and I expect she will do very well racing."