After struggling in qualifying, Pro Mod driver Lyle Barnett landed in the winners circle today at the world's biggest drag race, the Dodge Power Brokers NHRA U.S. Nationals. This is his first national event win of the 2022 FuelTech NHRA Pro Mod Drag Racing Series presented by D-Wagon season.
In what will forever be a milestone event in the skilled driver's career, Barnett kept turning on win lights throughout the day, as everything came together in his favor after a string of recent challenges.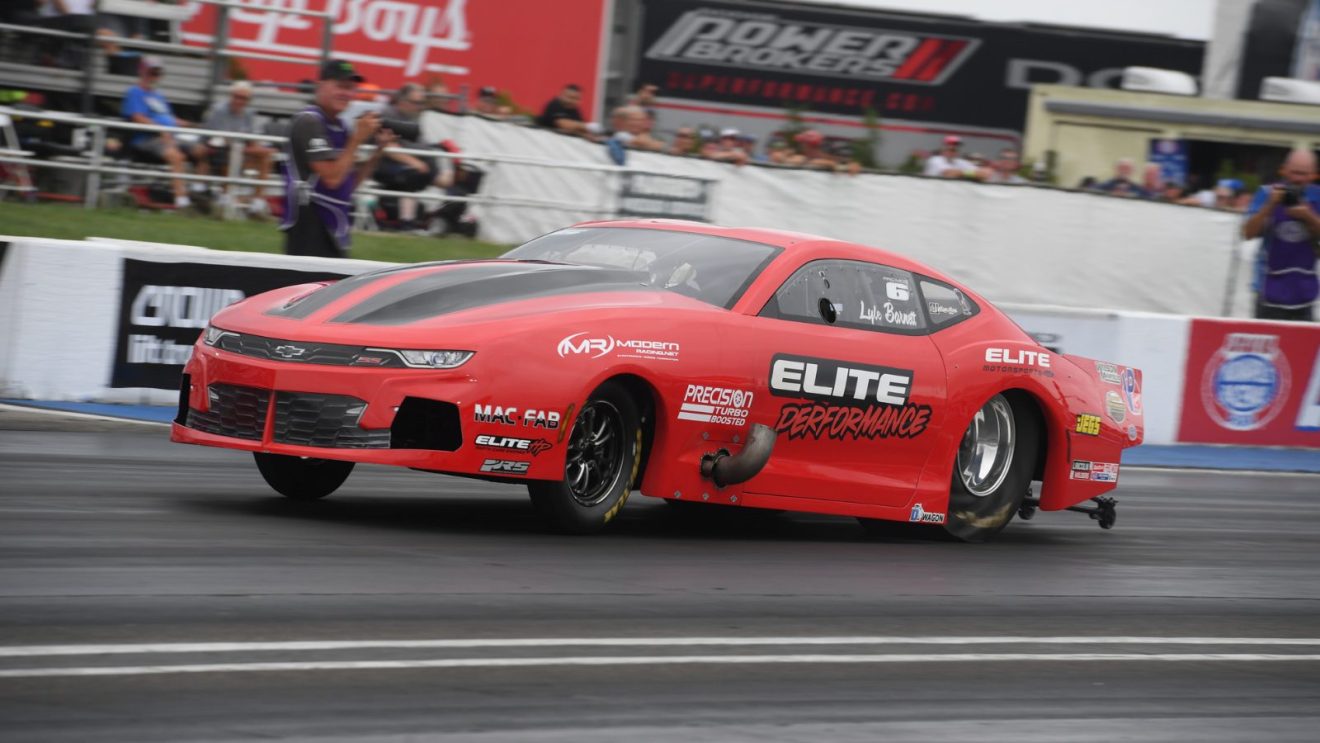 "The weekend started out as a carbon copy of how the majority of our year has been going," said Barnett. "We couldn't get down the racetrack. The car was acting a fool. In the final round of qualifying, I was on the bump spot, outside looking in, essentially. The car acted a fool again. I pedaled it to the finish line. We got in the show in the 15 spot. That night we found out what was wrong and fixed it."
Indeed they did fix it. Barnett's Elite Motorsports Camaro came off the line with a powerful run of 5.785 seconds at 253.71 mph to defeat the No. 2 qualifier, Mike Castellana, in the first round of eliminations.
"We had what we thought would be a pretty good tuneup for the first round of eliminations," Barnett continued. "I happened to let go on time to beat Castellana by two-thousandths (approximately 11 inches). Round One of eliminations is what won this race. I had JR in the quarterfinals. Something happened to their car, and we made a pretty good run. In the semis and the finals, both of them turned it red against me. I was pretty good on the tree today. I drove like I had some sense and we got it done. This is the Big Go; this is the biggest one there is. Next to winning a championship, everybody wants to win this one. Ron Capps won his first today and he's been here for 30 years. This is my second year here and we're taking home the cheese. It's unbelievable. I've got a new son at home. He's three months old. My wife's been holding the fort down at home. My mom came in to give her a little assistance, and they got to watch me win it on TV today and that's something pretty special."
This bump in points and confidence is coming at the right time for the Elite Motorsports Pro Mod team. There are only three races left in the season for the FuelTech NHRA Pro Mod Drag Racing Series presented by D-Wagon. Barnett will compete next at his home track, zMAX Dragway in Charlotte, N.C. for the Betway NHRA Carolina Nationals, September 23-25.