Lenny Lottig and his ITI Trailers & Truck Bodies COPO Camaro won their second consecutive Flexjet Factory Stock Showdown race Sunday at the Gerber Collision & Glass NHRA Route 66 Nationals at Route 66 Raceway.
Facing Doug Hamp and his Hamp Racing COPO in the finals, Lottig would lay down a stout 7.681-second pass at 179.21 mph to win his third career Factory Stock Showdown race. Hamp would cross the finish line at 7.746-second and 178.24 mph.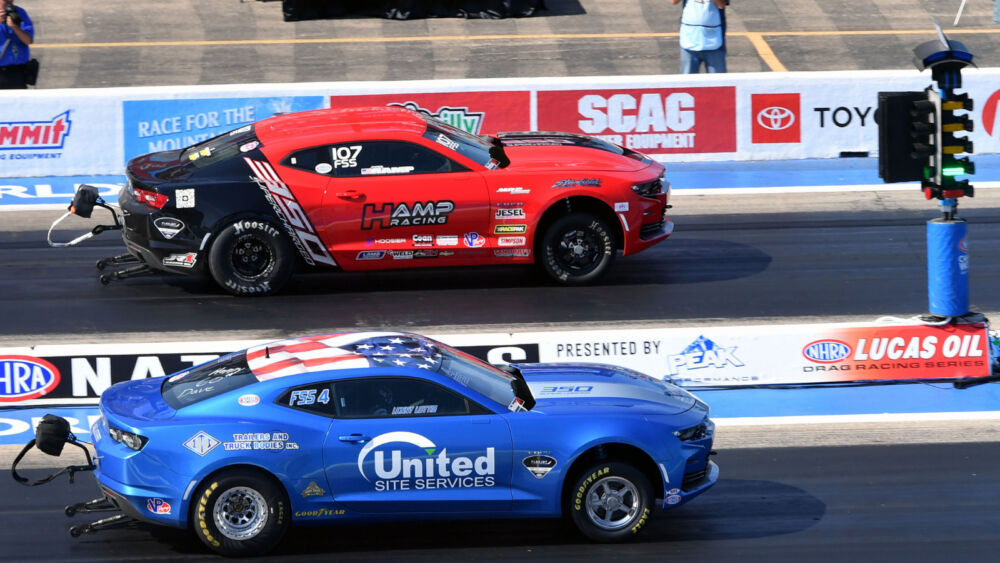 "Our crew chiefs Dave Yedney and Tommy Lane, they have given me a car that just drives great. We got a win at the last race and we're like, 'Hey, we're going to go and double up.' And here we are back on the winner's stage," Lottig said. "It was Dave's birthday today and I said, 'Hey, we're getting you a Wally for your birthday.' And by golly he gave me the car to be able to do it. Without a doubt we wouldn't be here without these guys. We got Jesse Alexandra. We got my wife Linda. It definitely takes an army to be successful out here."
To start the day, Lottig would lay down a 7.708-second pass at 178.99 mph to send Stephen Bell and his Stanfield Racing Engines Chevrolet's 7.770 at 177.56 home. Lottig would then take on Mark Pawuk and the Empaco Equipment Dodge Drag Pak in the semifinals. Lottig would have a stellar 7.693 pass at 178.71 bettering Pawuk's 7.717 at 178.45.
"We've been fortunate to surround ourselves with good people. These guys say whatever the track throws at us, their approach is we have to race the track that we got," Lottig said. "It has definitely been panning out. You saw it today and you saw it in Charlotte."
With the victory, Lottig moved within 15 points of the championship points lead and maintained the Flexjet Factory Stock Showdown Bounty, growing the prize for taking him out in eliminations to $2,000.
"I do not have a problem hurting my opponents' feelings when it comes to this bounty," Lottig said. "I said it before, I want to grow this bounty, really make it worth it for whoever beats me, I hope it's my teammate Jesse Alexandra, then dinner is on him."
En route to the finals, Hamp took down No. 4 qualifier and current points leader Aaron Stanfield and the Stanfield Racing Engines Camaro's 7.749-secodn pass at 178.57 mph with a 7.748 pass at 178.45. In the semifinals, Hamp's 7.770 pass at 177.46 would better Jason Dietsch's 8.230 at 176.26.
The NHRA Flexjet Factory Stock Showdown season continues at the NHRA Thunder Valley Nationals at Bristol Dragway June 9-11 in Bristol, Tennessee.