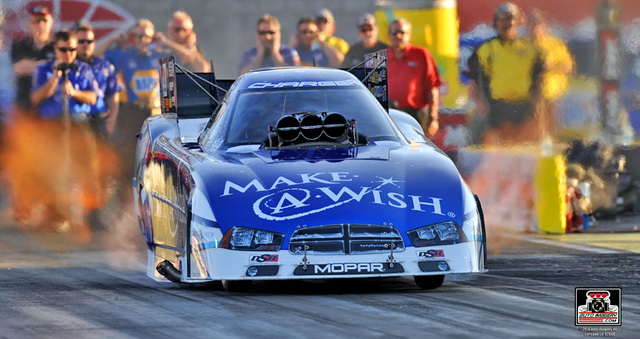 Tommy Johnson Jr. has a long history and plenty of experience in the world of drag racing, but this weekend at zMAX Dragway near Charlotte, N.C., the second-generation drag racer and pilot of the Make-A-Wish Dodge Charger R/T will get to try something new: racing four-across at one of the premier facilities on NHRA's Mello Yello Drag Racing Series tour.
The NHRA Four-Wide Nationals is a once yearly event that takes place on a unique, four-lane dragstrip. Four drivers at a time will race down the track vying for qualifying positions in each of four sessions. Championship Sunday will feature a trio of four-car rounds. In rounds one and two, the first two cars to cross the finish line will advance. The final four-car standoff will result in one winner and one runner-up, and the last two cars to cross the finish line will technically post semifinals finishes.
"I've attended four-wide events, but this will be the first time that I will physically get to race in one, and I'm intrigued by it," said Johnson, a nine-time nitro winner on the tour. "You prepare mentally for it, and I feel like I know what to be aware of. It's not our normal thing, and it creates some circumstances that none of us are really used to, but I know the Make-A-Wish team is looking forward to it.
"Watching it for the last few years, I will say that I was hoping to have the opportunity to do it one day myself. I'm pretty happy. I think it'll be a lot of fun and a very different experience."
Johnson raced at the inaugural event at zMAX Dragway in 2008, but the race then was in the traditional two-lane format. For Johnson, racing at zMAX Dragway is a pleasure as it also brings the opportunity to spend time with his family, including dad Tommy Johnson Sr., mom Sarah, and his sister Wendy and her family, who are all based in the Charlotte area.
"It's a big race for us as a family," said Johnson. "I have two nephews and one of them has never seen me race before, and I think both of them are more excited about this race than I am. I also have a lot of friends in the area, so having everyone out there is going to be a lot of fun. The Charlotte race is one I've really been looking forward to.
"We had a good test last week in Las Vegas, and the confidence level for the team is pretty high. We weren't deterred by a first-round loss because we qualified so well [No. 3], and the car's performance is there. When everything gels, we are going to be hard to beat. Be nice if that was this weekend."