John Montecalvo's longstanding and consistent efforts as a booster of the Mountain Motor Pro Stock category were rewarded Sunday night when he crossed the finish line first in the final round of the inaugural $hameless Racing Mountain Motor Pro Stock Invitational presented by Seminole Paving held in conjunction with the Drag Illustrated World Series of Pro Mod presented by J&A Service. The Long Islander made his best run of eliminations, a 4.092 at 175.43, to defeat fellow class veteran Elijah Morton and his 4.85 at 164.07, earning a $25,000 prize at the Bradenton Motorsports Park event.
"It was a phenomenal day," said Montecalvo, driver of the Kaase-powered Roy Hill's Drag Racing School '21 Mustang. "We struggled a little bit. We made a pretty good run [Saturday] afternoon. I think we were No. 2 for the session. I think Richard [Freeman] was No. 1, we were No. 2. But we felt that we had the potential today. We had a couple of dilemmas here and there, but that's drag racing. We overcame everything. We've got an excellent crew. You know what it is? We get a good car and we get some momentum going and it all falls into place."
Montecalvo was one of several drivers who had to pedal their way to a win in the opening round of eliminations. He beat former crew chief Tommy Lee with a 5.091 at 145.61 before improving to a 4.124 at 173.38 in his second-round win over Richard Cowger's 4.139. In the semifinals, Montecalvo left on two-time and reigning PDRA Extreme Pro Stock world champion Johnny Pluchino and followed through with a 4.107 at 176.37 to beat Pluchino's 4.147 and earn lane choice for the final round by just two thousandths of a second.
The final round was a classic battle between two wily veterans, both of whom were hesitant to stage first throughout the day.
"Elijah and I have ran a lot of times together and I knew we probably would have a little bit of fun and games going on up there because that's what we do," Montecalvo said. "Neither one of us have ever gotten mad about stuff like that. It takes two to tango."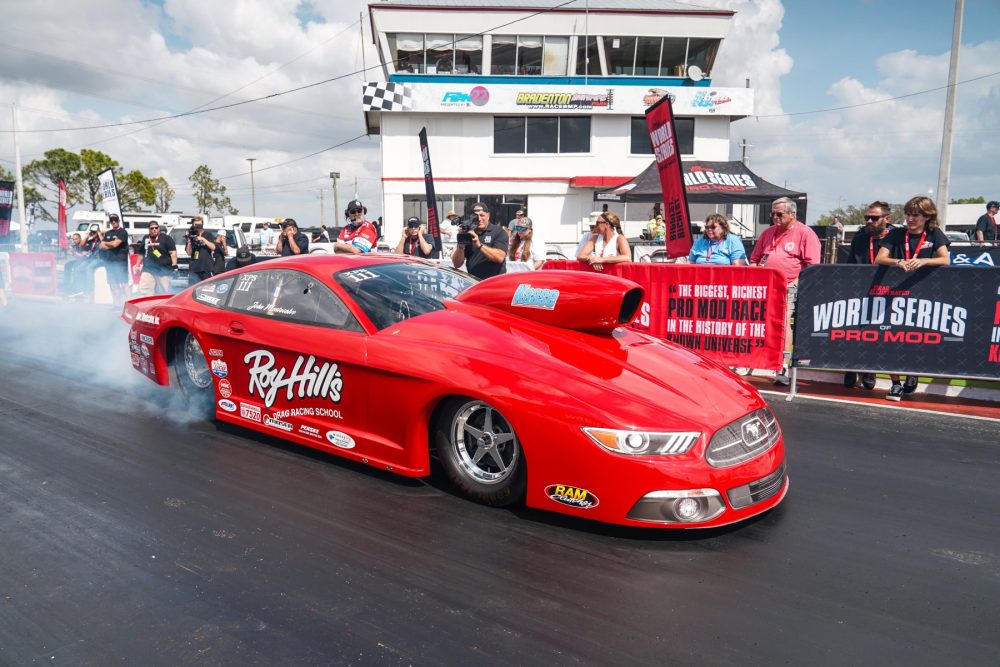 Montecalvo, who's won world championships in multiple different organizations, reflected on the overall significance of the weekend not just for him, but also for the Mountain Motor Pro Stock class. Eighteen drivers attempted to qualify for the 16-car field, including five-time and reigning NHRA Pro Stock world champion Erica Enders, who was making her debut, and Elite Motorsports team owner Richard Freeman, who made his MMPS return after a nearly 15-year hiatus.
"This event has been exactly what Mountain Motor Pro Stock needs. I can't thank Wes Buck and his whole team enough. They've done a great job. I know he's had a tremendous amount of media out here. Tremendous amount of exposure for our class. But thanks to Tommy and Judy Franklin [PDRA owners] and thanks to our deal with the NHRA. Richard and Erica coming over here…the class is really coming around. I'm so happy and I'm so proud of this class."
Driving his Allen-powered Morton Brothers Motorsports Mustang, Morton qualified No. 4 before making the second-quickest pass of the challenging first round, a 4.17. He then ran low E.T. of the second round, a 4.121, next to a red-lighting Derrick Reese. The North Carolinian left the line first in his semifinal pairing with Florida's own Dillon Voss, then recorded a 4.109 to finish ahead of Voss' 4.126.