One day removed from Nick Hastings proving that you don't need a delay box to collect a $50,000 prize, drivers had another opportunity to cash in during Thursday's installment of the Summit Triple 50's.
The 28th Annual Mickey Thompson Million Dollar Drag Race witnessed even more racers roll through the gates of World Wide Technology Raceway as the new entrants received a time trial prior to eliminations. Buybacks were canceled to compensate for the crowd, which soared to a staggering 774 entries during the first round of competition. The support from racers produced the highest car count during the 28-year history of the Million Dollar Drag Race.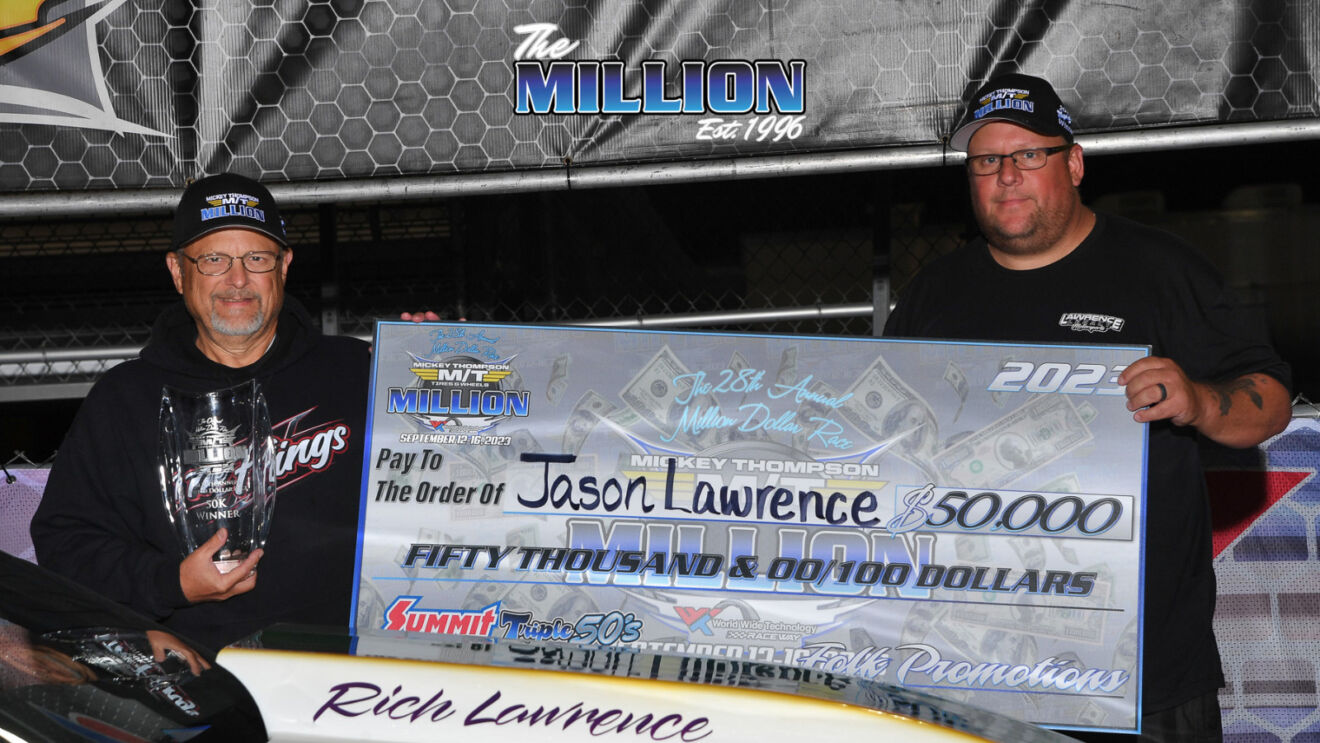 As a gesture of appreciation, the Folk family has announced a $28K Giveaway that will take place during the Million main event. On Friday, 28 tech cards will be randomly selected, followed by a live contest on the starting line where various cash prizes will be distributed via sealed envelopes with a combined value of $28,000 as a nod to the 28th Annual Million Dollar Drag Race.
Diving back into the action on Thursday, the field eventually dwindled to seven drivers in round number eight: Greg Sesti, Kenny Underwood, Josh Luedke, Jason Lawrence, Rayce Kidd, Daryl Patton, and Tyler Roach. Patton has an issue with the delay box and goes red while Lawrence is .024 green to advance. Luedke has the starting line advantage but breaks out 1 thousandth beside Roach who runs one above his dial for the win. Sesti misses the tree while Kidd is .012 up front and one above taking the win in his father's dragster after experiencing fuel pump issues in his own ride. Underwood earns the bye run courtesy of his previous .002 reaction time.
Two Camaros, a Vega, and one dragster gather for the semifinal round as they inch towards claiming a $50,000 payout. Lawrence is in control with his .008 bulb and illuminates the win light while Roach breaks out 4 thou. Underwood is uncharacteristically late up front, and Kidd takes full advantage of the situation putting together a .029 package for the win.
The Summit $50K final round on Thursday is a cross-country battle with the West Coast Kidd taking on the New Jersey native, Lawrence. The better light of .015 is produced by Lawrence, who then wheels his Camaro to a .017 margin of victory over Kidd.
A pair of unique stories and impressive winner's circle interviews polish off the race day starting with Lawrence who explains his unconventional trip to the 28th Annual Million Dollar Drag Race. "I got in on a free entry that I won through a practice tree league, but then our Duster caught on fire. They pushed the free entry back to this year, which was really nice of them, so I could be a part of this," says Lawrence.
He continues, "Like for a lot of people, this has been a bucket list race…it's a dream come true just to be here. This is the best of the best in the country."
Kidd uses his interview as an opportunity to discuss the importance of his faith by saying, "This racing stuff is really cool, but my purpose here is to know God and make God known. I just want to use this outlet to share the gospel…God first always, all this stuff comes after that."
The last bottom bulb racer left in competition Thursday was Nick Curl who picked up the $1,000 No Box bonus after defeating Michael Crass.
Friday is the focal point of our race week as racers prepare for the 28th Annual Mickey Thompson Million Dollar Drag Race main event. The payout increases as the car count climbs and everyone is anxious to see if last year's record will be broken and if so, by how many.
On track action will begin a bit earlier than originally advertised with time trials starting at 7:45 AM. The Million race will have a re-entry round for those drivers who fail to illuminate the first round win light. The No Box bonus will also increase to $2,000 for the last bottom bulb racer standing.
Clear your schedule so you can tune into the MotorManiaTV live feed provided by Lucas Oil and Vintage Trailers, because you don't want to miss a moment!
For more information on The Million Dollar Drag Race, visit www.themilliononline.com.