"Big Daddy" Don Garlits and the "Quest for 200 MPH on Batteries" team are preparing for their pending 200-mph race into history.  Team members trekked to Ocala, FL, this week to make last-minute tuning changes to "Swamp Rat 37" (SR-37), the Quest Dragster, for its next attempt at the storied 200 MPH barrier in the quarter mile, June 8, at Bradenton Motorsports Park, FL.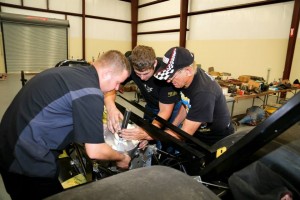 History recorded Garlits with the first official 200-mph pass in drag racing history when, on August 2, 1964, he fired off a 201.34-mph blast for the books down the NHRA-sanctioned Island Dragway in Great Meadows, New Jersey.  Now, 50 years later, Big Daddy, the Quest Dragster, and his team of challengers move toward what could be the crowning career achievement for the man whose firesuit reads, "King Rat".
At the first Bradenton test of "Swamp Rat 37," a 2000-horsepower, battery-electric vehicle (BEV) beast, Garlits and the team came close to the goal out of the box with a best run of 7.258 seconds at 184.01 mph.  Although the team broke both ends of long standing BEV records, Garlits and the crew vowed to return to the strip as soon as possible to make complete the 200-mph goal; a lofty mark created nearly 3 years ago at the conclusion of the highly successful Don Garlits vs. Darrell Gwynn EV match race series for charity.
Big Daddy's confidence has been building since that April test.  He and grandson Rodney, as well as the highly capable combined team of EV technology companies and drag racing veterans have swarmed over every detail of SR-37 in their vigorous efforts to ensure Big Daddy's safety, speed, and success.
Big Daddy – self-assured as he approaches the asphalt ¼ mile one more time in a six decade career – calls the shot, "We anticipate the 200-mph barrier will be broken on June 8."