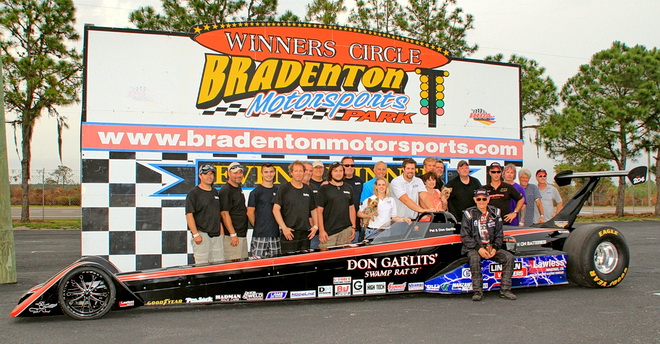 "Big Daddy" Don Garlits and the SR-37 "Quest for 200 MPH on Batteries" Dragster Team traveled to the historic ¼ mile dragstrip at Bradenton Motorsports Park, FL yesterday, April 30, 2014, to shake out the ultimate battery-electric (BEV) digger.  This was the first full run test for Garlits and team.
It was also the first opportunity since SEMA-2013 for the public to see the gleaming SR-37 after the team spent the past several months completing and installing the 2014 powerplant of Lawless Industries 6-pack of GE Motors, Manzanita Micro "Zilla" Controllers, and HighTech Systems LLC lithium polymer (LiPo) battery packs.
Under a muggy cloud cover and with a mid-week crowd near a thousand, Big Daddy and the team proved the SR-37 EV concept and much of the on-board hardware with eight hard launches and six solid runs in their Quest for history.
With 1500 kilowatts of LiPo battery power on tap, Big Daddy was working with more than enough horsepower (2000+) to entertain the crowd.  Garlits and SR-37 ignited the Goodyear Eagle Racing slicks with the first burnout of the fully-completed dragster.  Spectators, many of them diehard fuel fans, were taken aback by the thunderous linear laydown of EV energy and football field long plume of tire smoke.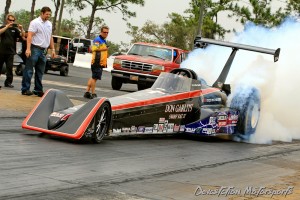 A first run with a gentle power setting of 30% yielded a 10.90 at 129mph.  Garlits backed that with a run at 50% power for a much improved pass through the traps at 8.75 and 151.
Mid-day run attempts at full power resulted in some circuit-hold issues at full load amps, truly a new lexicon for fans of Big Daddy.  Circuits stabilized, the team sent Garlits back to the line for an afternoon drive.
Big Daddy hit SR-37 hard on the 5th run and set a new EV ¼ mile drag racing record with a shot of 7.53 at a dramatically increased 178.42 mph.  60' launches at full power setting were near the one second mark!  The day was getting long but, still energized, Big Daddy took it to the blocks and backed the record run with yet another; a 7.26 at 184.01, nudging closer yet to magic 200 mph goal mark.  Big Daddy and SR-37 "broke out' with some sanctioning bodies limiting their exhibition ET vehicle rules to quicker than a 7.50,
Garlits and SR-37 hit the sandbox on the final run with a late chute deployment.  Garlits was safe and SR-37 incurred only modest damage to the underside.  SR-37 creator and co-owner Mike Gerry was satisfied with the results.
"The team will do a teardown like any other dragster and check the motors, drivetrain, and safety equipment," the former NHRA crew chief stated. "We all learned a lot. I think we'll tinker with the gearing and be looking for more power control to the motors so that we have full current delivery.  We hope we can turn it around soon for another test and record attempt.  We should get 200 next time out and I think we can break into the sixes."
Conceived as a day of private testing, the event became one for the history books.  It was also a day of significant progress and great learning for the team.  The "Quest for 200 MPH on Batteries" will continue and was invigorated by the long-awaited and much-anticipated test.  Garlits told observers that the car was a lot of fun, sat firmly, had a solid hit and, and pulled very hard.
As for the Quest itself, Big Daddy summed it up: "We didn't get the 200 but we set a new record.  Our 200 is coming up next!"
(Photos by Devastation Motorsports; Click to enlarge)