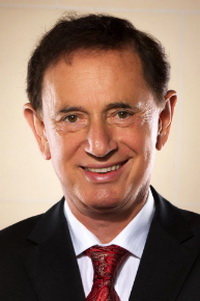 Lucas Oil Products co-founder Forrest Lucas will be inducted into the International Drag Racing Hall of Fame as part of the Class of 2014 in a banquet on March 13 in Gainesville, FL.
The Lucas Oil Products International Drag Racing Hall of Fame Induction Banquet will take place at the Paramount Plaza Hotel & Suites on the Thursday before the NHRA Gatornationals at Auto-Plus Raceway in Gainesville. Lucas is being honored for his longtime support of drag racing at all levels, from sponsorship of Sportsman racers and racing all the way to the NHRA Top Fuel class.
"I'm real happy that Don Garlits has appreciated what he's seen us do over the years with drag racing," Lucas said. "He's a very nice person, and I appreciate what he's done for drag racing over the years, too.
"He's been a huge part of it, not only as a racer but he started the museum to keep the story of it all. It's a big piece of history he's taken care of single handedly."
The Don Garlits Museum of Drag Racing was opened in 1984 to chronicle the history of the sport. The International Drag Racing Hall of Fame is housed in the museum. Lucas will be inducted alongside several other legends of the sport, including John Abbott, Al Bergler, Frank Hawley, Tom Hoover and Warren Johnson.
"It's a big deal to me, not ever having been a racer, but being appreciated for the fact that we've been a big part of it," Lucas said. "I think we've helped drag racing get where it's at, and it's nice to be appreciated."
Lucas will be presented at the banquet by NHRA President Tom Compton.
"We got into drag racing to start with because that's where all the auto parts stores were," Lucas said. "They were all part of it, and we wanted to be in front of them, so we got into drag racing.
"Then (son) Morgan was interested it in, and (wife) Charlotte was, too. It was a fun thing for us, but it was also business. We made a business out of it, and consequently a lot of other people saw our success and followed us with sponsorship. It caused a lot of sponsorship money for teams as well as NHRA itself.
"We made it work, and we also had a good time with it. We're still having a good time with it."
(Photo courtesy MLR; Click to enlarge)