Chassis builder Jerry Haas did his part in getting the beautiful, Aruba-themed Extreme Pro Stock (XPS) 2009 Mustang to the track and Team Aruba did the rest.
With no truck or trailer available to transport the Aruba.com Haas-built Mustang from its shop in Union, SC, to the PDRA Georgia Drags at South Georgia Motorsports Park (SGMP), Team Aruba easily could have been sidelined as they awaited the arrival of their new hauler. However, thanks to Haas' generosity, Team Aruba not only made it to the event, they made it all the way to the final round.
"I and the rest of the team would like to extend our sincere gratitude to Jerry Haas. After hearing that we sold our trailer and that we are still waiting on delivery of our new one, he offered to carry our car and equipment to Valdosta. So, without his transportation support, it would have been rather difficult to even get to the race, let alone make it to the final," driver Trevor Eman said.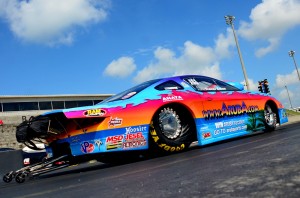 Eman qualified fifth at SGMP with a 4.12-seconds run. He took out number-four qualifier Jeff Dobbins in round one, then edged out another North Carolina racer in Richard Penland, in a semi-final pedalfest.
The final pitted Eman and Team Aruba against two-time class champion Cary Goforth, who won the PDRA season opener a month earlier at Rockingham Dragway. Eman posted a nice 4.16 at 175.30 mph, but Goforth crossed the stripe first with a 4.15 at 175.84 mph to take the trophy home to Oklahoma.
"First and foremost, I need to compliment my team," Eman said later. "Everybody worked very hard, and we can see the end result of that. Jerry Haas Race Cars, Jon Kaase Racing Engines, RAM Clutches, Braswell Carburetion and Penske Racing Shocks have helped us with all the components and tools needed to have a top-performing Pro Stock Mustang.
"Unfortunately, we didn't have (crew member) Bobby with us to share in our successful weekend. He is leading a gospel group called the Riverside Boys on a trip to Aruba for two nights of concerts. We will catch up with Bobby and the group when we arrive back home and support them during two nights of wonderful music they plan on performing for people in Aruba."
With the Georgia Drags under its belt, the PDRA is now just two races old, but has won fans and followers across the industry. Team Aruba was pleased with the efforts they saw at the Georgia Drags.
"Congratulations needs to go out the the entire PDRA crew and staff," Eman said. "They did a wonderful job this weekend, it being only the second PDRA event to take place so far. Rain came in and caused racing to end on Saturday night, but they were able to pull it together and complete the event on Sunday."
In their last visit to South Georgia Motorsports Park, Team Aruba had qualified on the pole, but rain canceled the weekend before the team had a chance to defend the poisition in eliminations. Although the team would surely have liked to have taken home the trophy at the Georgia Drags, a runner-up finish provided some satisfaction for their unfinished business of 2013.
"It's another season, and we are still performing strong with the support of Aruba and the Aruba Tourism Authority," Eman said. "We cannot thank these two pillars enough for the support they provide us. If it wasn't for the fact that we are racing to promote our island we wouldn't have been able to do this for the 10th year now."
(Photos by Ian Tocher; Click to enlarge)