UPDATE: Due to the weather forecast, this event has been postponed to Saturday, October 4th.
The 2nd annual GALOT Motorsports Pro Modified Reunion Race will be held Saturday, October 4th, at historic Farmington Dragway, in Mocksville, NC.
"We're really looking forward to this event; it's been building for some time now," MJ Printing & Graphics owner Mark Joyce said. "We want to thank GALOT Motorsports and all of our other great sponsors that have stepped up for this event. The main thing is that we want everyone to have fun. We're going to put on a great show for all the fans, sponsors and racers."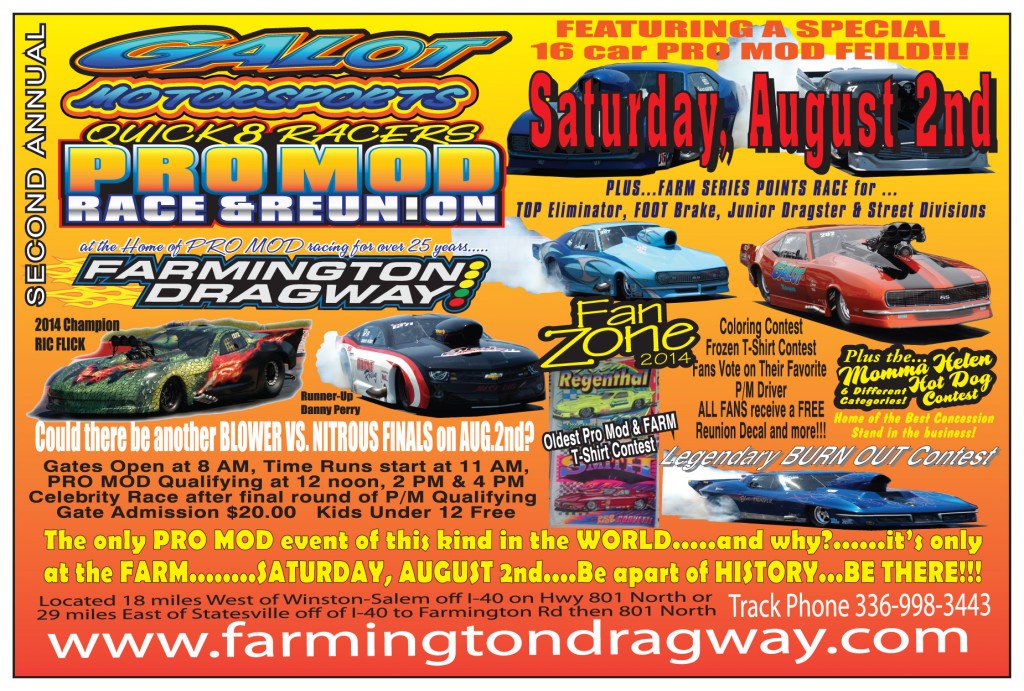 Coming off a big win this past weekend at the PDRA event in Virginia, Kevin Rivenbark and his supercharged '68 Mustang will lead the GALOT Motorsports charge into Farmington, while teammate Todd "King Tut" Tutterow, who has amassed countless wins at "The Farm," will also look to score another one. Leading the nitrous brigade and no stranger to the winner circle will be Randy Weatherford and his '69 Camaro.
Several other PDRA competitors will be in attendance, too, including Andy "The Gunslinger" Beal, Travis "Carolina Kid" Harvey, and Chris Cline in his fan-favorite "Christine" '58 Plymouth Fury. They'll be doing battle with the likes of Jeff Blasi, who picked up the win at the most recent Pro Mod race at Farmington, so he'll be looking to make it two in a row, and after scoring the runner-up position Jamie Chappell will be hungry to finish one spot better this time around.
Also making a much-anticipated return to Farmington this weekend is the "Godfather of Pro Mod," North Carolina's own Charles Carpenter with his world-famous, nitrous-boosted '55 Chevy, who will try to add to his long list of victories, as will Pennsylvania's Andy Jensen with his twin-turbocharged Camaro and nitrous star Doug Reisterer, who is expected to make the long tow from Texas. Also look for veteran nitrous Pro Mod racers Greg Godwin and Tori Cagle to make an impact.
And after posting career-best numbers his last time out at Farmington, Jeff Miller will be looking to go even quicker and faster in his turbo-equipped Camaro this weekend, as will Jay Cox and Robbie Matthews, yet another racer who has previously visited the winner's circle at Farmington Dragway.
The father-and-son duo of Jim and Brian Teachman will be there, too, as will the patriotic-themed Chevrolet of Dave Leonardo and the supercharged entry of Jr. Ward. Also look for Bill DeSoto in his newly built '41 Willys, as well as Wayne Hawkins, Gary Capano, David Monday and a host of others, including longtime Pro Mod veteran Dale Brinsfield, who will make his return to the driver's seat this weekend.
In addition to the race title, Pro Mod competitors also will be going after cash awards for the Pro Mod Burn Out Contest held during three rounds of qualifying for the GALOT Motorsports Quick 8 Racers Pro Mod Race on Saturday. Sammy Phillips of Sammy Phillips Electric (SPE) in Winston-Salem, NC, has been a supporter and sponsor of Quick 8 racing and racers at Farmington for more than 15 years and has posted a $1,000 prize for the driver who does the overall biggest, longest, smokiest burn out during qualifying. Additionally, DRAG ILLUSTRATED, the sport's leading independent monthly printed magazine, is co-sponsoring the burn out contest by awarding winners after each qualifying session.
Once qualifying is completed, the number-one driver will be presented the Hank Thomas Performance Low Qualifier award, while the driver with top speed during qualifying will capture the Sonny Leonard Components and Engines Top Speed award. Also, WS Construction will present a Closest Run of the Race award.
During this special weekend, Farmington Dragway also will host a Celebrity Reunion race, which so far includes: Don Plemmons-Winston Salem, NC; Rick Moore-Greensboro, NC; Buzz Varner-Burlington, NC; Steve Vick-Mocksville, NC; Parson Brothers-Lenoir, NC; Tommy Mauney-Shelby, NC; Gary McKee-Rock Hill, SC; Ed Hoover-Columbia, SC; Sonny Leonard-Lynchburg, VA; Charles Terrell-Kernersville, NC, and Keith Floyd of Lexington, NC.
Columbia, SC native Chris Krug and his Dodge minivan will also be on hand, but this is no ordinary minivan. When Krug pulls into the water box the van transforms and a jet turbine engine protrudes from the back, leading to a spectacular, fiery blast down the track. It's always a great show and Krug will make multiple runs throughout the weekend.
To help celebrate 20 years of Pro Modified racing at Farmington Dragway, Sammy Phillips Electric is sponsoring the Reunion BBQ Cookout for all Pro Mod racers, crew members and all of the event's sponsors and supporters. There will also be the Momma Helen Hot Dog contest from 1 to 5 p.m. and all TOP, Foot Brake, Junior Dragster and Street participants will be served a HOT BOG lunch from 12 noon to 3 p.m. courtesy of Williams Brothers racing, Gary "Hooter" Hoots the Gas Man, Nicholson Racing and MJ Printing and Graphics.
There will be a Pro Mod-only test session from 11 a.m. to 4 p.m. on Friday for $250 per car; followed by a regular Friday-night Test-N-Tune from 6 to 10 p.m. Spectator gates will open at 10 a.m. Saturday with time runs starting at noon. General admission is $15 per person, with children 12 and under admitted free. For more information please visit www.farmingtondragway.com.
Farmington Dragway would like to thank its partners for the 2nd annual GALOT Motorsports Pro Modified Reunion Race, including Goodson, Pat Musi Racing Engines, WYO Racing & Rods, Carolina Drilling, Hank Thomas Performance, GALOT Motorsports, WS Construction, MJ Printing & Graphics, Precision Turbo, S & S Backhoe, Extreme Outlaw Pro Mod Drag Life, Uncle Roger Adams, Wayne Bailey Plumbing, RV Landscaping, Bohr Racing Products, Sonny's Racing Engines, Appalachian Metal Works, Under Pressure Performance, Gary McKee, Williams Bros. Racing, Gary "Hooter" Hoots, Kevin Rivenbark, TM Race Cars, Sammy Phillips Electric, G and J Motors, Lane Industries, Fulton Racing Engines, Albert Racing Engines, Shriners EXPO 2015, and the North Carolina Drag Racing Hall of Fame.
Photo by Van Abernethy