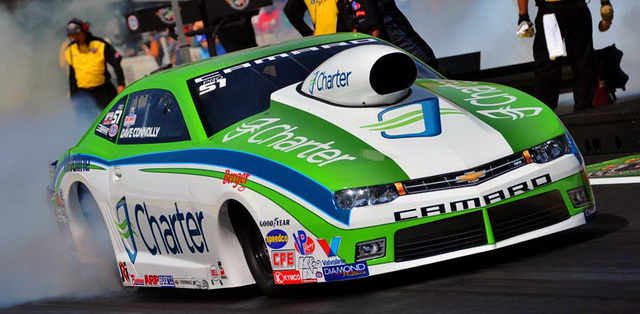 Dave Connolly, driver of the Gray Motorsports Chevy Camaro, has been named the K&N Horsepower Challenge Fan Vote winner and he will fill the No. 8 starting spot in the lucrative Pro Stock bonus event.
The 30th annual K&N Horsepower Challenge will be contested during the SummitRacing.com NHRA Nationals on Saturday, March 29 at The Strip at Las Vegas Motor Speedway. The event will be televised by ESPN2.
"I just want to thank everyone who voted, and like I said at the beginning of this deal, it really means a lot to be voted in by the fans for this eighth spot," said Connolly, a 23-time Pro Stock winner in NHRA's Mello Yello Drag Racing Series.
Connolly will compete for his second victory in the K&N Horsepower Challenge starting with a first-round meeting with event top seed and defending winner Allen Johnson, driver of the Team Mopar Dodge Dart. Connolly scored his only victory in the K&N Horsepower Challenge in 2005. He was runner-up in the special bonus event in 2004.
"I didn't have the chance to earn points and get in the K&N Horsepower Challenge the way the rest of the drivers did, but I think here lately the Gray Motorsports team has shown that we do have a top eight car and can run right along with the best of them," Connolly said. "It's an honor to have the fan vote, and hopefully either myself or my Gray Motorsports teammate Shane Gray can go to Las Vegas and win that $50,000 and that cool trophy."
Erica Enders-Stevens earned the most fan votes; however, as the highest eligible points-earning driver not already qualified, she was inserted into the field in the No. 3 position in place of Mike Edwards, who will not compete in the event. Connolly finished second in the fan voting to earn the position.
The K&N Horsepower Challenge is a race within a race, showcasing the top drivers in NHRA Pro Stock competition, for which the winner receives $50,000. The runner-up will earn $10,000, the two semifinalists will each receive $3,000, and the four first-round finishers will each take home $2,500. As part of the program, a $3,000 bonus is awarded to the No. 1 qualifier at each NHRA Mello Yello Drag Racing Series event.
In addition, eight lucky fans were selected in an online drawing on the K&N website as part of the K&N Horsepower Challenge Sweepstakes. Those eight winners will receive a trip for two to the race where each fan will be paired with a driver in the K&N Horsepower Challenge. The fan paired with the winning driver will leave the SummitRacing.com NHRA Nationals in a 2014 K&N Horsepower Challenge special-edition Toyota Tacoma, a unique midsize pickup created by Toyota Racing Development and K&N Filters for this event.
(Photo courtesy Gray Motorsports/AutoImagery)