The STM Powersports Snow Outlaws series 2023 season finished off in some of the best conditions possible. A solid base of ice and snow at Lakewoods Resort in Cable, Wisconsin, sitting in balmy mid-30s midday weather, served up thrilling—if not record setting—snowmobile drag racing to the huge Weenie Roast crowd. And the world's quickest snowmobiles raced for the biggest Snow Outlaws purse ever at the March 3-4 World Finals.
Outlaw
Tuner Jack Romine predicted that the beautiful Eagle-1 Outlaw sled ridden by Dominick Ernst would be exceptionally well-prepared for this event, and he wasn't wrong. The turbocharged, alcohol-guzzling Eagle-1 posted a sharp 3.45 on its very first pass of the weekend on Friday evening that was never exceeded. "And it spun a little," noted an observant Romine.
"Friday night brought a hard challenge with the track being solid concrete," said Ernst, an electrician on weekdays. "With the power we were putting down with the Snow Sharks that Hypersports produces, we were able to grab the snow and let the Eagle fly. We were able to pull off a 3.45 at 162.70 mph on our first round of qualifying."
After a first round bye, Ernst beat Alec Gibas and his screw-supercharged, nitro "Hulk." Gibas was thrilled after round 1 saw all of the GForce Racing team's sleds advance, but that excitement would ebb as the day wore on.
"Second round brought a tough, tough competitor—Alec Gibas on the 'Hulk' sled," said Ernst. "The team and I were able to pull off the win over Alec and move to the third and final round against Austin Oertel on the nitro ProCharged John Deere sled.
"Austin put up a fantastic race, but with the combination of Glenn Hall tuning our HRC-4 Eagle-1 and with the Snow Sharks underneath the sled, we were able to pull off the win."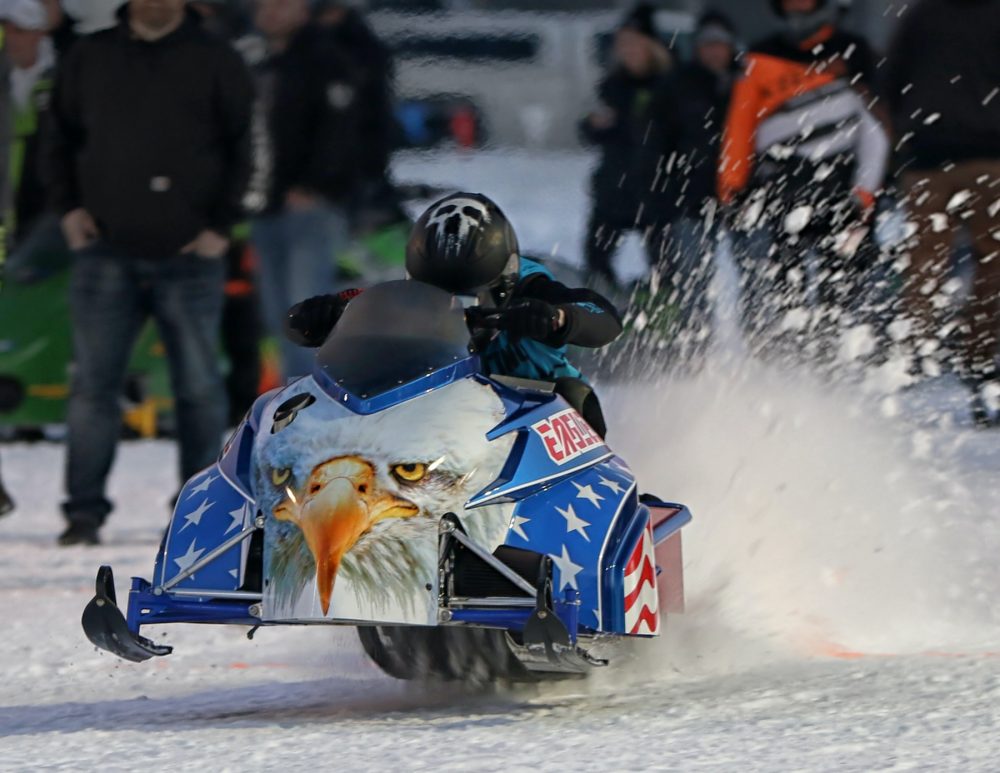 That made for two wins in this warmth-shortened, two-race Snow Outlaws season. "The weekend brought a lot of excitement, from being number one qualifier to getting the number one spot racing on Saturday for myself and the Nyhus Erectors team."
In addition to the "Hulk," Ernst had another new supercharged nitro Hypersports build on the grounds to contend with, the "Kawasaki" of Darryl Cuttell. The Hypersports build that defined this platform—the record setting "Grinch" of owner Jeff Ratzlaff and ridden by Mike Allen, was unable to make the Cable trip after an engine failure on the dyno.
"Overall I couldn't ask for a better race and a better team to be a part of," said Ernst. "It's truly an honor and I truly couldn't thank Chad and Jenny Nyhus enough for this rare opportunity. Thank you Glenn Hall for all of your hard work tuning the Eagle-1 sled and also being a great friend. The team couldn't do it without you.
"Thank you Dillion for helping pick the best lines on the track to line up the sled. Thank you to my Dad (Matt Ernst) for all your hard work, helping out with the sled and taking the long trips with me to the races, also being a big support.
"Thank you to Craig Campton and Chase Miller at Hypersports for building the most badass sleds known to racing. Thank you to my teammate Scott Kostman and his wife Billie for all your help and support. Thank you to my wife for all the love and support you provide me, especially staying at home with the boys and allowing me to take the time to be a part of this opportunity.
"Thank you to all other friends and family for all the support, and congratulations to Brian Sullivan on the Pro 55 win and to Devin Kirane on his Pro Mod win."
Pro-X 55
Like Ernst, Brian Sullivan also swept both wins this season in Pro-X 55 on his own iconic John Deere sled. Sullivan encountered few troubles but faced a tough ladder and tricky track on this particular weekend.
"The track at Cable was very tricky, a little bit trickier than Rice Lake or tracks we're used to these last two years. The traction was more limited, and trying to find the correct spot and trying to figure out how to get down it as quick as possible was difficult.
"I definitely didn't feel real confident Friday night. My speeds were off, but my speeds are always off at Cable. Still, you're like, 'Oh, shit. I ran this at the last race and I'm a tenth slower here.' Sometimes that Dragy (the GPS-based ET/MPH indicator used on the sleds) is a great tool, but sometimes you let that Dragy get into your damn head.
"My best pass was the first round on Saturday, a 3.73 or 3.74." That netted Sullivan the win against Andy Gosch. "We put the power we thought it could handle. It seemed to handle it great and made a real good pass, so we said 'Let's leave it alone for second round.'
"My worst pass was second round. The track did probably start going away, because it's noon to one o'clock. We spun pretty bad." But Sullivan still got past Mike Sweeney Jr.
"So then third round against Ryan Santry, we took some power away—especially right off the hit or right on the two-step and up to 1.2 seconds into the run—just based off what we were seeing in our data log and our videos and my guys walking the track and what the track was probably gonna probably be like.
"I was definitely a little concerned about Ryan because I knew he's got that four cylinder Yamaha motor and that thing makes some mile-an-hour. I've never raced him before and don't know what he has. If that makes any sense. I know everyone else that I'm racing against has almost what I have.
"I watched him put a couple of sled lengths on the Farmall earlier, but I didn't know what happened at the beginning of that race. You don't know the whole story, ever. The Farmall is what I have, you know, but did Ryan get a holeshot or did Farmall have issues?
"I was really concerned that if I couldn't leave with him or leave ahead of him that he would probably run me down at the end of the track. And he did tree me. He definitely cut a light on me, I'll tell you that. Whether I was late or he cut an amazing light, I don't know which one it was but kind of shocked me a little bit. I was like 'Shit! He's out on me a few feet instantly!' and that hasn't happened to me this year. Usually I leave with them or ahead of them always, so that kind of caught me off guard there a little bit. He had me.
"The way we lined up side by side (in the center of the track), it was kind of interesting too, because normally you're in your own head and and now all of a sudden I got his sled popping and banging right beside me.
"We kind of went down the track as a V though. I know he had a few issues in his lane, he didn't have a perfect pass by any means. He was in the left lane but on the right side of it. He went to the left and I I went I went more straight, but drifting to the right. Neither of us took the 500 foot approach."
In fact, Santry seemed to be heading straight for a guy videoing right at the left edge of the finishline. "That was Norm! That was my guy!" continued Sullivan. "And he was like 'Yeah, I thought he was gonna hit me.'
Sullivan ran his second best pass of the weekend to take the win over Santry and set up the final with Tyson Enerson. "I'm like—we could take a little more power out of it for the final, but yet it's really hard to keep taking power away.
"Tyson ran against my brother Corey on the first pass of the day, so I kind of knew what he had In terms of his performance. I asked Corey about the race and he said 'We were real close to each other, but then I got myself crooked and had to let off.' I knew what Corey ran, so I think I got them covered. But you don't know. That doesn't mean everything's going to come out the way you think it's going to."
But it did, and Sullivan got the win. "Honestly, I probably would have ran faster if I took more power away. But I've never ran it like that, and if I take power away will it become really slow, become really lazy, and I don't know where that point is. So I left it the same." And got the win.
"I definitely want to thank Chad and Jenny Nyhus and the entire Snow Outlaws crew for putting it on, because without them we wouldn't have a place to race these machines. Most people don't understand how much time and commitment it takes to build our tracks, and even the stuff off-season that you'd never think about. We're done racing for the year now. We don't have to worry about it till ten months from now. But they're constantly planning and meeting with people and sponsors.
"I want to thank everyone at Hypersports for all their great products and support. I gotta thank all my crew for being there, because ultimately without all them, it's definitely the people that makes it happen. You know, the guys picking the spots, the guys who videotape, and the guys help with all the adjustments on the sled, whether it's computer or suspension or anything."
Pro Mod
Seventeen year-old Devin Kirane took out some big names on his way to the Pro Mod win, beating Tyler Stelton, Chris Baynes, and Tony Goodsell on his way to the final round win over Blake Saltzman.
"It's very cool to go out on a highly recognized field and get the win," said Kirane, riding this sled for the very first time at this event.
Devin has raced mini bikes, quads, and Polaris SXS. His first win at a sanctioned race was 2021 at age 15, when he won Trail Turbo Shootout at the Weenie Roast. He's currently undefeated in 900 shootout with a sled he built himself called 'Pandemonium."
"I'm 61 and raced since I was 16," said his proud dad Vince Kirane. "Devin has won more races in two years than me my entire career!"
"Thanks to Doug Meyers—owner of sled (which is for sale) and his crew—for opportunity of a lifetime!" said Devin. "Jenny and Chad Nyhus for providing a professional grade event, Hypersports for the insane build, Kirane Boys Racing, Rock River Marina, Stud Boy Traction, Venom Products, Transport Refrigeration, Vinnie Fabrication, and last but not least PC Rasmussens and family for the Weenie Roast! One of the best winter events around!
"I personally have attended for over 40 year," chimed in Vince, pointing up to his Tow Pig mascot.
Pro Mod was not swept this year like the other classes, with Kyle Shilts winning at Rice Lake.
Chad and Jenny Nyhus thank everyone in the Snow Outlaws family that made this short season so sweet, and wish everyone a safe spring, summer and fall until everyone reconvenes back on the ice and snow in '24.