Five-time and defending NHRA Pro Stock world champion Erica Enders was named the Drag Illustrated Racer of the Year for 2022, the magazine announced Wednesday during a special edition of The Wes Buck Show. Enders and over a dozen other award winners are also recognized in the second annual DI Awards Issue, which is now available to read online and will hit subscriber mailboxes next week.
Enders and the Elite Motorsports team were a dominant force in NHRA Pro Stock throughout the 2022 season, which saw Enders secure her fifth world championship. She earned 10 wins in 19 races for a round win record of 55-9. The DI editorial team chose her as the Racer of the Year due to her recent success and a relentless pursuit of greatness on and off the track.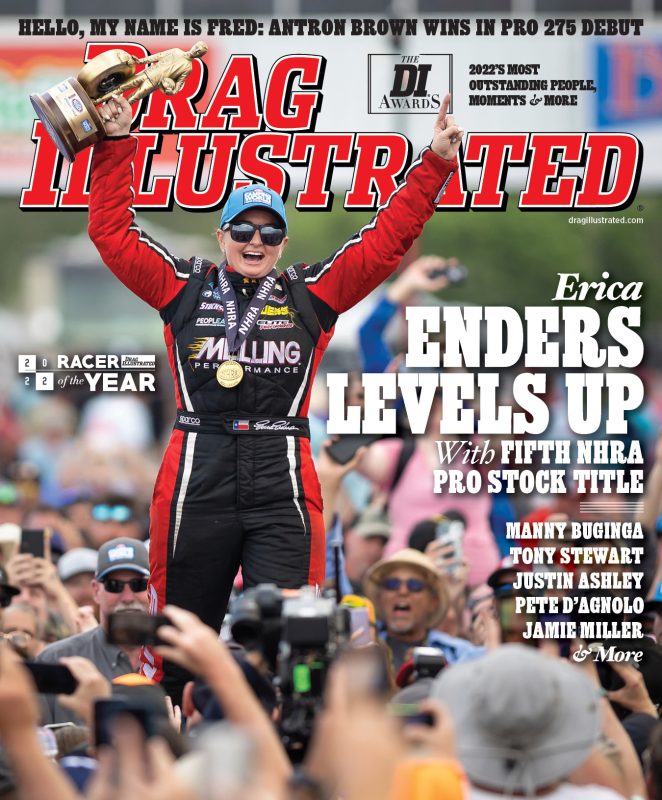 "It's no secret that we're big Erica Enders fans at Drag Illustrated," said Wes Buck, founder and editorial director, Drag Illustrated. "I personally believe she's not only one of the best Pro Stock drivers of all time, but one of the flat-out best drivers in drag racing's history. Erica proved that with her 2022 performance. She was in the winner's circle seemingly every other weekend, and it was one of the best season-long performances in recent Pro Stock history."
By winning her fifth NHRA Pro Stock championship, she joined a prestigious group of Pro Stock drivers with five or more titles: Bob Glidden, Warren Johnson, Jeg Coughlin Jr., and Greg Anderson.
Enders climbed the drag racing ranks from her start in the Jr. Dragster league to a successful stint in the NHRA Lucas Oil sportsman series, where she earned a Super Gas national event win in 2004. That performance led to her Pro Stock debut the following year. This will be her 19th season competing in the class.
"Going back to my mentality and my goals when I was a little girl to seeing what we've been able to accomplish now is just super surreal," Enders said. "I'm humbled by it, and obviously, very grateful. I wanted to set out and be the best driver. Nothing to do with a female. Nothing to do with a Pro Stock racer or any class. I just want to be a good driver, and we've definitely made strides towards that.
"There are so many great drivers out there in our sport, not just in NHRA, but all forms of drag racing," Enders continued. "To be awarded Racer of the Year is probably one of the greatest awards ever. That's what any race car driver would want, right? To be the baddest at the thing you love the most."
The other nominees for the Racer of the Year Award were NHRA Top Fuel world champion Brittany Force, NHRA Pro Stock Motorcycle world champion Matt Smith, PDRA Pro Nitrous world champion Jim Halsey, Street Outlaws: No Prep Kings champion and 2021 DI Racer of the Year Ryan Martin, and PDRA Pro Boost world champion Todd Tutterow.
"All of this year's honorees are incredible racers," said Nate Van Wagnen, editor-in-chief, Drag Illustrated. "They all excelled throughout the 2022 season, adding race wins, records, and world championships to their already stacked resumes. It was not easy selecting just one driver out of that bunch to honor as the Racer of the Year."
Along with Racer of the Year, the second annual DI Awards also recognize winners in over a dozen other categories, including Sportsman Racer of the Year, Outlaw Racer of the Year, and Breakout Racer of the Year, Tuner of the Year, Crew of the Year, Promoter of the Year, Pass of the Year, and more.
The DI Awards Issue is available to read for free at digital.dragillustrated.com.
2023 DI AWARDS WINNERS
Racer of the Year: Erica Enders
Nominees: Brittany Force, Matt Smith, Jim Halsey, Ryan Martin, Todd Tutterow
Sportsman Racer of the Year: Pete D'Agnolo
Nominees: Jimmy Hidalgo Jr., Joe Roubicek, Gage Burch, Bo Butner, Matt Dadas
Outlaw Racer of the Year: Manny Buginga
Nominees: Bubba Stanton, Jason Lee, Marques Hatton, Kenny Hubbard
Breakout Racer of the Year: Justin Ashley
Nominees: Amber Franklin, Joey Gladstone, Troy Coughlin Jr., Kayla Morton, Dallas Buchanan
Pass of the Year: Larry McBride's 268.30 MPH in Top Fuel Motorcycle
Nominees: Troy Coughlin Jr. Beats Erica Enders by .0001 for First Pro Stock Win, Erica Enders' 6.450 in Pro Stock at NHRA Gatornationals, Brittany Force's 338.94 mph in Top Fuel at NHRA Finals, Melanie Salemi's 3.568 in Pro Boost at PDRA East Coast Nationals, Rob Goss' 4.108 in X275 at No Mercy 13
Race of the Year: Sick Week
Nominees: World Cup Finals, PDRA ProStars, Snowbird Outlaw Nationals, NHRA FallNationals, Night Under Fire
Crew of the Year: Jim Halsey's Pro Nitrous Team
Nominees: Wyo Motorsports, Elite Motorsports, Melanie Salemi Motorsports, Ron Capps Motorsports, McPhillips Family Racing
Tuner of the Year: Jamie Miller
Nominees: Todd Tutterow, David Grubnic, Mark Ingersoll, Steve Petty, Brandon Switzer
Special Award for Ambassadors to the Sport of Drag Racing: Tony Stewart
Nominees: Antron Brown, John Sears, Joe Castello, Elon Werner, Courtney Enders
Promoter of the Year: Jason and Chris Miller
Nominees: Victor Alvarez, Bill Bader Jr., Donald Long, Tyler Crossnoe, Tom Bailey
Track of the Year: Bradenton Motorsports Park
Nominees: Maple Grove Raceway, Texas Motorplex, Summit Motorsports Park, Virginia Motorsports Park, Xtreme Raceway Park
Moment of the Year: Ron Capps' Championship Run
Nominees: Greg Anderson's 100th win at the NHRA U.S. Nationals, Antron Brown wins Pro 275 at the Snowbird Outlaw Nationals, Bob Locke Wins NHRA Finals and Super Gas Championship
Rivalry of the Year: Ryan Martin vs. Kye Kelley
Nominees: Robert Hight vs. Matt Hagan vs. Ron Capps, Lyle Barnett vs. J.R. Gray, Matt Smith vs. Joey Gladstone, Elite Motorsports vs. KB Racing, Todd Tutterow vs. Melanie Salemi
Influencer of the Year: Alex Taylor
Nominees: Clay Millican, Garrett "Cleetus McFarland" Mitchell, Alex Laughlin, Chris "Boosted" Hamilton