Doug Kalitta was the No. 2 qualifier at the Texas NHRA FallNationals. It was his 13th top-four qualifying effort of the season including each of the last seven races. Kalitta's best qualifying attempt came during the Friday-evening session when he made a 3.642-second run at 334.70 mph. It was six thousandths of a second off the No. 1 qualifier's time. In the first round of qualifying Friday afternoon, Kalitta set the Texas Motorplex Top Fuel speed record at 336.73 mph. The top-12 qualifiers all posted elapsed times in the 3.60s.
In eliminations, Kalitta defeated Josh Hart before losing to eventual race winner Leah Pruett in the second round. Kalitta leaves Dallas in second place in the NHRA Top Fuel point standings. He trails first-place Leah Pruett by four points and leads third-place Steve Torrence by nine points. The top-three drivers are separated by just 13 points with two races remaining in the season.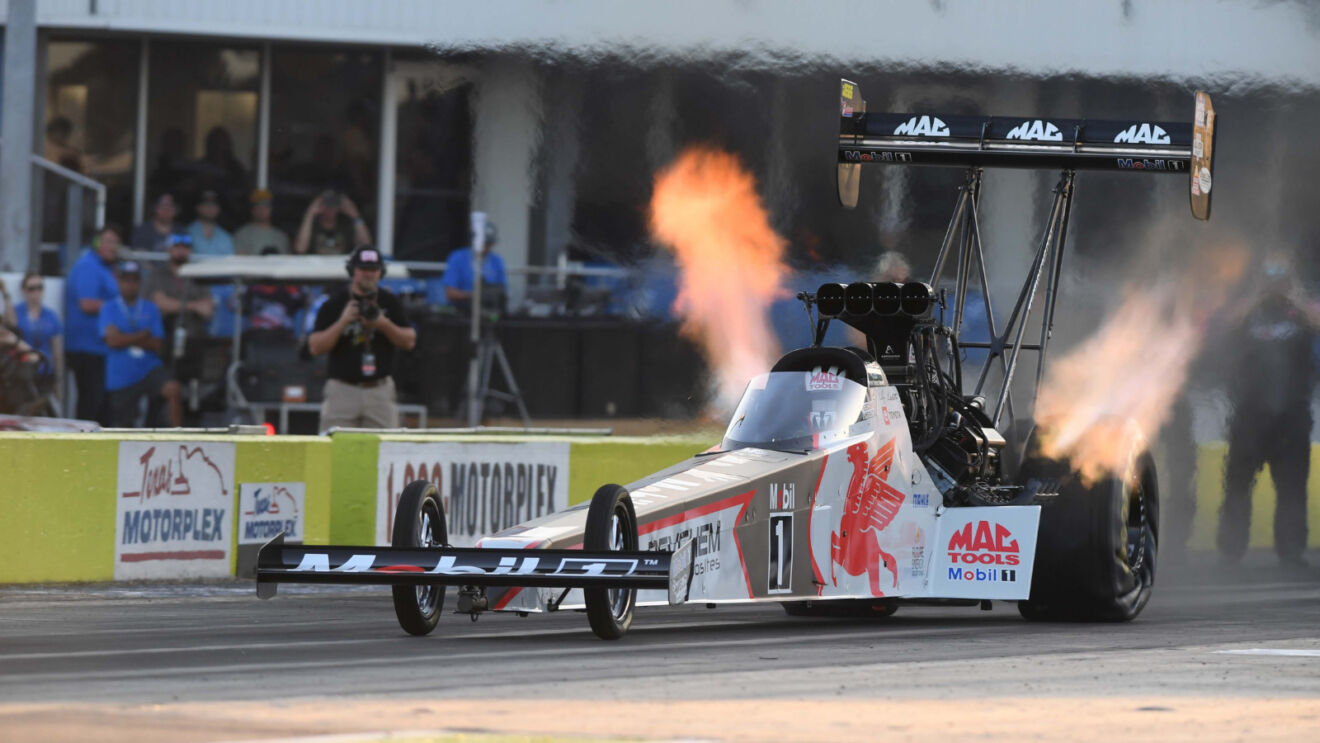 "We went out in the second round because we smoked the tires – we were a little concerned about that right lane because, in the first round, everybody was getting down the left," Kalitta said. "There were cars going down both lanes so it's just one of those deals. It's unfortunate, but we'll just drag it to Vegas try to get it going there. We qualified second and made some really strong runs so the Mobil 1 car is performing really well for sure. I'm proud of the effort all my guys put in every week for Mobil 1, Mac Tools, Revchem, SealMaster, Toyota and Future Energy Solutions. Alan, Brian (co-crew chiefs Alan Johnson and Brian Husen) and my guys have us in a tight battle for the championship, and that will probably come down to Pomona so there's a lot of racing to go."
J.R. Todd was the No. 6 qualifier at the Texas NHRA FallNationals. Todd saved his best for the final round of qualifying late Saturday afternoon when he posted a 3.857-second effort at 330.82 mph.
Todd defeated Blake Alexander and Terry Haddock before racing John Force in the semifinals. Both cars smoked the tires early in the run, and both drivers pedaled. Force's car hooked back up to the race track first, and he went onto win the race.
Todd leaves Dallas in sixth place in the NHRA Funny Car point standings. He trails fifth-place Ron Capps by 13 points and leads seventh-place Chad Green by nine points with two races remaining in the season.
"It was a good day overall going rounds and getting to the later rounds – that's always the key," Todd said. "We were pretty tuned up there for the semifinals against Force because that car's been really good all weekend. We figured we had to make a really strong run against them, and we both went up there and threw up. I just hate when I feel like I could have done a better job pedaling the car. I just hate to give those away. This is definitely the best race we've had in a long time. We qualified really well and made our best run there in Q4 – it was the best run we'd made in a really long time. That's definitely showing some promise going into the last two races of the year. The guys are working really hard for DHL, Revchem, SealMaster and Toyota and not giving up. We're doing all we can to go out here, run hard and finish strong."
Shawn Langdon was the No. 10 qualifier at the Texas NHRA FallNationals; Langdon made his best qualifying attempt during the first session on Saturday needing just 3.683 seconds to reach the finish line at 335.87 mph – it was the fastest speed of his career. Langdon's final three qualifying times were 3.684, 3.683 and 3.686 seconds. The top-12 qualifiers all posted elapsed times in the 3.60s.
Langdon's Kalitta Air Careers car smoked the tires almost immediately after the run began allowing Leah Pruett to cruise to the win during eliminations. Langdon tried to pedal the car, but Pruett was out of reach.
Langdon leaves Dallas in 11th place in the NHRA Top Fuel point standings. He trails the drivers tied for ninth place, Austin Prock and Tony Schumacher, by 29 points and leads 12th-place Josh Hart by 37 points.
"That was definitely unfortunate for our Kalitta Air Careers team. We had a really good day yesterday and made some really strong runs – we all wanted to keep it going, but it didn't work out like we hoped," said Langdon. "We made some progress on our performance since St. Louis with our test in Indianapolis, but we just didn't get it done today. We'll try to go some rounds for everyone who supports us like Kalitta Air, Revchem, Toyota and Future Energy Solutions in Las Vegas."
Team Kalitta will be back in action Oct. 27-29, 2023 at the Nevada NHRA Nationals in Las Vegas. For additional information, please visit www.nhra.com. For additional information on Kalitta Motorsports, please visit www.teamkalitta.com.