By Ian Tocher
In addition to Frankie Taylor's stunning new 3.485-seconds ET record, the PDRA Spring Open Pro Extreme race produced a couple of significant milestones for turbocharged doorslammer entries.
After qualifying seventh with a then-record 3.590 at an unprecedented 219.97 mph, Proline Race Engines co-owner Eric Dillard steered the Jerry Bickel-built "El General" '69 Camaro owned by Dominican racer Jose Gonzalez to an even quicker 3.579 at 219.22 in an opening-round win over Terry Leggett.
Dillard lost, however, by just three thousandths to a holeshot in round two by Todd Martin in his screw-blown '68 Mustang, despite posting an unreal 3.564-seconds run at an unbelievable 221.05 mph–the fastest speed ever recorded by a doorslammer over an eighth mile, bar none.
Crew chief Steve Petty added the current "El General" Camaro is about 100 pounds overweight for the class.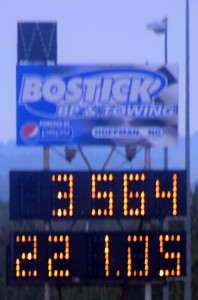 "We're getting ready to pull the trigger and build a new car," he revealed. "I mean, a hundred pounds is worth three to five figures (hundredths), which would make that last run a .53 or even better. And that's without doing anything else."
Despite being eliminated, Dillard still found plenty of encouragement from his experience at the inaugural PDRA Spring Open.
"We're thrilled, man. It's always been a dream for me and Steve (Petty) to come and run Pro Extreme," the Ball Ground, Georgia-based driver said. "To finally have the day come that we know we can pull into the pits and actually have something competitive to race is incredible.
"To really be competitive and not just be there to test is incredible, truly amazing, and we couldn't have done it without the support of our customers like Jose and the Q-80 guys and Danny Lowry. Those guys all believed in us and let us experiment, all while knowing full well it might never pan out, so we're truly grateful."
(Photos by Ian Tocher; Click to enlarge)