The fifth event of the year for the all-new Professional Drag Racers Association (PDRA) goes off this weekend at Virginia Motorsports Park in Richmond, Virginia. DRAG ILLUSTRATED aces Ian Tocher (Senior Editor) and Kyle Kramer are on the scene and will be providing photos and race commentary throughout the weekend, along with result sheets posted in accompanying posts. Check it out!
---
MUSI SCORES CAREER-FIRST WIN AT RICHMOND; SNIDER, GOFORTH AND RIVENBARK ALSO FINISH FIRST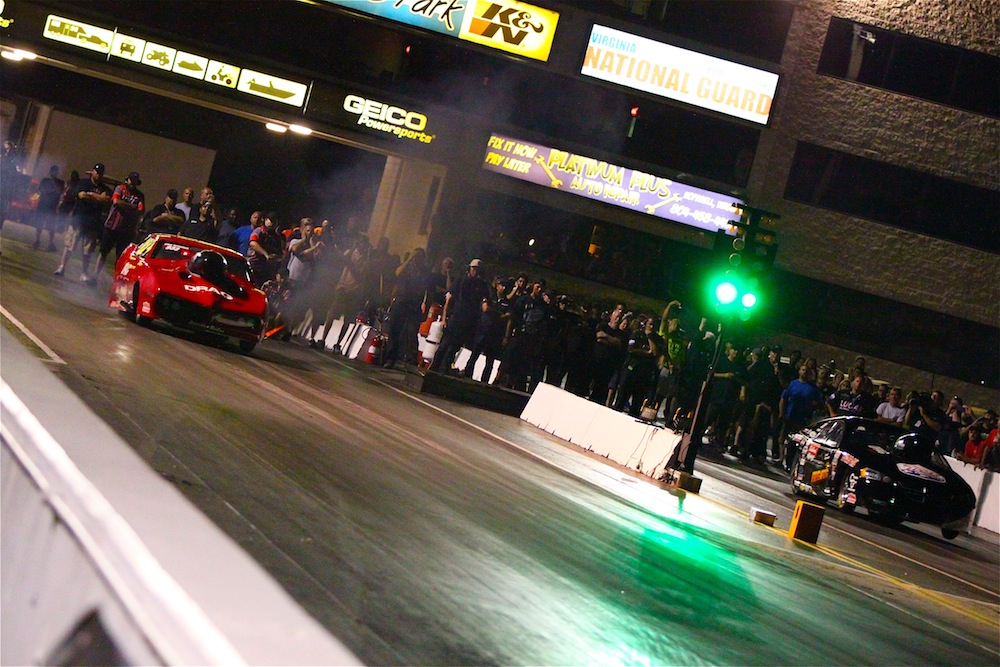 Lizzy Musi, the 23-year-old daughter of doorslammer drag racing legend Pat Musi, earned her career-first win Saturday night in the inaugural Professional Drag Racers Association (PDRA) U.S. Drags at Virginia Motorsports Park (VMP), near Richmond. Musi beat points leader Jason Harris in the Switzer Dynamics Pro Nitrous final, ending Harris' undefeated streak from all four PDRA races previously held this year. Also picking up pro class wins were Brandon Snider in the NAS Racing Pro Extreme class, Cary Goforth with his third Aruba.com Extreme Pro Stock victory of the season, Kevin Rivenbark in Precision Turbo/Proline Pro Boost and veteran rider Billy Vose with his first PDRA win in Pro Extreme Motorcycle. Sportsman class victories went to Bruce Thrift in Magnafuel Top Sportsman, Derrik Sholar in STT Safety Equipment Top Dragster, and Preston Tanner and David Roloff in Huddleston Performance Pro Jr. Dragster and Top Jr. Dragster, respectively.
PRO NITROUS
Musi qualified her Frank Brandao-owned 2009 Stratus in the number-one position over a PDRA record 32 Pro Nitrous entries with a career-best 3.74 seconds at 199.23 mph over the VMP eighth mile. Harris started from the second position after posting a 3.79-seconds qualifying pass. In eliminations, Musi beat David Campbell, Jay Cox and John Camp to reach the final, while Harris raced through George Williams III and Tommy Franklin before catching a break in the semis when Chris Patrick left too early to throw away a 3.87 run that easily would've beaten the 4.20 posted by Harris when the engine in his '68 Firebird sustained damage. In the final round, Harris left first with a slight .007 advantage, but Musi won with another solid 3.88 performance at 181.64 mph, while Harris faded to a 4.24 at 136.90-mph effort. Musi was overcome with emotion at the top end of the track after the win, remaining in her car for several minutes while gathering her thoughts and composure. "This is unbelievable, like a dream come true. Well, it is a dream come true," she said upon exiting. "I've been dreaming a long time about winning a race and for it to finally come true is, well, I don't even know what to say." The Mooresville, NC-based driver went on to praise her crew for their hard work and dedication to getting the job done, singling out crew chief Gary Henry and her father for making the right calls both at the shop and in the pits. Pat Musi said he "couldn't be prouder" of his daughter. "That kid, she deserves this win. I couldn't be happier for her right now," he said. "She's put in the work and learned what she needed to and everyone on this team recognized that and that's why they all work so hard to help her. We know we have the car, we know we have the driver, so now all we have to do is go out there get it done again."
PRO EXTREME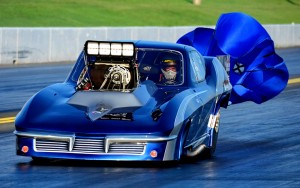 Operating on probably one of the tightest budgets in the Pro Extreme class, Snider showed up in Richmond without a screw blower to bolt atop his alcohol-burning Hemi, but was able to borrow a spare from fellow competitor Neal Wantye that helped the former Marine earn his first PDRA trophy after reaching his second-straight Pro Extreme final. After qualifying third with a 3.58-seconds pass at 211.10 mph, behind only pole sitter Bubba Stanton (3.53/217.18) and Dubai racer Badir Ahli (3.56/213.84), Snider ran 3.63 to win his first elimination round over Randell Reid, whom he'd lost to in the final a month earlier at Martin, Michigan. Snider, from Atmore, Ala., then got quicker with each successive trip to the starting line in his '63 Corvette. A 3.60 at 209.49 dispatched Terry Leggett from round two before Snider went 3.57 at 210.90 to win in the semis against Ahli, who left with a -.113 red light. That set up a final-round match against number-four qualifier Tommy D'Aprile, who steered his Mel Bush-owned '05 Corvette to preliminary wins over Eric Dillard and a redlighting Todd Martin before advancing from the semis with a holeshot win over Stanton. After posting nearly identical reaction times, D'Aprile ran 3.60 at 208.30 mph, but it was Snider's 3.56 at 209.95 that took the win home to Atmore, Alabama. "This was a collective effort," Snider insisted later. "First of all I want to thank God; He already knew who was going to win this race; Tommy and I were just here for the ride. "But I have to thank Neal Wantye for helping me out, Ken from Motorsports Unlimited, Jimmy Crenshaw, Michael Elsberry, Steve Holloway, all my crew, Joey Martin; these guys just did what they had to do and I just drove it, man. I had the easy job."
EXTREME PRO STOCK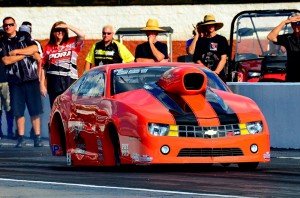 Just as he was at the previous PDRA race a month earlier in Martin, Mich., Brian Gahm was quickest in Extreme Pro Stock qualifying for the PDRA U.S. Drags with a 4.06 pass at 177.44 mph in his 2013 Mustang. John Montecalvo placed second at 4.09, Dean Goforth was third at 4.10, while his son and points leader Cary Goforth finished up the top half of the eight-car field with a 4.11-second pass at 177.49 mph. All but Dean Goforth advanced from round one of racing, but it was Cary that went the distance for the win, beginning with an epic, three-minute staging duel in round one with John Pluchino, then taking out Gahm in the semis to meet sixth-place qualifier Lester Cooper in the final. Cooper took a slim .008 lead with his '09 Mustang off the start and made his quickest run of the weekend at 4.18 and 172.30 mph, but Goforth's 2014 Camaro laid down a 4.10 at 176.67 to earn his third PDRA win of the year. "You know, I hate that Dad lost to him in round one, but Lester keeps going to these finals and he's going to win one of them one of these days," Goforth pointed out. "We struggled a bit with my car this weekend, but my guys kept working at it and working at it and I feel fortunate to be standing here right now. This one wasn't easy, but then, none of them are. This is a tough class."
PRO BOOST
Through qualifying and eliminations Wallace, NC's Kevin Rivenbark kept going quicker each round in his supercharged '67 Mustang until securing his first PDRA Pro Boost win with a 3.86-seconds pass at 191.40 mph in the final against Florida's Joe Baker. Rivenbark's teammate and crew chief Todd Tutterow paced a Pro Boost record 23 entries with a 3.84 at 191.51 in qualifying, followed by Baker, NHRA regular Mike Janis and Rivenbark at the head of the 16-car race-day field. In eliminations, Rivenbark exactly matched his 3.92 qualifying pass to beat Jim Bell's twin-turboed Camaro, then improved to 3.90 in beating Tommy D'Aprile's blown '62 Chevy Bel Air, and improved again to run 3.89 in the semis to defeat Tutterow and his supercharged '69 Camaro. Baker, meanwhile, drove his supercharged '53 Studebaker past Tommy Gray, Andy Beal and Janis in a very tight semi final that saw Baker edge ahead of Janis' blown 2013 Camaro by just three-thousandths of a second at the eighth-mile stripe. It wasn't nearly that close in the final, however, as Baker's ride shook the tires for the first time all weekend and coasted to a 5.70 lap at just 83 mph. "I didn't see Joe, so I didn't know what happened to him at all," Rivenbark said. "But it feels good to finally get out of the semis and win one. Hopefully this is the start of something big and we can get after it in the points now, too."
PRO EXTREME MOTORCYCLE
After the fields were tentatively set by two rounds of qualifying on Friday (July 26) at Virginia Motorsports Park, only past class champion Ashley Owens in Pro Extreme Motorcycle was able to force a change at the head of the lists in Saturday's last-chance qualifying session with a stellar 4.05-seconds pass at 174.37 mph in the heat of the day on Saturday. In one of the most dramatic races of the event, Owens fell in the opening round to teammate and points leader Eric McKinney, however, after both riders posted identical 4.090 runs, with McKinney's .014 starting-line advantage translating to the same margin of victory 660 feet later. Two-time class champion McKinney then beat Jay Fisher in the semis to reach another former champion in Billy Vose for the final. Vose, who qualified sixth for the eight-bike field in his first PDRA appearance, scored a first-round win over Canada's Terry Schweigert, then beat Ron Procopio with a 4.08 pass in his own semi-final match to earn lane choice over McKinney. When the green light flashed, Vose took a .018 lead off the start, then led stripe to stripe, going 4.11 at 172.32 mph to beat McKinney's 4.17 at 146.50 package after his bike's engine broke shortly before the finish line. "We like to use a scuffed tire and our last tire had some 60 or 70 runs on it and it was starting to chunk on us, so we were on a brand-new tire here," Vose explained later. "That's why we were slow in qualifying (4.15/171.69), but I felt like if we could get it scuffed in time we'd be okay and that's what happened."
TOP SPORTSMAN/TOP DRAGSTER
Aaron Glaser, the most recent PDRA Top Sportsman winner from Michigan last month, continued his momentum with a career-first three-second pass (3.987/181.57) to earn the number-one spot in Virginia, but it was number-six qualifier Bruce Thrift standing tall with the winner's hardware when the racing was over. While Glaser lost in the opening round, Thrift successfully turned back challenges from Tim Lawrence, number-two starter Ronnie Davis, and John Lassiter before beating close friend Glenn Butcher for the win after Butcher redlighted by nine thousandths in the final. In Top Dragster Derrik Sholar started from the 13th qualifying slot, then drove his 2008 Race Tech car past Alan O'Brien, a redlighting (-.001) Danny Payne and Craig Sullivan to set up the final against 14th-place qualifier Travis Harvey. Both drivers dialed in 4.19 to set up a heads-up start, where the race was ultimately decided as Sholar left with an excellent .006 reaction leading to a 4.201 pass, while Harvey ran on the number with a 4.194, but his .022 at the tree translated to a nine-thousandths deficit at the finish line. With the win in Pro Jr. Dragster, Preston Tanner of Renssalaer, Ind., finished one position better than his result in the Michigan PDRA race last month, while Willowbrook, Ill's. David Roloff won a double-breakout Top Jr. Dragster final.
---
FINAL ELIMINATION RESULTS
Invalid Displayed Gallery
---
SATURDAY EVENING PHOTO GALLERY
Invalid Displayed Gallery
---
SATURDAY NOTES
TOP SPORTSMAN SHOWDOWN
Bruce Thrift and Glenn Butcher faced off in the Top Sportsman finals, both running strong all throughout eliminations as the day went on. The race was over the moment the amber lights came on. Glenn Butcher throws it away with a red-light start giving the automatic win to Bruce Thrift at the NAS Racing PDRA U.S. Drags.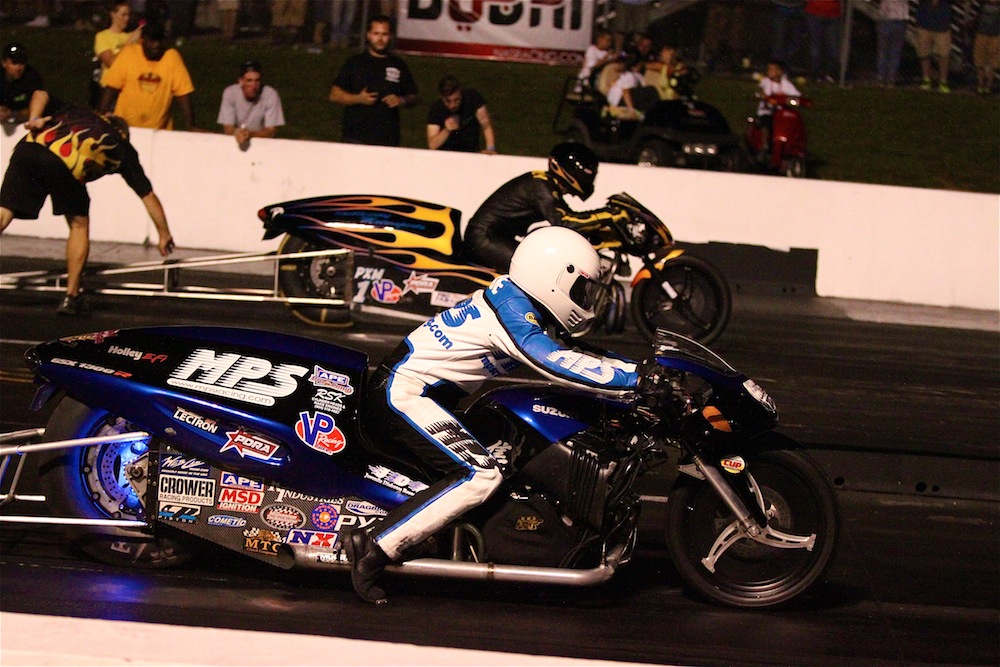 NOTHING PERSONAL
Long time friends off the track, but rivals on the drag strip; Billy Vose and Eric McKinney met in the Pro Extreme Motorcycle final. Both were side-by-side until Mckinney's bike appeared to lose power before the finish line giving Billy Vose the win.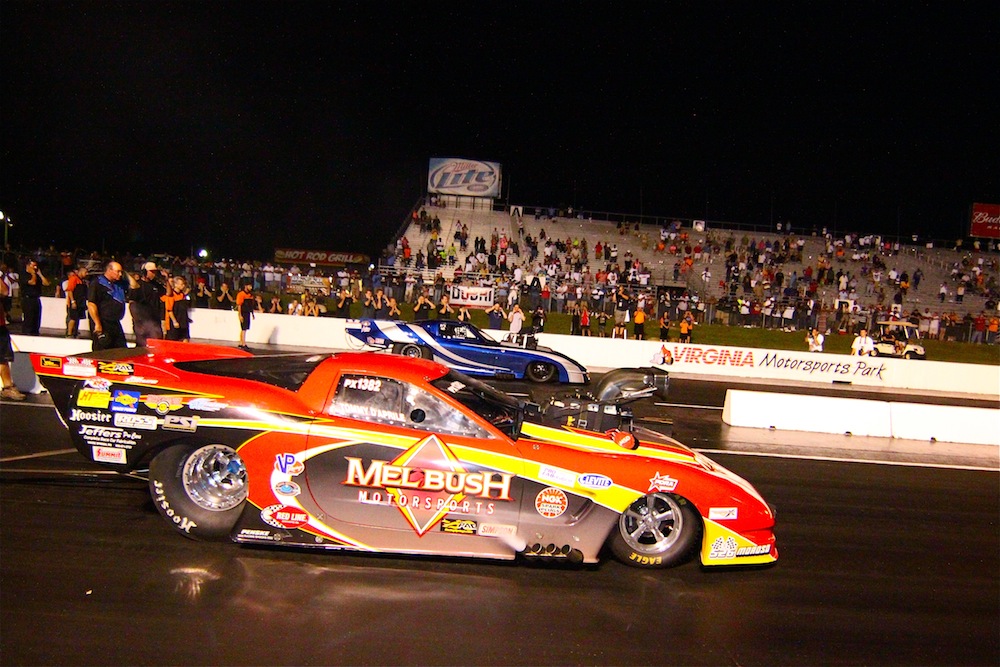 OH SO CLOSE
Pro Extreme had close racing all weekend with at least a half dozen side-by-side passes in the 3.60s throughout eliminations. This time it would be Brandon Snider in his classic Corvette versus Tommy D'Aprile in his late model Corvette. The two cars left together (.025 to .028), but Brandon Snider's split-window was on a run – posting a 3.56/209mph to D'Aprile's 3.60/208mph.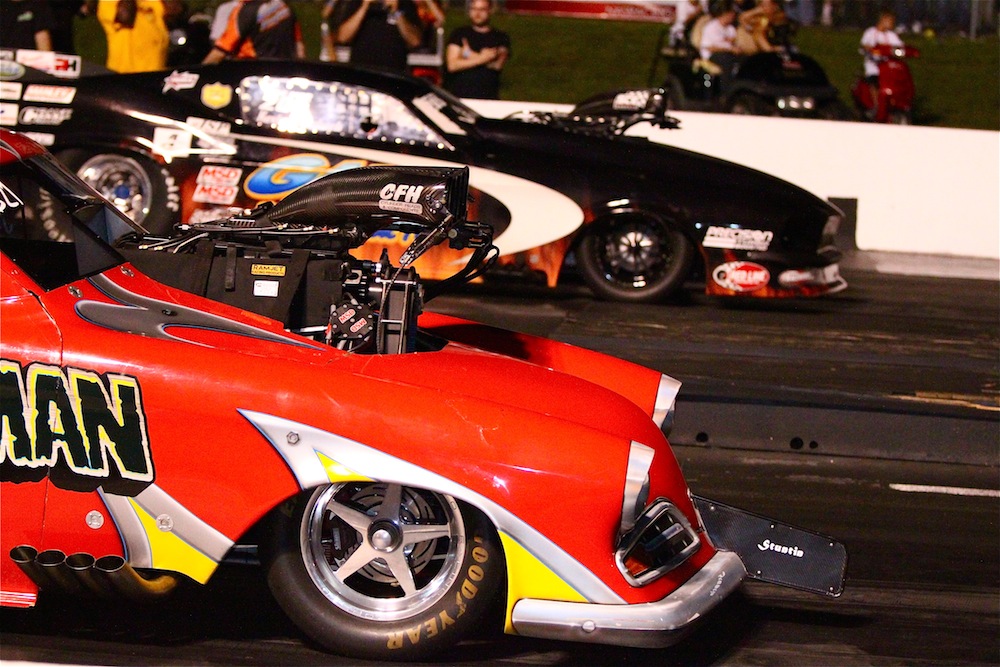 ALL BLOWER IN PRO BOOST
In the Pro Boost category it was an all-blower final with Kevin Rivenbark facing off against Joe Baker who was consistent with every pass throughout the weekend. Kevin Rivenbark would hold his '67 Mustang straight down the center of the groove for the win as Joe Baker was met with some traction problems.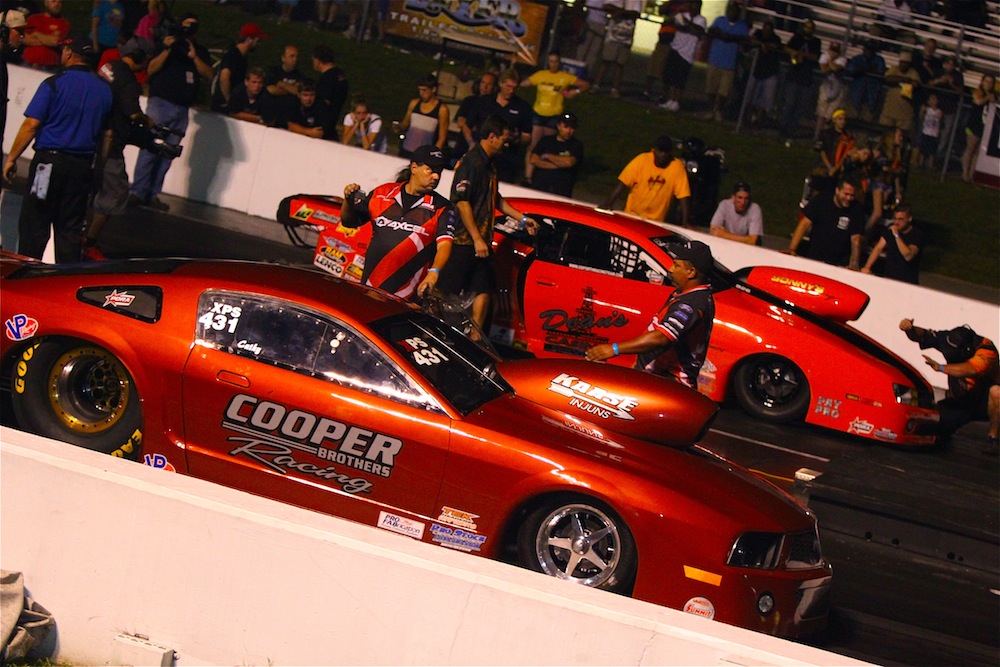 NATIVE PRO STOCK FINAL
It was Indian culture matchup in the Extreme Pro Stock final, both drivers with Native American blood flowing through their veins – Lester Cooper versus Cary Goforth. Lester took out some big names to get to the final round, while Cary was usual dominant self all weekend long in the Virginia heat. Cary would take the win with a 4.10.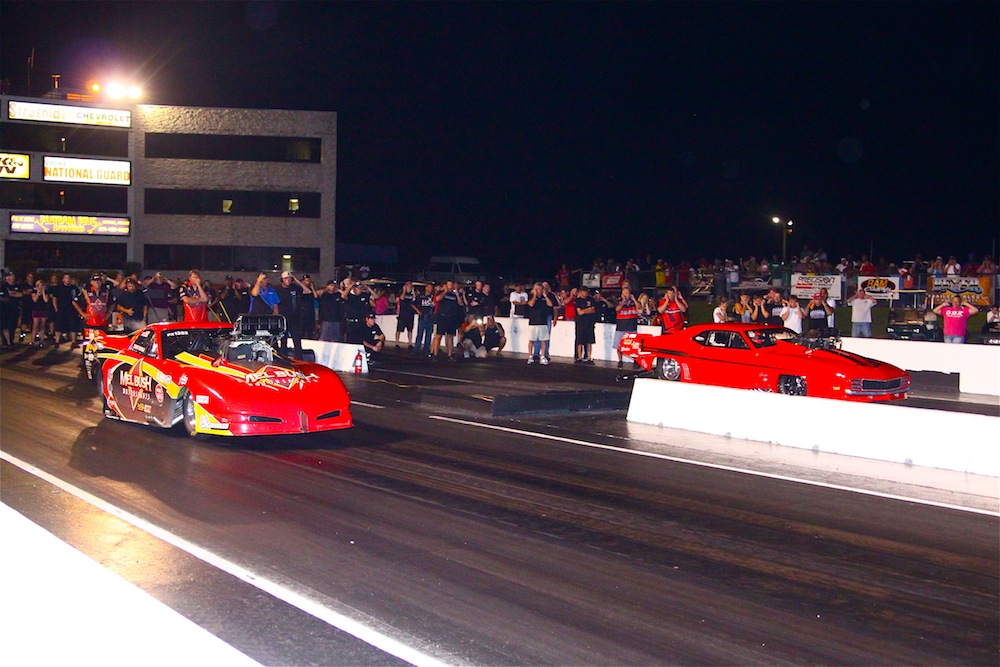 CLASH OF THE TITANS
In the semifinal round pairing between DRAG ILLUSTRATED columnist Tommy D'Aprile and Bubba Stanton, it was at the Christmas Tree that the race was decided. D'Aprile, a notoriously good leaver, strapped a .016-second reaction time on Stanton, who cut a surely respectable .058-light, and never looked back, taking the win with a  3.616-second blast to Stanton's quicker-but-losing 3.597.
---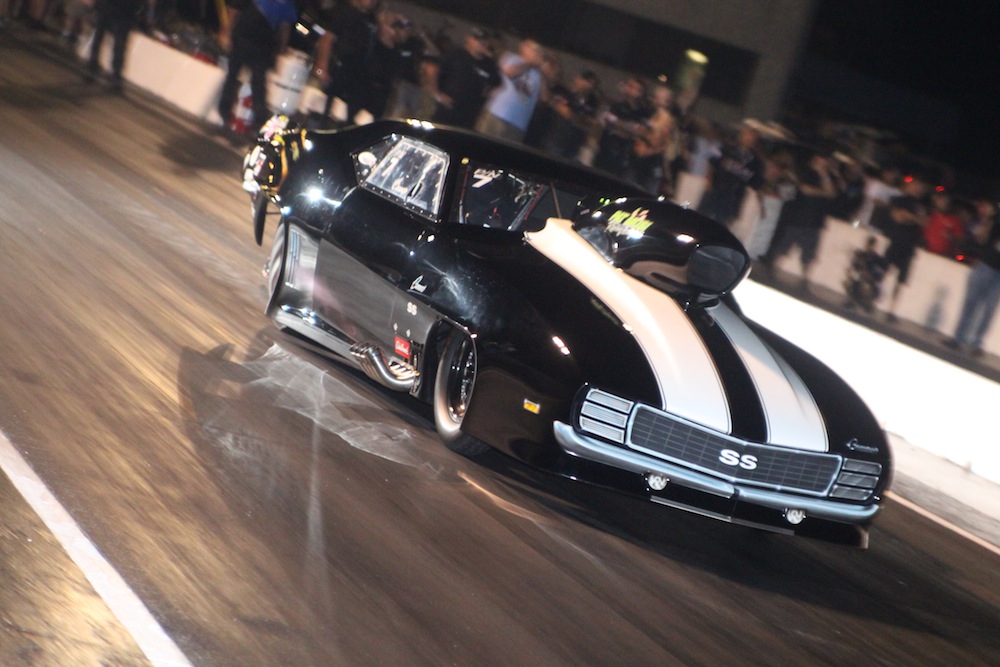 BOTTLE BATTLE
In the battle of the 903 cubic inch, nitrous-fed Pat Musi monsters, it would be Lizzy Musi taking the win with a 700-foot, pedal job 4.02-second pass over John Camp, who suffered a nitrous backfire early in the run. Musi is doing all that she can to earn her first PDRA Pro Nitrous victory and will face Jason Harris, who sent some pistons to the piston gods in his semifinal round victory, in the money round.
---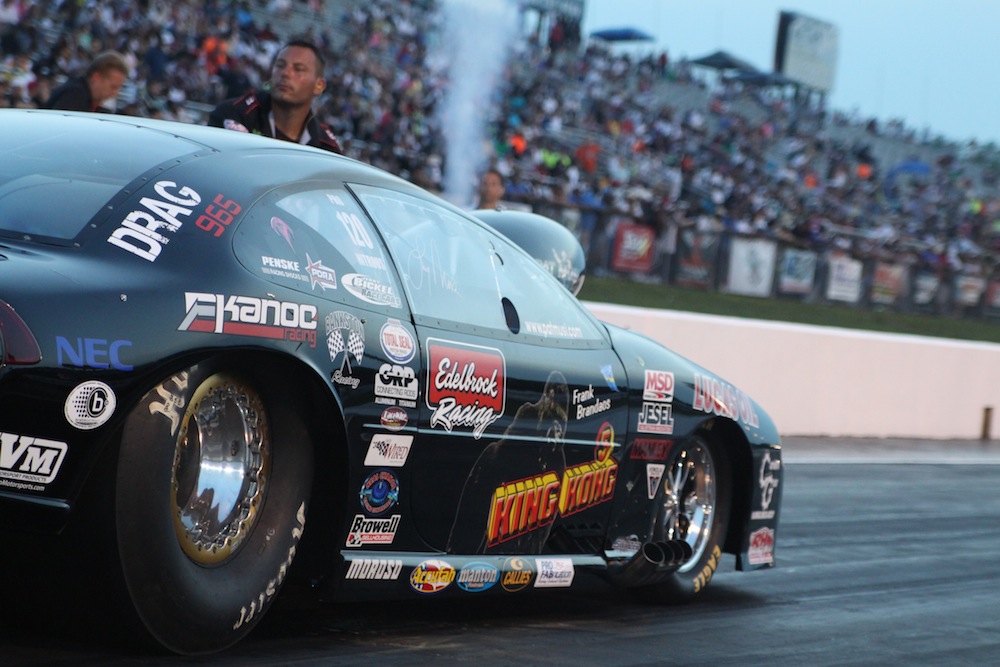 KING KONG'S GIRL
Lizzy Musi kept her hopes alive in the second round, taking out Jay Cox with a 3.777-second pass over his 3.85-second effort. Musi faces John Camp in the semifinal round.
---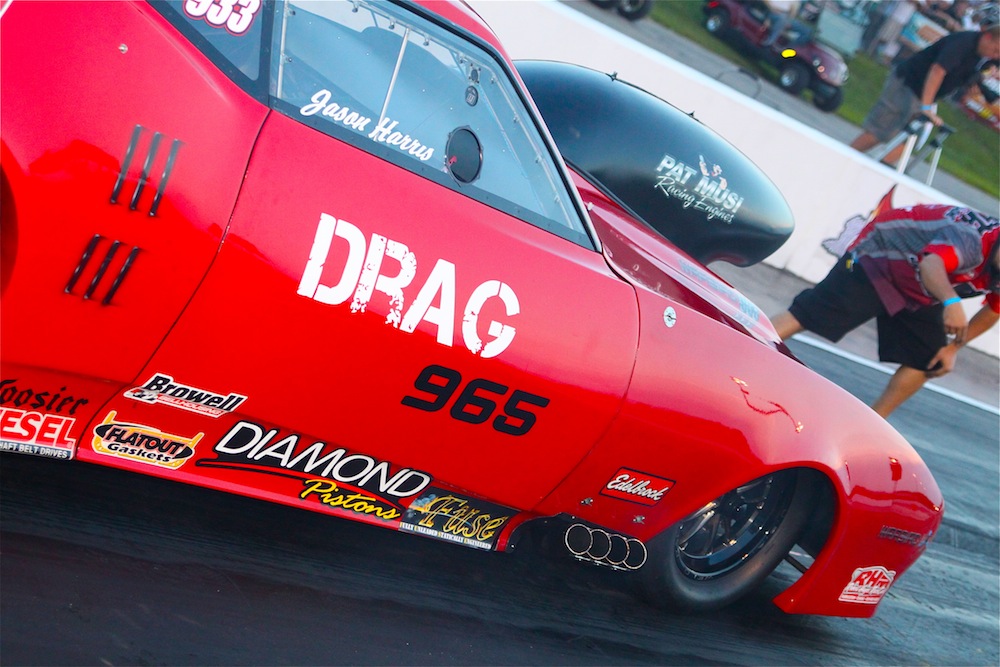 WARBIRD
Jason Harris would face teammate and Virginia-native Tommy Franklin in the quarterfinal round of Pro Nitrous action. Harris kept his undefeated streak alive running a 3.839 over Franklin's slowing 4.071.
---
WIDOWMAKER DOING WORK
Bubba Stanton would face in-state rival and teammate Jason Scruggs in the quarterfinal round of action. A truer drag race there was not as Stanton narrowly took the win with a 3.603-second effort over Scruggs' 3.61 pass.
---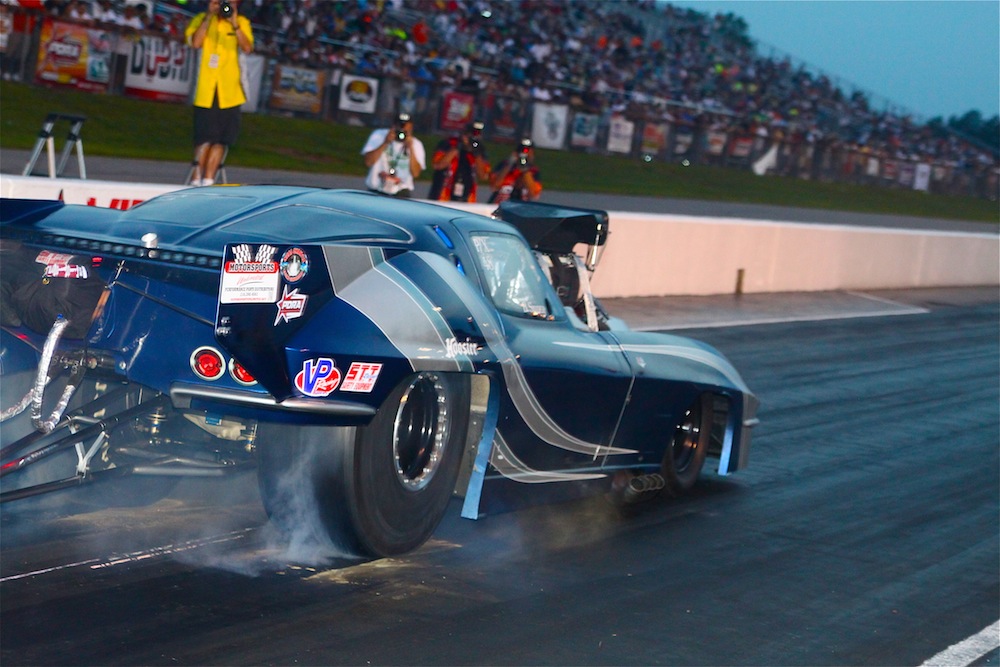 IN SHARK-INFESTED WATERS
Brandon Snider continued his well-known history of taking out the biggest and best names in Pro Extreme by trailering Terry Leggett with a stout 3.600-second lap in the quarters.
---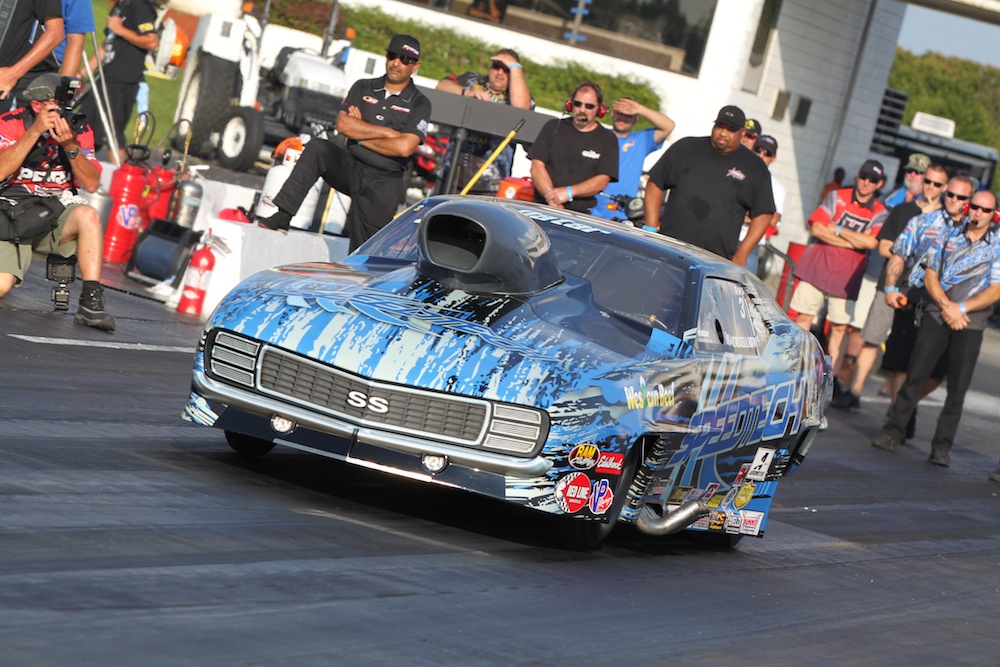 SHAKE IT UP
Mike Castellana drove around David Janes in the opening round of eliminations after Janes was met by the drag racing demon known as tire shake despite having left on Castellana with a .028-second reaction time (Castellana .088-seconds). Castellana met John Camp in the second round, but had his own run-in with tire shake.
---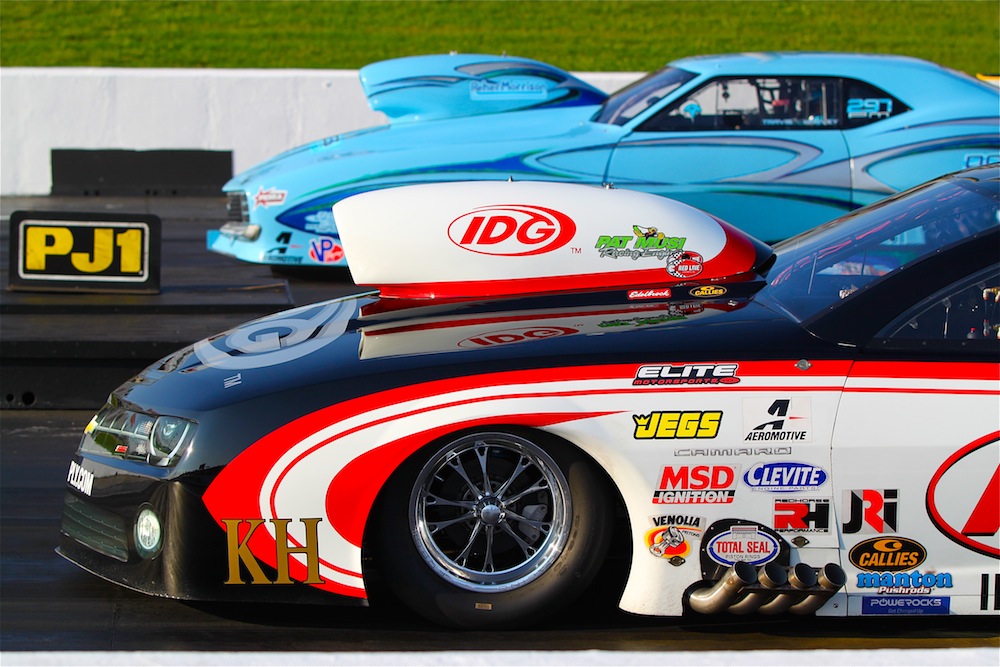 STEADY TRICKIN' "Tricky" Rickie Smith went straight down Broadway with his new automatic transmission setup, posting a 3.853-second elapsed time over "The Caroline Kid" Travis Harvey. Harvey shook after sixty-feet and had to coast to a 5.68. Smith faced Chris Patrick in round two, but wasn't able to maintain his momentum and headed back to King, North Carolina.
---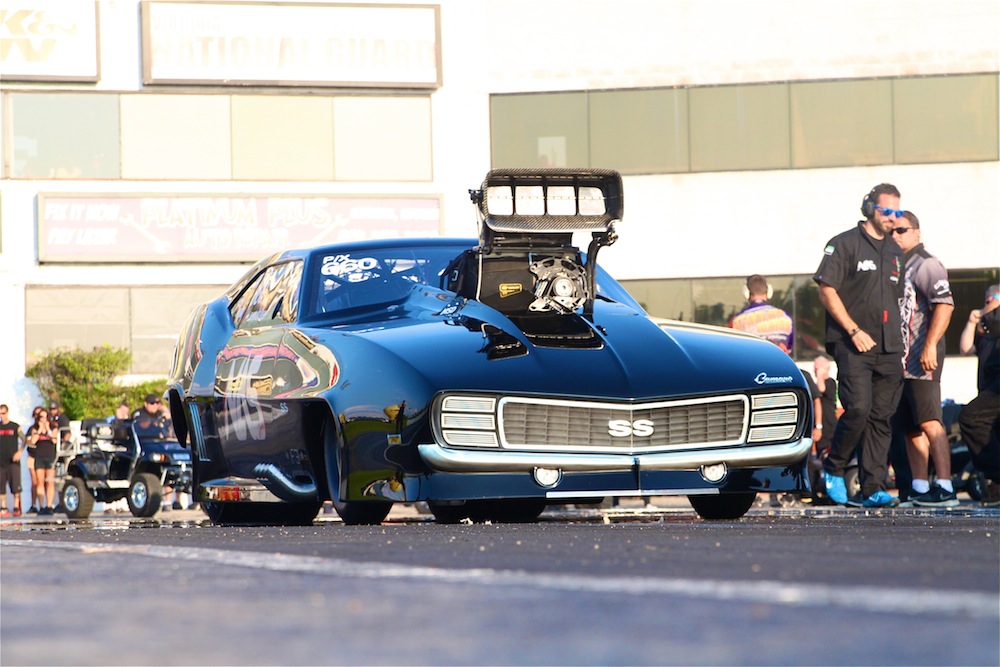 WHO CAN STOP ME NOW? Bader Ahli of the NAS Racing group laid down a 3.628-second, 209mph lap over Chuck Ulsch in the opening round of eliminations. Bader will face Mike Recchia in round-two.
---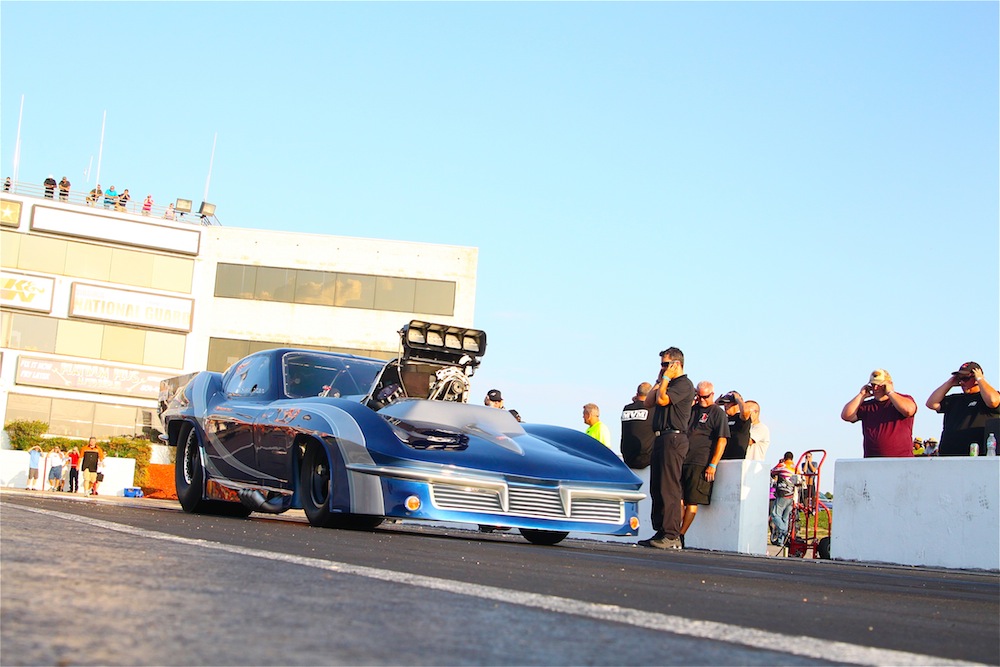 TOO CLOSE FOR COMFORT Brandon Snider had one hell of a side-by-side drag racing with two-time PDRA Pro Extreme winner Randall Reid, taking Reid out with a 3.63-second pass to Reid's 3.66-second effort in the opening stanza.
---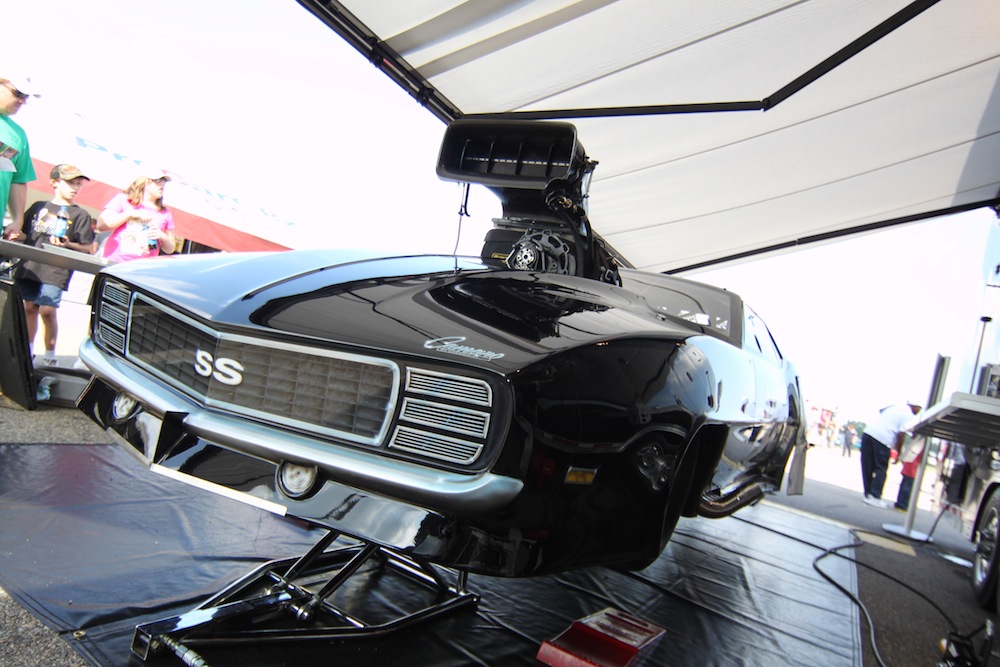 DUBAI WELL-REPRESENTED
The NAS Racing Team out of Dubai, despite its virtual immediate success, was assembled only a year ago. Their pair of classic black, screw-blown '69 Camaros have more than made their presence known in the highly-competitive Pro Extreme class with tuning minds Al Billes and Bob Newberry calling the shots. Qualified 2nd and 9th, respectively, team drivers Bader Ahli and Mustafa Buhumaid are looking good headed into eliminations.
---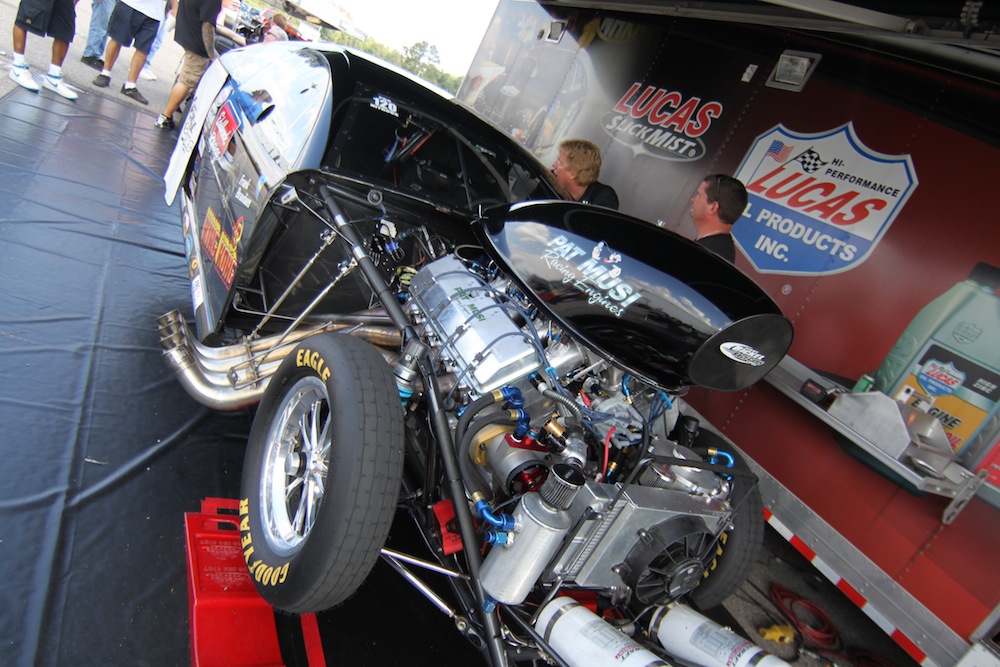 JETTED UP
Lizzy Musi – not surprisingly – is filled with confidence headed into elimination rounds, largely due to having the field covered by five-hundredths-of-a-second. Musi wheeled her Jerry Bickel-built Dodge Stratus to a 3.740-second, 199mph blast under the lights at Virginia Motorsports Park and is clearly poised to breakthrough for her first career PDRA victory.
---
BRANDON PESZ: ON FIRE IN THE LIGHTS
Photos by Charles Silver
Invalid Displayed Gallery
---
Q3 PHOTO GALLERY
Photos by Kyle Kramer
Invalid Displayed Gallery
---
FINAL QUALIFYING RESULTS
Invalid Displayed Gallery
---
FIERY FINISH FOR PESZ
Invalid Displayed Gallery
The weekend came to a dramatic end for Pro Extreme veteran Brandon Pesz, as the screw-blown Hemi in his '53 Corvette exploded just as he posted a run in the third and final qualifying session that would've put him into race-day eliminations. "I didn't get to make a run yesterday, we had transmission problems, and the track was a bit tricky today so I really just tried to ease it down there, just run hard enough to get in the field and then we'd get aggressive after that," said Pesz, who races as crew chief and teammate to team owner Todd Martin, who qualified 12th. It appeared like Pesz had worked his plan to perfection, running 3.775 seconds at 200.77 mph to bump the 3.796 at 176.03 by John Stanley and his brand-new 2014 Cadillac from the list, when a fire suddenly erupted and engulfed the car in flames at the eighth-mile finish line until it passed the scoreboards adjacent to the quarter-mile mark. "It was moving along through there just like it's supposed to, when all of a sudden, right before the lights all I saw was fire. It didn't bang the blower or make no sound like that; it torched the head gasket and then you had oil and fuel being forced out and that's what caught on fire. It went up and over the car and that's what was burning up there," Pesz explained. "No fire got in the car with me, but I could sure feel the heat. I saw lots of flames, bright red, yellow, orange, all those pretty colors. It definitely got warm. It was a little nerve wracking, but I'm fine, all good." Sitting in its pit less than 30 minutes later, the car looked remarkably untouched, as if it could still make the show. But Pesz said the damage was too severe to fix immediately, especially since he had to make sure Martin's '68 Mustang was ready to take on former class champion Mick Snyder and his '63 Corvette in round one of racing. "The car is fine," Pesz said. "I was about to pull the fire system when it just went out by itself. The motor is torched; I've got to do a little welding on the block and on the head, put a new head gasket on it; but then we'll get out there and do it again." 
-Story & Photos by Ian Tocher
---
FRIDAY NIGHT & SATURDAY QUALIFYING GALLERY
Invalid Displayed Gallery
---
STANTON, MUSI, GAHM AND TUTTEROW LEAD DAY ONE OF QUALIFYING FOR PDRA AT RICHMOND
Past class champion Bubba Stanton stepped up July 25, to lead the top-ranked Pro Extreme class after two qualifying sessions for the inaugural Professional Drag Racers Association (PDRA) U.S. Drags. Stanton covered the eighth mile at Virginia Motorsports Park, near Richmond, in 3.535 seconds at 217.18 mph with his supercharged 1969 Camaro.
Also leading the PDRA pro classes with one more round of qualifying scheduled for Saturday (July 26) before elimination rounds begin that afternoon, was Lizzy Musi in Pro Nitrous, Brian Gahm in Extreme Pro Stock, Todd Tutterow in Pro Boost and Travis Davis in Pro Extreme Motorcycle. First in the sportsman classes, also with one more qualifying opportunity, were Aaron Glaser in Top Sportsman and Jody Stroud in Top Dragster. Preston Tanner led Pro Jr. Dragster while his sister Alexis was first in Top Jr. Dragster, with both "kid classes" to get two more qualifying sessions on Saturday since they were postponed in order to get as many of the fields provisionally set before the track's 11 p.m. curfew.

Stanton's car lost traction early in his first NAS Racing Pro Extreme qualifying attempt, but the Potts Camp, Miss. driver said his team made few changes to it before stealing the top spot away from Dubai-based Badir Ahli, who led the first session with a 3.59 in his '69 Camaro, then improved to 3.56 at 213.84 mph shortly before Stanton ran again.

"We were too aggressive with it the first round, but we really didn't do much to it between rounds. I think the track just came around for us," Stanton said. "That was a good pass. It's going to be a lot hotter out there tomorrow and we know anything can happen, but I really don't think anyone will be able to beat that in the heat."

Brandon Snider placed third at 3.58 and 211.10 mph in his '63 Corvette, while Carl Stevens held on to the 16th and final spot with a 4.95 at 141.33 mph after 20 Pro Extreme entries made qualifying attempts.

After running a career-best 3.74 seconds at 199.23 mph in Friday-night's Switzer Dynamics Pro Nitrous qualifying session, class rookie Lizzy Musi was left in line to score her second-straight number-one start.
"We didn't even go after it at all," Musi claimed. "We had a low-key tune-up in it because we just wanted to get down the track and qualify good, but as soon as it left I was like, 'Whoa, this feels really, really good!"

Right behind her at 3.791 seconds was Jason Harris, who has won all four previous PDRA Pro Nitrous races held this season, and NHRA Pro Mod regular Rickie Smith with a 3.798 run at a class-leading 200.20 mph.

A PDRA record 32 Pro Nitrous entries made qualifying attempts with drag radial regular Dean Marinis in a rare "big-tire" appearance holding on to the final 16th qualifying spot with a 3.99 at 187.29 mph, just five thousandths ahead of Matt Guenther in 17th place.

In Aruba.com Extreme Pro Stock, Gahm also was going after his second consecutive pole position after winning the most recent PDRA race in Michigan last month. He recovered from a tire-shaking first qualifying attempt in his 2013 Mustang to leapfrog over opening-round leader John Montecalvo with an impressive 4.06-seconds pass at 177.44 mph.
"That was a pretty good hit," Gahm said. "We really didn't know whether the track could hold something like that, what with all the sun on it and the rain we had yesterday, but it did and we'll take it."

Montecalvo's 4.09 from the first round kept him in second place, with the father-and-son driving duo of Dean and Cary Goforth, respectively, making up the remainder of the top half of an eight-car field since only eight Extreme Pro Stock teams made the trip to Richmond.
With a 3.847-seconds blast at 191.51 mph, the supercharged '69 Camaro of Tutterow took the top spot over another PDRA record 23 entries in Precision Turbo Pro Boost. Joe Baker and his '53 Studebaker, which ran 3.88 at 187.76 was second ahead of NHRA Pro Mod racer Mike Janis at 3.91 seconds with one more qualifying round still to come.

The eight-bike PDRA Pro Extreme Motorcycle field was led by Davis with a 4.074 at 173.99 mph, just two-thousandths of a second ahead of Canadian rider Terry Schweigert, who in turn was three thousandths ahead of past class champion Ashley Owens. Two-time defending champ and current points leader Eric McKinney remained mired in seventh place with one more opportunity to improve his position on Saturday before eliminations begin.

Glaser said he had two primary goals when the 2014 PDRA season began: win a PDRA Magnafuel Top Sportsman event and make a three-second pass in his nitrous-boosted '69 Camaro. He accomplished the first last month at Martin, Michigan, and reached the second at Virginia Motorsports Park with a 3.987-seconds run at 181.57 mph.

"We were definitely going for it there," Glaser confirmed. "We came close at another race a week ago, but that track wasn't prepped anywhere near to what this one is so we knew this was as god a chance as any to get it done."

Ronnie Davis and his '63 Corvette was second at 3.99 seconds, followed by Don Klooster in another '63 Vette in third and the '69 Camaro of Billy Albert in fourth place. Once more, a PDRA record 28 Top Sportsman cars were in Richmond, with the crowd-pleasing '51 Henry J of Virginia's own Jeff Brooks in 16th with a third and final qualifying session left.

By a relatively large .174 margin, the top spot in STT Safety Equipment Top Dragster belonged to South Carolina's Jody Stroud, who ran 3.691 at 198.85 in his new Iron Man dragster to lead Richard Edwards with a 3.86 in second, Melanie Salemi with a 3.90 in third place and Phil Esz at 3.92 seconds.

The four top qualifiers in both PDRA sportsman classes will race in the specialIGetFixed.com Top Sportsman and Top Dragster shootouts to open the PDRA U.S. Drags competition at 9:30 a.m. on Saturday morning before one more qualifying session for all classes, except Jr. Dragsters, which will have two qualifying opportunities before eliminations begin.
---
SECOND ROUND QUALIFYING RESULTS
Invalid Displayed Gallery
---
FRIDAY MID-DAY GALLERY
Invalid Displayed Gallery
---
FIRST ROUND QUALIFYING RESULTS
Invalid Displayed Gallery
---
FRIDAY PIT NOTES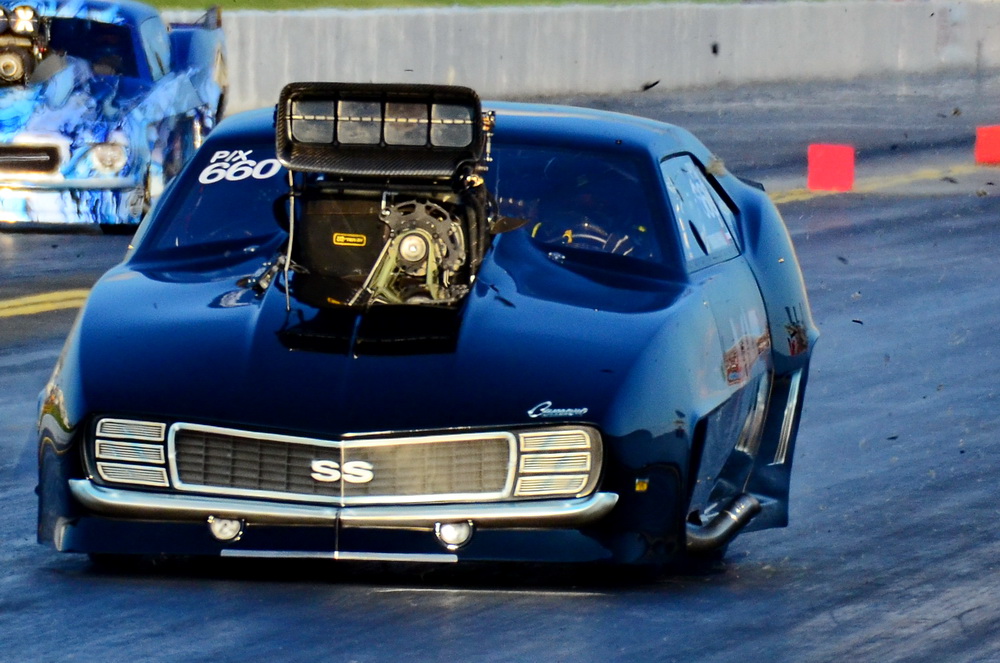 THE SHREDDER
With his blower belt shredding just after crossing the VMP eighth-mile finish line, NAS Racing's Badir Ahli ran quickest in the opening round of Pro Extreme qualifying in Virginia, going 3.598 seconds at 211.63 mph.  Second after the first round was DRAG ILLUSTRATED columnist Tommy D'Aprile with a 3.636 at 208.01 in Mel Bush's 2005 Corvette, with Ahli's teammate Mustafa Buhamid third in a similar NAS Racing '69 Camaro at 3.653 and 211.20 mph.
---
BOSS MAN DELIVERS
PDRA co-owner Tommy Franklin and his Jerry Bickel-built '69 Camaro flash below the VMP score board after setting low E.T. in the first round of Pro Nitrous qualifying. Second on the list after a PDRA record 32 Pro Nitrous entries made a qualifying run was John DecCerbo at 3.833 and 195.85 mph, with John Camp third at 3.855 at 197.25 mph.
---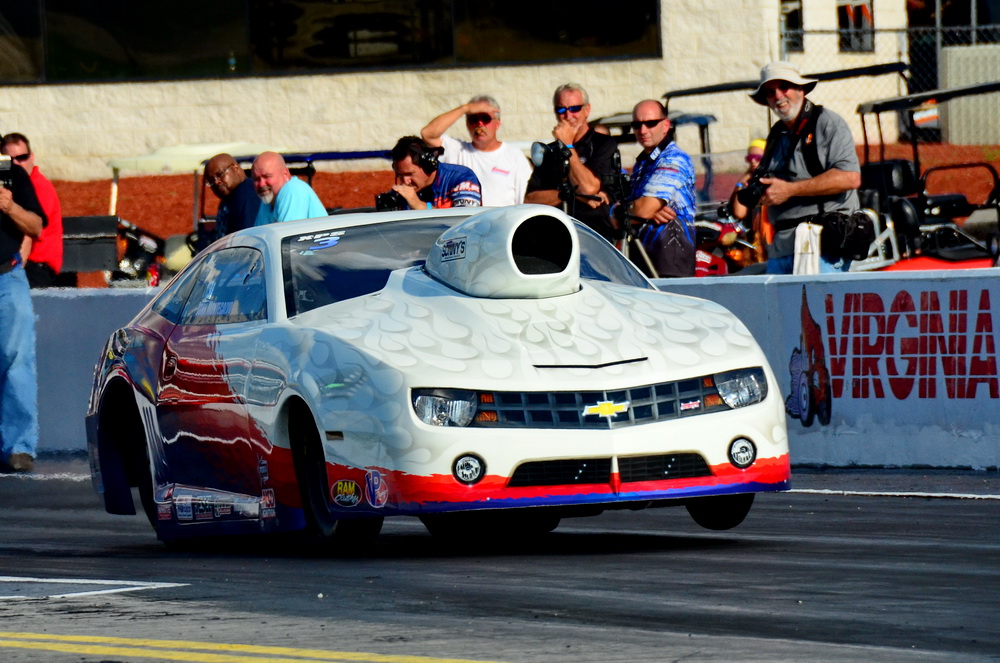 BEST SAVED FOR LAST
As the last Extreme Pro Stock entry to make a pass in round one of qualifying for the PDRA U.S. Drags, John Montecalvo stepped up to the top spot with a 4.098 at 177.37 in his 2014 Camaro.
---
DELAYED START 
Testing prior to the inaugural PDRA U.S. Drags was limited to just two-and-a-half hours on Thursday when a late-afternoon storm with high winds rolled through the Richmond area, dumping approximately two inches of rain on Virginia Motorsports Park (VMP). While the rain passed by about 7 p.m., it's affect lingered to postpone Friday's action as the VMP crew aided by the PDRA's "Traction Twins," Cale and Cody Crispe, battled water rising through the track about 300 to 400 feet past the eighth-mile finish line.

The series planned to scrap all testing on Friday and run three instead of the scheduled two rounds of qualifying. However, work on the track continued to nearly 3 p.m., so the PDRA returned to its original plan for two qualifying sessions, with a third planned for Saturday before eliminations begin.

With an 11 p.m. curfew in place for VMP and after the first round of qualifying lasted until 7:45 p.m., the PDRA announced both Jr. Dragster classes would not run again on Friday, but would get two qualifying opportunities on Friday.