The fourth event of the year for the all-new Professional Drag Racers Association (PDRA) goes off this weekend at US 131 Motorsports Park in Martin, Michigan. DRAG ILLUSTRATED is on the scene and will be providing photos and race commentaries throughout the weekend, along with result sheets posted in accompanying posts. Check it out!
HARRIS WINS AGAIN WITH PDRA IN MICHIGAN;
REID, GAHM AND LATINO ALSO FINISH FIRST
Jason Harris kept his perfect record going June 28, with his fourth straight Pro Nitrous victory at the inaugural Professional Drag Racers Association (PDRA) Summer Drags at U.S. 131 Motorsports Park in western Michigan. Also picking up pro class wins were Randell Reid with his second-straight NAS Racing Pro Extreme event title, Brian Gahm with his first Aruba.com Extreme Pro Stock victory, Eric Latino in Precision Turbo/Proline Pro Boost and Eric McKinney with his third win of the year and second straight in Pro Extreme Motorcycle.
Sportsman class victories went to Aaron Glaser with his breakthrough Magnafuel Top Sportsman win, Jeff Mandell for the second consecutive event in STT Safety Equipment Top Dragster, and Isaac Evans and Scottie Taylor in Huddleston Performance Pro Jr. Dragster and Top Jr. Dragster, respectively.
PRO NITROUS
Prior to the start of the PDRA Summer Drags, Jason Harris had driven his '68 Pontiac "Warbird" to victory at each of the three PDRA races held so far in its inaugural year. Given the level of competition in the Switzer Dynamics Pro Nitrous class, even Harris was surprised at his continued perfection. After the Summer Drags, where he made a 3.776-second solo pass at 197.25 mph to take his fourth-straight win, he was almost speechless.
"I really don't know what to say; I really don't," the Pittsboro, NC, racer said after beating Matt Guenther, Tim Savell, Pat Stoken and Lizzy Musi, who broke on the line before the final round. "It's unreal; we've had a fantastic season so far; everything has worked so good ever since we unloaded for the first time at Rockingham (NC), I can't believe how good everything has gone so far."
Harris qualified second with a 3.795-seconds lap at 198.46 mph, just four-thousandths of a second behind class rookie Musi, who scored her first number-one start in Pro Nitrous.
In eliminations, Musi duplicated her 3.791 qualifying time in an opening-round win over Jim Sackuvich, then ran 3.781 in beating Lee Adkins before going quicker again with a career-best 3.765 to edge out the 3.776 by Tommy Franklin in the semis and reach what also would be her first Pro Nitrous final round. Unfortunately, however, a nitrous solenoid got stuck wide open just as she was about to stage for the final race and she had to shut down on the starting line and watch Harris streak unopposed to the Summer Drags title.
"Lizzy definitely had the car to beat this weekend," Harris recognized of his rival's performance. "I knew I would have to step up there, but then she had some problems and I didn't want to win like that, but it is what it is and if a little good fortune comes our way, we'll take it."
PRO EXTREME
After getting past Todd Martin and Mike Recchia, 12th-place qualifier Randell Reid's good fortune came into play in the semis when number-one starter Jason Scruggs redlighted to throw away a 3.592 at 212.74 mph, while Reid struggled to a 3.744 at 165.42-mph pass.
"We broke the lower pulley for the blower drive on that pass," Reid explained. "We got lucky there, but that's what it takes sometimes to get a win."
In the final round, Reid, who scored his career-first Pro Extreme win just a few weeks earlier in the PDRA race at Memphis, met Brandon Snider, who qualified sixth and dispatched Terry Leggett, Frankie Taylor and Tommy D'Aprile from the preliminary rounds.
In the final both drivers left with .041 lights, with Snider running a stout 3.575 at 210.92 in his '63 Corvette, but it was no match for the 3.538 at 209.49 Reid put together in his '07 version of America's sports car.
"I couldn't believe it when I saw that .53 up on my scoreboard," Reid said. "That's a career best–by far–for me, but it's all thanks to my crew. They worked so hard this week and Brandon Pesz (crew chief) is the smartest man I know around a race car."
EXTREME PRO STOCK
It's been a long time since Brian Gahm last visited an Extreme Pro Stock victory lane, but at the end of the inaugural PDRA Summer Drags title, that's where the Lucasville, OH-based driver was headed at U.S. 131 Motorsports Park.
"Man, it feels good to pick this up," Gahm declared as he was handed the PDRA trophy after a .044 holeshot allowed his 4.093 at 175.62 to beat Cary Goforth's quicker and faster 4.081 at 176.78-mph pass in the final round. "Now, if someone could just give me directions to the winner's circle we can get this party started!"
Gahm was quick all weekend long, qualifying his 2013 Mustang in the number-one slot with a 4.081 pass of his own at 176.80 mph, just ahead of Goforth's 4.086 in a 2013 Camaro. In eliminations, Gahm ran 4.108 and 4.101 to defeat Richard Penland and Scott Hintz, respectively, before reaching Goforth, who was going after his third PDRA win this year.
"Our car ran great and I just want to thank my crew for all their hard work to help put a Ford back on top of this deal," Gahm said. "We had a lot of fun here all weekend."
PRO BOOST
The Pro Boost final between Canada's Eric Latino and North Carolina doorslammer legend Todd Tutterow may be remembered as much for what came before it as how it ended with Latino taking the PDRA Summer Drags hardware home to Whitby, ON.
As the final rounds began with the Jr. Dragster classes, both drivers were waiting in the staging lanes at U.S. 131 Motorsports Park when Tutterow suddenly dropped to the ground, writhing in pain and begging for help to relieve a sudden, stabbing headache. Track medical personnel quickly ran to Tutterow's side, where they discovered some sort of insect had burrowed into the driver's ear, causing severe pain and affecting his equilibrium.
They were able to extract the bothersome bug with water and after Tutterow's balance quickly returned, PDRA officials decided he could still compete, but delayed the Pro Boost final to the last race of the event.
"I had never felt pain like that before in my life. It felt like someone was drilling straight into my ear," Tutterow said before leaving the track to visit a local hospital for a check-up as a precaution.
"King Tutt; what can I say? Todd Tutterow has been racing for so long and he's one guy that I really look up to. He really is like a hero to me," Latino said. "So to be racing him in the final was so exciting. And then, I hate to see what happened to him, it's just such a bizarre thing. I'm just glad he seems okay now, but man, that was a pretty scary scene."
Latino qualified his roots-blown, Hemi-powered '69 Camaro with a 3.870 pass at 191.25 mph, behind only Australian Paul Mouhayet, who in his first race on American soil and with a brand-new, untested, twin-turbocharged 2013 Mustang, ran 3.836 seconds at 206.64 mph to secure the top spot. Tyler Miller started third, with Tutterow in the fourth qualifying position with his new '69 Camaro before eliminations began Saturday afternoon.
Tutterow took down Jeremy Ray, Steve Summers and Mouhayet, who was unable to make it to the semis, while Latino defeated Randy Bryan, Larry Higgenbotham and Tutterow's teammate Kevin Rivenbark to reach the final round. He gave credit to chassis consultant Joe Lepone Jr. for a turnaround in performance after struggling with power application problems early this year. "The car drives like a Cadillac now," Latino said.
"It's my team, though, they got the job done," he added. "I'm happy to have won this for them."
PRO EXTREME MOTORCYCLE
Past two-time class champion Eric McKinney was pretty pleased when he unloaded his 2012 Suzuki for pre-race testing at U.S. 131 Motorsports Park in Martin, MI, where it promptly ran 4.04 at 177 mph with the same tune-up still in it after winning the previous PDRA event a few weeks earlier at Memphis, TN.
"Other than the most basic maintenance, changing the oil and plugs, we didn't even touch the motor since Memphis," McKinney said.
The tactic seemed sound, too, after McKinney led through the first two of three scheduled qualifying rounds with a 4.075 at 175.69 effort, but then Western Canada's Terry Schweigert stepped up with a 4.072 at 172.28 in the final session.
"Man, I was bummed that we lost the number-one qualifier, but this definitely makes up for it," McKinney declared, hoisting a PDRA Summer Drags trophy immediately after going 4.080 at 175.05 to defeat a red lighting Dave Norris in the final round.
TOP SPORTSMAN/TOP DRAGSTER
He won a championship last season, but the inaugural PDRA Summer Drags in Martin, MI, represent the first event win for Top Sportsman driver Aaron Glaser in the '69 Camaro he purchased late in 2012 from Pro Nitrous star Bob Rahaim.
Glaser started from the number-five position and beat Boyd Beyer, Glenn Butcher and Curt Fredrich in order to reach Eric Burnett in the final. "That was great," Glaser declared after taking the win. "I've known Eric my whole life, we've raced Jr. Dragsters together, I've painted all his cars; it's great to share an experience like this with a true friend.
"We had a great year last year, won a lot of rounds and that's what kept the points coming, but we just never could put a run together that got us through the final round," he added. "So it feels really good to get that first win with this car."
For the second-straight race, Jeff Mandell brought the Top Dragster trophy home to Culleoka, KY, winning from the 12th starting position with his Pro Fab-built dragster over ninth-place qualifier Jim Prevo in the final.
In a double-breakout final, Isaac Evans of Athens, AL, ran 7.890 at 83.64 in the Pro Jr. Dragster final to beat a 7.888 at 83.16 by Preston Tanner. The Top Jr. Dragster win went to Scottie Taylor, son of PDRA Pro Extreme star Frankie Taylor.
The PDRA returns to action July 25-26, when it visits Virginia Motorsports Park, near Richmond, for the inaugural U.S. Drags. Complimentary tickets will be available at many retail outlets near the track, or may be printed for free from http://www.pdra660.com/free-tickets/2014/us-drags/.
SCRUGGS, MUSI AND GAHM LEAD NO. 1 QUALIFIERS FOR PDRA IN MICHIGAN
Jason Scruggs made a 3.563-seconds pass at 213.69 mph over the eighth mile at U.S. 131 Motorsports Park to secure the provisional number-one position in NAS Racing Pro Extreme qualifying for the inaugural Professional Drag Racers Association (PDRA) Summer Drags in Martin, MI.
Also securing provisional poles in the PDRA pro classes after completing two of three scheduled rounds of qualifying were Lizzy Musi in Switzer Dynamics Pro Nitrous, Brian Gahm in Aruba.com Extreme Pro Stock, Paul Mouhayet in Precision Turbo Pro Boost and Eric McKinney in Pro Extreme Motorcycle.
PRO EXTREME
After the opening round of qualifying, Scruggs was behind only teammate Bubba Stanton, who ran 3.577 at 214.47, but the Saltillo, MS-based racer was able to power into the lead while Stanton, a two-time PDRA race winner already this year, had to lift in round two when his '69 Camaro drifted left toward the guardwall.
"We just creeped up on it all day," said Scruggs, who revealed he also had a nearly-new engine in his supercharged '63 Corvette. "We've only got eight passes on it so we're still learning the tune-up. That last one was a pretty good run and I think it should stay number one since it's going to be a lot hotter when we do the final (qualifying) round tomorrow."
Immediately following Stanton on the list for the 16-car field were Frankie Taylor at 3.595, Mike Recchia with a career-best 3.597, and Todd Martin with a 3.610 pass.
PRO NITROUS
Driving the same '09 Dodge Stratus her famous engine-building father, Pat Musi, once drove, Musi made her 3.791 at 198.56 mph run of record in the first round of Pro Nitrous qualifying at the PDRA Summer Drags. She was all set to make her second pass when she suddenly shut the 903-cubic-inch Musi Racing Engines powerplant down on the starting line.
"After the burnout I thought I could smell fuel in the car and once I backed up and stopped the smell got even stronger, so I just thought I'd better not take a chance," Musi said.
It turned out to be a loose fuel fitting, so her instincts proved true. But she admitted it was tough to be sidelined like that and then watch one after another of her Pro Nitrous rivals take a shot at knocking her off the qualifying pedestal.
In the end the closest anyone came was a 7.952 at 198.46 by Jason Harris, who has won all three PDRA Pro Nitrous races completed so far this year in a '68 Firebird also powered by a Musi 903 engine. The only other driver to run in the 3.70s was Montana's Pat Stoken, who also ran 3.795, but was two 10-thousandths of a second slower.
"I'm happy we were able to hold on," said Musi, whose only previous top-qualifying effort came a year ago in Top Sportsman with the now-defunct American Drag Racing League (ADRL). "I'm not sure if anyone will be able to beat our time tomorrow, but at least we'll have our car fixed and ready to go, so hopefully we can go a little faster, too."
EXTREME PRO STOCK
Gahm (pronounced "Game") led both qualifying sessions in Extreme Pro Stock, though he had to run quicker in round two in order to hold off rival Cary Goforth. After going 4.109 at 175.02 in the opening round with his Jon Kaase Race Engines-equipped '13 Mustang, Gahm watched Goforth improve in round two with a 4.086 effort in his 2013 Camaro.
When it came his turn again, the Lucasville, OH, racer responded with a solid 4.081 of his own at a class-leading 176.80 mph.
" It's been awhile since we've been able to run this good, but I'm just happy to see a Ford at the top," Gahm said. "Kaase is the one who deserves the credit, though, he's the one making the power that we need."
Following Gahm and Goforth was John Pluchino, who maintained third after both sessions, with Scott Hintz rounding out the top half of the eight-car Extreme Pro Stock field.
PRO BOOST
The PDRA Summer Drags represented the first time Mouhayet had ever raced in the United States and the first time he'd ever driven his brand-new McAmis-built 2013 Mustang, but the Sydney, Australia, native made the most of the opportunity at U.S. 131 Motorsports Park. The twin-turbocharged Proline 481X beneath the hood of his new ride propelled him to a 3.840-seconds pass at 203.31 mph in the second session to place him ahead of 18 other Pro Boost entries with one qualifying round to go.
"With a great car from Tim McAmis and the guys from Proline here helping me I'm not really surprised it's running so well," Mouhayet said. "But yes, this a better start than I'd even hoped for. And that run was with one cylinder out, so there's still more in it."
Though he improved from 3.929 in the opening round to 3.870 in the second, Canadian Eric Latino dropped from first to second place with his blown Hemi '69 Camaro. Latino was followed by Tyler Miller in a supercharged '69 Chevelle, the similarly powered '69 Camaro of Todd Tutterow and Mickey Rees in another twin-turboed 2012 Corvette.
PRO EXTREME MOTORCYCLE
Two-time PDRA winner Eric McKinney thought his teammate, Ashley Owens, had surpassed the 4.075 at 175.69 he'd run with his 2012 Suzuki in the first round of Pro Extreme Motorcycle qualifying, but even after improving in his second attempt Owens fell one-thousandth of a second short.
"I'm surprised and I'm always happy to do well, but really I don't care who's number one or two as long as it's both of us at the top of the list," McKinney said. "Now we just have to stay there and then meet in the final round. That's when I'm really going to care who's faster–and I hope it's me."
Terry Schweigert and Casey Stemper were third and fourth, respectively, for what will be an eight-bike field for race day.
TOP SPORTSMAN/TOP DRAGSTER
Top Sportsman qualifying was highlighted by the first three-second run for veteran competitor Ronnie "The King" Davis out of Suwanee, GA. After placing fifth with his nitrous-boosted '63 Corvette in round one, Davis stepped up with an outstanding 3.977-seconds pass at 183.59 mph to lead 26 entries vying for a spot in the 16-car field.
"Normally I run on two stages (of nitrous), but I had three turned on for that run because the conditions were right and the track was there to get it done," Davis said. "And it is nice to get the three-second thing done, but what I really want to do here is win this race. That's what I'm focused on."
The 4.036 by fellow Georgian Bruce Thrift from the opening session was bumped down to second, with local racer Don Klooster third at 4.073 with one more round of qualifying to go before eliminations are run on Saturday (June 28).
In the biggest field of entrants for the event, the top qualifier over 29 entries in Top Dragster was Ohio's Phil Esz, who ran an impressive 3.696 at 195.52 mph to significantly distance himself from the 3.891 at 182.85 by Richard Edwards in second place. Mark McElwee was third, with Scott Wildgust fourth and local racer Chris Smith fifth. With one qualifying session to go Tom Martino held on to the 16th and final position with a 4.153 at 172.37 mph..
Additionally, Woodbridge, VA's Alexis, Schultz led Huddleston Performance Pro Jr. Dragster, while Thomas Oates of Clearbrook, VA, led the Huddleston Top Jr. Dragster class after two rounds of qualifying.
Beginning at 11 a.m. one more qualifying session for all PDRA classes is on the schedule for Saturday, June 28, with eliminations to follow.
---
HARRIS CHASING 4th STRAIGHT PRO NITROUS FINAL
When the Professional Drag Racers Association (PDRA) arrives at U.S. 131 Motorsports Park in Martin, MI, this weekend (June 27-28), it will reach the halfway point of its inaugural eight-race season and Switzer Dynamics Pro Nitrous competitor Jason Harris will be attempting to keep his perfect record intact.
After winning the season opener from the number-one starting position in April at Rockingham, NC, Harris duplicated both efforts a month later in Valdosta, GA. He slipped a little with a third-place start at Memphis late in May, but the final result remained the same with Harris taking the trophy home. Still, the Pittsboro, NC-based racer isn't taking his early season success for granted.
"Winning three races in a year, not even in a row, is almost unheard of in the Pro Nitrous world right now because there's just so many good teams out there that nobody really dominates anymore," he explains. "There are a lot of guys who can step up their game and go really fast at any race so I feel really fortunate just to be in the finals of all three races so far this year, never mind winning all three of them."
As a sportsman class competitor in IHRA national events at the U.S. 131 strip, Harris has made the long tow over the West Virginia mountains and then across Pennsylvania and Ohio to reach Western Michigan several times in the past and says the trip is always worth the effort.
"It's beautiful up there. It's one of my favorite tracks, really wide, smooth, and Jason (Peterson, track owner) and his guys do a great job of keeping up the facility throughout the year," he says. "It's one of my favorite races to take my family to because it's just a nice, scenic race track."
Also expected to make strong runs against Harris this weekend will be Pro Nitrous rookie Lizzy Musi, who became the first woman to exceed the 200-mph mark in her class debut at Rockingham, along with Tommy Franklin, Michigan's own Bob Rahaim, and Pat Stoken, who respectively reached the final round against Harris at the first three events.
Race teams from 15 different U.S. states, plus the country of Dubai, were represented in the star-studded NAS Racing Pro Extreme field at Memphis and the Michigan event should be just as diverse. Two-time PDRA winner Bubba Stanton, along with teammate Jason Scruggs, will be there, as will Frankie "Mad Man" Taylor, who made an unprecedented 3.48-seconds pass at Rockingham, marking the first time for a doorslammer to dip below three-and-a-half seconds in the eighth mile.
Additionally, the PDRA will feature its all-new Pro Boost division presented by Precision Turbo and Proline Racing Engines, along with Aruba.com Extreme Pro Stock, Pro Extreme Motorcycle, MagnaFuel Top Sportsman, STT Safety Equipment Top Dragster and two Jr. Dragster classes.
Thursday (June 26) is reserved as an open test session day for all PDRA racers on the U.S. 131 Motorsports Park eighth mile, with Friday continuing the test session for five hours beginning at 10 a.m., followed by two complete rounds of qualifying for all classes starting at 4:30 p.m. that afternoon. A third and final round of qualifying beginning at noon will open Saturday's schedule, with a pre-race ceremony set to go at 3:30, followed by elimination rounds. A jet car exhibition will close out both Friday's and Saturday's action.
MARTIN UNVEILS GTX BLUE SPONSORSHIP
Lethal Threat Racing announced June 26, it has entered into a new major marketing partnership with GTX Blue, a Texas-based hydration solution for the working man.
"We couldn't be happier to welcome GTX Blue to our team," Lethal Threat Racing team owner and driver Todd Martin said. "With GTX Blue's help we feel certain we'll be able to quench our thirst for winning!"
The supercharged, 4,000-horsepower '68 Mustang that Martin drives in the Professional Drag Racers Association (PDRA) Pro Extreme class will carry the colors and branding for the water company for the remainder of the 2014 season, beginning with this weekend's PDRA race at Martin, Michigan. The spectacular GTX Blue "water flames" graphic wrap was designed and applied by Kryptonite Kustomz in Broken Arrow, Oklahoma.
"It's very exciting to introduce not only a new sponsor like GTX Blue to our sport, but an entirely new product category," said Martin, who co-owns Tulsa Raceway Park, where GTX Blue anticipates a complete product roll out Aug. 15-16, when the PDRA visits the historic Tulsa track.
"We're really looking forward to hosting GTX Blue in Tulsa, but we also enjoy racing up here in Michigan," Martin added. "The track is excellent, the facility is beautiful and the fans are very knowledgeable and enthusiastic, so I think this is the perfect place to introduce GTX Blue to the PDRA."
In addition to sponsoring the Lethal Threat Pro Extreme Mustang, GTX Blue supports motorsports by offering unique marketing incentives to race tracks that purchase the product.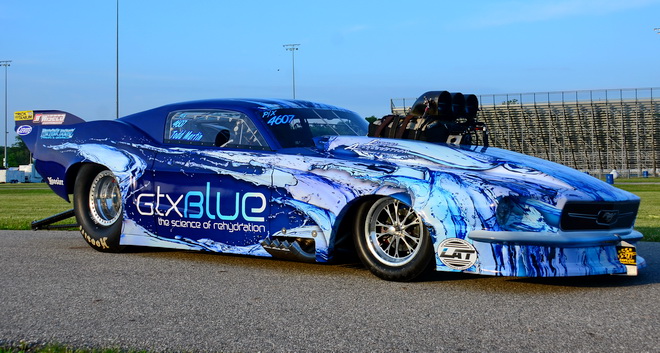 MARTIN CONFIRMS SPLIT WITH WANTYE
When Joey "Hero" Martin lost to Frankie Taylor in the first round the ADRL World Finals last October in Houston, it very well could have been the end of his illustrious doorslammer-driving career. The multi-time ADRL event winner and consistent championship challenger had grown tired of the day-to-day grind of racing while constantly striving to find enough money to compete at the sport's highest level.
However, in stepped Pro Extreme team owner Neal Wantye (above right) who ordered a pair of brand-new 2014 Camaros to be built by Joey Martin Race Cars (JMRC) in Milton, Florida, with Martin tabbed as the team's second driver and crew chief. The two-car Martin-Wantye Racing team was off to a decent start in 2014, with both cars qualifying at each of the three PDRA races held so far (though Wantye crashed in qualifying and was unable to race at Memphis), and Martin reaching the semi-finals at Valdosta, Georgia."It's crazy; here we show up with a million dollars invested to race for a few thousand dollars, while a pro golfer shows up with a few thousand (dollars) in golf clubs to play for a million dollars. And then when we do win a few bucks we have to go begging just to try and get paid," a clearly frustrated Martin toldDRAG ILLUSTRATED at the time. "There's just no way to justify keeping on like this."
The partnership has abruptly ended, though, Martin confirmed to DRAG ILLUSTRATED in a June 23rd phone call.
"He (Wantye) won't talk to me by phone, but we've probably sent hundreds of texts back and forth," Martin said. "Everything seemed fine after the race at Neal's home track, Ohio Valley Dragway (June 14). He seemed happy, calling me 'Hero' and stuff after Barndon (Snider) beat me with a holeshot in the final there. Then I got home and that's when the texts started.""I don't really know why," Martin claimed about learning by text message that Wantye asked for both cars and any parts and tools he owned to be packed up and readied for transport to his Louisville, Kentucky, base.
An obviously discouraged Martin said he'll be at the PDRA race in Martin, Michigan, this weekend helping Snider with his JMRC-built '63 Corvette and he has a couple of projects to finish in his shop, but after that he's ready to hang up his racing and building tools for good.
"I know I said it before, but I really think this is it for me," Martin said. "I'm sick of all this racing stuff; it's just not worth it anymore."