Deric Kramer took the win at the Circle K NHRA Four-Wide Nationals in Pro Stock competition.
Kramer enjoyed a huge turnaround in Charlotte, driving to his first win in nearly four years by going 6.555 at 208.88 in his Get BioFuel Chevrolet Camaro in the championship round. Kramer ousted the likes of points leader Dallas Glenn, who was after his third straight win, No. 1 qualifier Matt Hartford and Fernando Cuadra Jr. to earn his fifth career victory. But it was also Kramer's first win since earning the Wally at the fall race in Charlotte in 2019, which left the veteran plenty excited on Sunday.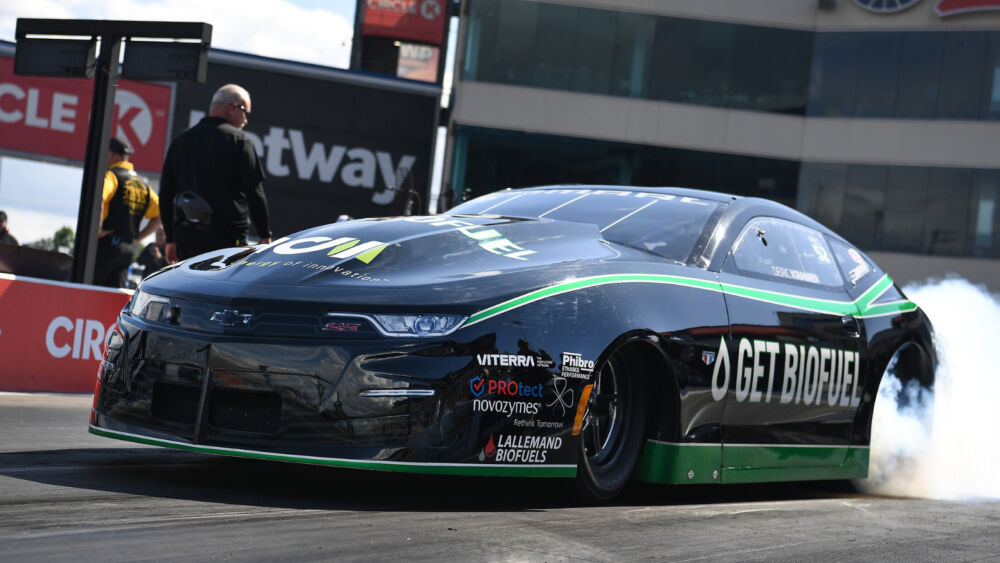 "The Get BioFuel Chevy Camaro is a fun car to drive, first and foremost, and that right there is enough to keep someone wanting to be out here. Once you hoist that Wally, you want to win another. The drought is so long, and when it finally happens again, the euphoria just washes over you," Kramer said.
"I think we've been, as a team, struggling with the car the last few years. It was a lot of small stuff. But we got to the finals [in Vegas], stayed and tested the day after, and it's just been getting more and more laps, getting more comfortable, getting more data, and compiling it all to get a victory."
Kramer finished second to Hartford in the opening-round quad and then won a round later, finishing his day with back-to-back 6.55 runs. After making it to the final quad in Las Vegas, Kramer took an impressive next step in Charlotte, as Glenn finished second with his 6.581 at 208.81 and extended his points lead over Hartford in the process.