Del Holbrook secured the first No. 1 qualifying position of his career in the driver's seat of the Varsity Ford / Holbrook Racing Ford Mustang Saturday at the Summit Racing Equipment NHRA Nationals at Summit Motorsports Park.

Holbrook, a third-generation Ford racer, earned his first No.1 with a 7.668-second run at 181.72 mph in the first qualifying session on Saturday morning. In the second session, Holbrook would stay consistent running quickest of the pack again with a 7.760 pass.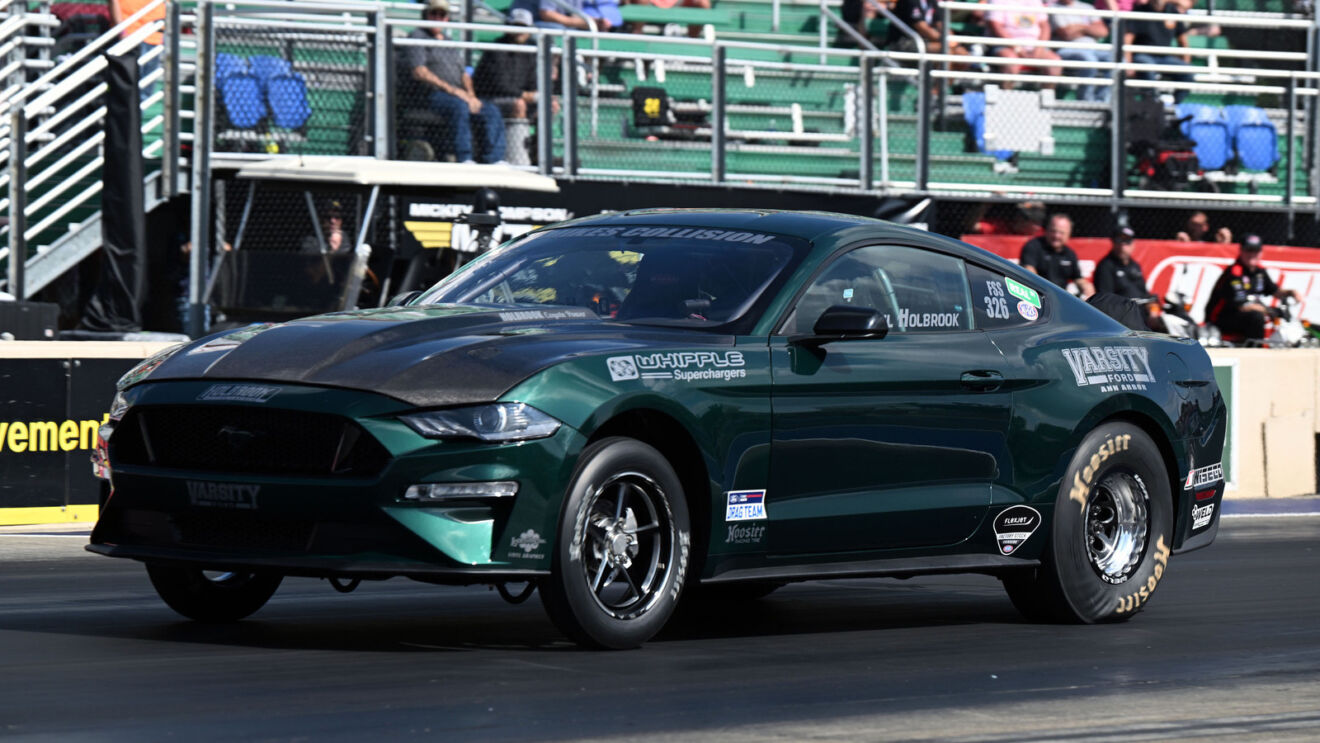 "Man, this team is so pumped. We didn't expect this coming in but it's our home track, it is the closest we get to home and so it's just a great feeling. We live in Michigan, and we have quite a few family members and friends here. This has been a great day and we are looking forward to getting into the race," Holbrook said. "This is my first season and just my fourth Flexjet Factory Stock Showdown Series national event. This is a lot tougher competition and is a big jump from the National Mustang Racing Association that I was racing in. We were running nitrous then but racing in this class in the NHRA has been a lot of fun and a challenge."

Holbrook has earned a bye in the first round of eliminations in the Flexjet Factory Stock Showdown. After taking the tree, he'll face the winner of a Chevy vs. Chevy matchup between Anthony Troyer and Jesse Alexandra.
"It's always a big rivalry from the start between all the manufacturers. It's just a great way to get all the fans enthused. After the first qualifier, we had some idling issues and we fixed that before the second qualifier. All good and ready for the first round. We are working our tails off and we are ready for eliminations."

Points leader Aaron Stanfield, who has the $1,000 Flexjet Factory Stock Showdown bounty on his back after winning the most recent event in Bristol, Tennessee, and his Stanfield Racing Engines Chevy Camaro qualified No. 10. He will take on Jason Dietsch and his Mustang in the first round of eliminations.

"The bounty is a cool deal, and it makes every round feel that much more important. I want to hold on to the bounty, so we just need to keep turning on win lights," Stanfield said. "You look at the competition and there are no easy rounds. The COPOs are all strong but you also have the other two brands running pretty well too. This will be an exciting race."

The weather has affected the qualifying sessions throughout the weekend in Norwalk, Ohio and the NHRA is evaluating the run order moving into race day on Sunday. With over 20 Flexjet Factory Stock Showdown Series competitors on the property, they will face five rounds of stiff competition. The Summit Racing Equipment NHRA nationals will be broadcast tomorrow from 4 p.m. – 7 p.m. ET on FOX.