Courtney Force raced into the history books May 25, at the 26th annual NHRA Kansas Nationals at Heartland Park Topeka by winning the Funny Car title and securing the 100th victory for female professionals in the premiere NHRA Mello Yello Drag Racing Series.
It was Force's second attempt at earning this important win. Just one week earlier Force fell to red-hot teammate Robert Hight in the Southern Nationals final round in Atlanta. Against Cruz Pedregon at Topeka, though, the third-year driver was not going let this opportunity slip through her Simpson Racing gloves again.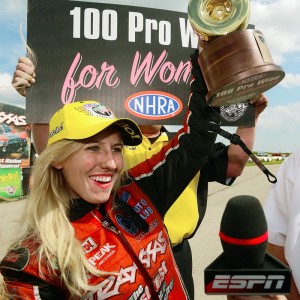 "This is huge. You could see the emotion on my face after I lost last weekend. It is a big deal and it is a milestone for women. Every girl out here wanted to get it. It was close every girl put her heart out there to try and get it. I was crushed after last weekend because I thought to myself that opportunity will never come again and that chance to get 100 will be gone forever," said an excited Force.
"I am still trying to soak it in right now. I have to thank my team and all my sponsors. Once my dad and Robert went out today you could see all those colors coming over to our pit area and thrashing on my car. I want to thank all them and all the crew chiefs. They gave me a good consistent race car all weekend and that is what we were missing from the start of the season."
The win was not without some self-inflicted drama. Force admitted that nerves and pressure were at an all-time high as she rolled her Traxxas Ford Mustang up to face the two-time Mello Yello Funny Car champion. As she tried to give herself every starting line advantage she inadvertently lit the pre-stage and stage bulbs before Cruz had a chance to pre-stage. This racing faux pas weighed heavily on Force both before and after she ran.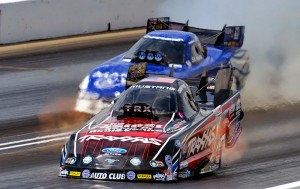 "I almost screwed up on the starting line. I almost failed at my job. I was so nervous and the pressure was through the roof. I was pulling up to the starting line and all I was thinking was Cruz got a hole shot on Robert (Hight). I didn't want to lose on a hole shot, too," said Force.
"There was a lot on the line. I wanted to roll in a little deep on my pre-stage. I screwed up and rolled it too much and lit both bulbs before he was even staged. Luckily, I left when I needed to. I apologized to Cruz and I sure as heck wasn't trying to screw him up. I screwed myself up. Luckily we got away with it today."
This was Courtney Force's first win in three final round meetings with Cruz Pedregon to whom she lost in the final at the last race of 2012 at Pomona and the first 2013 race at Las Vegas.  It's the second time she has gone wire-to-wire for a win as the No. 1 qualifier after also doing so at Pomona in 2013.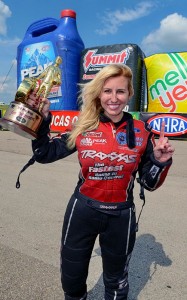 This was, however, the first time in her career that she reached back-to-back finals. It was the 231st Funny Car win for John Force Racing and continued a streak of 15 consecutive final rounds for the team and now four wins in a row.
"Last week I was in seventh place in the points and now I have shot up to fifth with a shot at the top three. Everybody is close together. All I am trying to do is create the Grand Canyon gap between me and the No. 11 driver. That is all I really care about," said Force.
"We are inching forward every weekend. Two go to back to back finals for my team is huge. I think this is a big weekend for women all together. Brittany and I were No. 1 qualifiers Erica Enders Stevens was so close today in Pro Stock. It just shows that we can dominate fields."
The fact that she had come so close to getting the 100th win last week Force was asked in the media center if that loss entered her head before the final. The 2012 Auto Club NHRA Rookie of the Year was candid in her response to the media.
"I was thinking about it. That was all that was running through my head. I was thinking about going to another final and thinking about what happened last weekend. That sucked and you don't want that to happen again. I was telling myself to not lose my focus," added Force.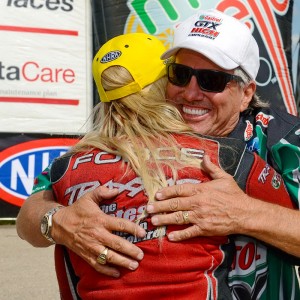 "Don't think about the 100th win. So now I was already thinking about it. You try and not screw up. You try and clear your mind. You look at the fans and think I am in the greatest place on earth. I get to be at an NHRA track and I get to drive one of these hot rods and there are little girls coming up to my ropes to wish me luck.
Fourteen women have contributed to the victory total. Four in Funny Car, one in Pro Stock, three in Pro Stock Bike and six in Top Fuel. Shirley Muldowney secured the first pro win June 13, 1976 so it spans 38 years. There have been four wins by women this year prior to Courtney; two each for Erica Enders Stevens (Pro Stock) and Alexis DeJoria (Funny Car).
Force was the No. 1 qualifier, set low ET and Top Speed on the way to her fourth career win which ties her with sister Ashley Force Hood. The Traxxas Ford Mustang driver defeated Dale Creasy Jr., Jeff Arend and Tommy Johnson Jr. to reach her final round race with Pedregon.
(Photos courtsey JFR; Click to enlarge)