World Series of Pro Mod officials announced Charles Carpenter, the "Godfather of Pro Mod," as the Grand Marshal of the 2023 event March 3-5 at Bradenton Motorsports Park. Carpenter will give the command and flip the starter switch for the first pair of Pro Mod eliminations on Sunday morning.
"It's a very big honor for me," said Charles. "This is the biggest Pro Mod race ever. I would love to be a competitor in it, but I'm not able to do that yet, but this is as close as I can be to it."
"It seems only fitting to have Charles Carpenter, the 'Godfather of Pro Mod', as the grand marshal for the Drag Illustrated World Series of Pro Mod," said Wes Buck, WSOPM promoter and Drag Illustrated founder. "His impact on fast doorslammer drag racing is immeasurable. If it wasn't for Charles and his 'World's Fastest '55 Chevy', it's hard to know where the Pro Modified eliminator would be today. A world-class racer and mechanic, sure, but Charles also was extraordinarily media savvy. He 'played the game' extremely well – bringing mainstream media attention to the sport, major marketing partners, and was a pioneer in the licensing/naming rights realm for drag racers."
Carpenter, based in Charlotte, North Carolina, had a drag racing career that spanned five decades. However, he suffered a stroke in 2020 and has since been sidelined from drag racing.
"Having my dad serve as the grand marshal for this event is truly an honor for not only him, but our entire family," said Charles' son, Mike Carpenter, Drag Illustrated COO. "My dad has devoted his life to the sport of drag racing and Pro Mod in particular, so it's really cool to see him receiving honors such as this one along with his hall of fame inductions. This will be the first major Pro Mod race that he has attended since he suffered a stroke in 2020, and I know he's excited to see a lot of great friends and former competitors that he hasn't seen in quite a while."
"Charles is also part of our extended Drag Illustrated family," continued Buck. "He's the father of our COO, Mike Carpenter, and has supported our entire team for the nearly two decades that we've been in business. So, it's important for him to be on the grounds for the biggest, richest Pro Mod race in the history of the known universe for a multitude of reasons, and we couldn't be more excited."
"I can't wait," Charles continued, talking about being surrounded by his wife, son Mike, daughter-in-law Lisa and grandkids. Additionally, Charles is looking forward to being around his racing family.
"The racing community is just like my second family. That's been the hardest part of having a stroke – having to be away from racing," explained Charles. He's hoping one day to return to the track in some form but will take in every bit of racing he can.
"We're all so passionate about it, and we're hooked on it," Charles said. "It's like a drug – the smell and the noise and just seeing all the rigs and the cars and everything."
Nicknamed the "Godfather of Pro Mod," Charles was at the forefront of the movement that inspired the Pro Mod class.
"He inspired what would eventually become known as Pro Mod, and he inspired a lot of racers to build cars and compete in the class, some of which will be participating in the Drag Illustrated World Series of Pro Mod," said Mike. "It will be an emotional, full-circle moment when he gives the command and flips the switch for the first pair of Pro Mods on Sunday."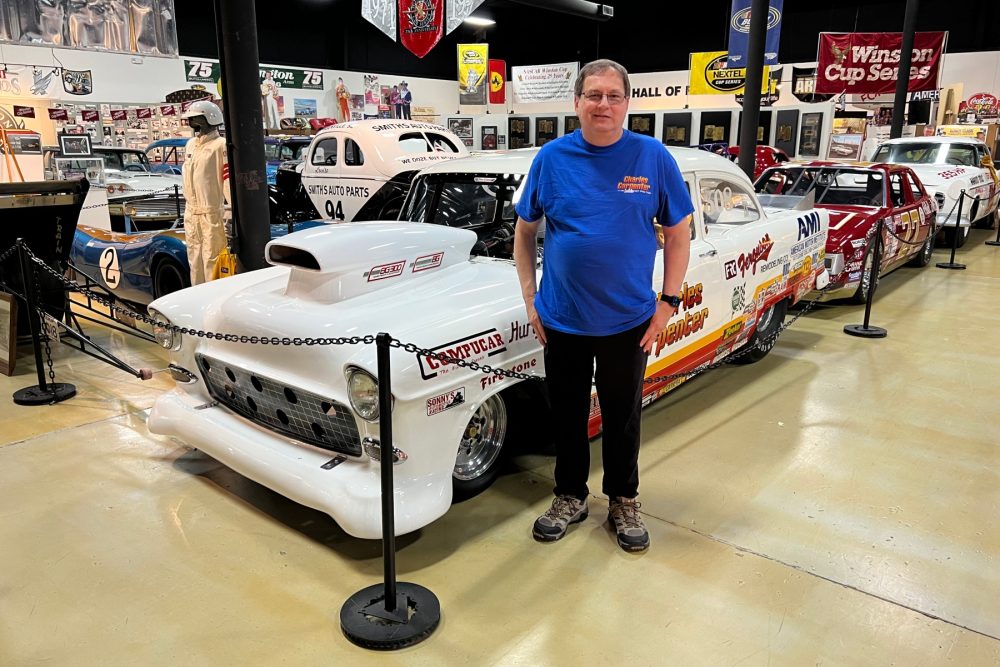 Charles' original '55 Chevy, which was retired in 1987, is viewed as the first Pro Mod race car and is showcased at the North Carolina Auto Racing Hall of Fame in Mooresville, NC. Additionally, Charles was inducted into the NC Drag Racing Hall of Fame in 2011.
"This is a race that we all dreamed of," Charles said, referencing the magnitude of the WSOPM. "I'm very honored to be there and do that and be considered a part of the Pro Mod movement."
To purchase tickets to the WSOPM and to learn more, visit www.WorldSeriesofProMod.com. Fans can stream all of the action on FloRacing.com and catch the action-packed broadcast on CBS Sports in April.