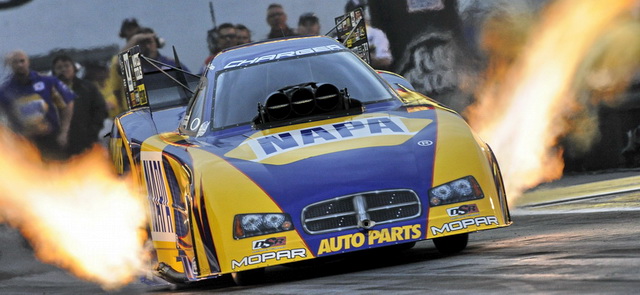 The 2014 NHRA Mello Yello Drag Racing season has not started exactly like Funny Car standout Ron Capps had hoped. But if there was ever an event to spark a turnaround, the Amalie Motor Oil NHRA Gatornationals at Auto-Plus Raceway at Gainesville would likely be one of the top choices for the perennial championship contender. The tradition-rich race takes place March 13-16 and is the third of 24 races in the 2014 season.
As is the case with many drivers, the Gatornationals is a special event for Capps, who holds back-to-back victories in 2006 and 2007 at the historic facility.
"It's definitely what we consider one of our big three races," Capps said. "It's such a big race and one of those events where I never thought I would get a trophy. To finally win there and then win again was awesome. It's definitely one of the most fun places to win a race."
Antron Brown (Top Fuel), Johnny Gray (Funny Car), Allen Johnson (Pro Stock) and Hector Arana Jr (Pro Stock Motorcycle) were last year's winners of the NHRA Mello Yello Drag Racing Series event that will once again be televised on ESPN2.
A return to the winner's circle at Gainesville would provide the momentum shift Capps and his 8,000-horsepower NAPA Auto Parts Dodge Charger is looking for after a frustrating February.
Capps emerged uninjured after a spectacular engine explosion at the season-opening race in Pomona, Calif., a run that garnered a significant amount of national headlines. At the most recent event in Phoenix, Capps suffered a first-round loss to Bob Tasca, a far cry from the victory he celebrated at the same track in 2013.
But with his wealth of experience, Capps and his talented team, led by crew chief Rahn Tobler, isn't sweating the slow start. Capps remains encouraged by how hard the team has worked through the adversity of the first two races, and he knows a swift turnaround isn't far off.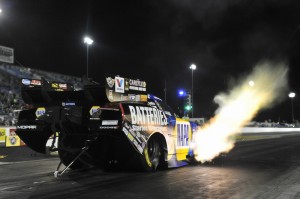 "Even within our team we know we have a car that can win and run the low E.T. in any round," Capps said. "So that's good in the sense that not a lot of drivers can be this comfortable and know your car can run well.
"I've learned a lot in my career of being around the more experienced owners and drivers that you just don't panic after a slow start. Maybe five or 10 years ago I might have panicked, but I've learned to keep chugging away and not panic. I have the great luxury of knowing we're going to see success pretty soon."
Tobler and Capps' team has also worked closely with Don Schumacher Racing teammate Tommy Johnson Jr. and his Make-A-Wish Funny Car early in the season. They have gathered valuable information as Johnson returned to full-time driving in the NHRA for the first time since 2008, posting three round wins in a solid start to his 2014 campaign.
Capps believes the payoff from that will come later in the year with the data the team has already gained, again making him a viable championship contender. Of course Capps continues to chase after that elusive first world title, with the primary target heading into Gainesville being 16-time Funny Car world champ John Force.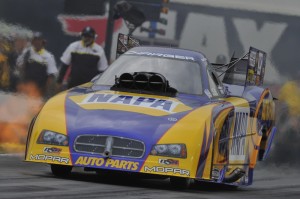 Force wrote another chapter in his legendary career by claiming the 2013 title and he is the early-season points leader in 2014 after winning in Pomona. Force is a seven-time Gatornationals winner, but Capps and a host of others, including daughter Courtney, Alexis DeJoria, who won in Phoenix to claim her first career victory, Matt Hagan and Robert Hight are other capable winners at the ultra-fast facility.
For Capps, staying composed at the legendary venue is something he always has to be aware of throughout the weekend.
"It's the first race that we have a lot of our NAPA people there and you always want to do well in front of them," he said. "You can try and say it's just another race, but nothing really prepares you for that drive to the track on Friday morning because you almost forget how big of an event it is.
"By the time you get to the gate your hair is standing up and it's like an automatic motivator. This is a big race and it's always special to win at a place like Gainesville."
(Photos courtesy NHRA/National Dragster; Click to enlarge)