Top Fuel's Justin Ashley closed out the final NHRA Arizona Nationals at Wild Horse Motorsports Park with a victory in a front of a sellout crowd, powering to a win over Shawn Langdon in the championship round on Sunday.
Robert Hight (Funny Car) and Camrie Caruso (Pro Stock) also won the second of 21 races during the 2023 NHRA Camping World Drag Racing Series season.
Ashley put together a run of 3.705-seconds at 329.34 mph in his 11,000-horsepower Phillips Connect Toyota dragster powered by National Debt Relief, driving past Langdon's 3.732 at 329.58. It gives Ashley his sixth career victory and first at Phoenix as the championship contender also defeated Tony Schumacher, Mike Salinas and Steve Torrence to reach the final round. Ashley was stellar on the starting line during eliminations, leaving first in the final round and holding on for the victory in front of another massive crowd in Phoenix.
"You're as only as good as the team you surround yourself with," Ashley said. "We're a resilient group and it was an incredible raceday. The fans were fantastic all weekend long, but I knew we had to go through a gauntlet of opponents. A win like this sets the tone for the year because it builds momentum and every point matters.
"We made a lot of changes to the car in the off-season and we've got a new set-up, but the guys have stayed with it. It was just a matter of being patient and it was an incredible weekend. The fans were amazing and it was absolutely packed."
Langdon drove to his first final round in 2023 and 38th in his career, defeating Antron Brown, No. 1 qualifier and Kalitta Motorsports teammate Doug Kalitta and Leah Pruett. He'll face Pruett in the Mission #2Fast2Tasty NHRA Challenge next weekend in Pomona, with Ashley racing Torrence.
In Funny Car, Hight, who finished 2022 with eight victories, picked up his 62nd career victory in his 11,000-horsepower Flav-R-Pac Chevrolet Camaro after going 3.930 at 328.62 to beat defending world champ Ron Capps. It gives Hight the points lead and his second straight Phoenix victory, putting on a show after struggling during eliminations. The multi-time world champ qualified just ninth but Hight and his team, led by crew chief Jimmy Prock, were brilliant on Sunday, making the quickest run of every round, including a 3.900 in the semifinals to beat Chad Green. He also picked up wins against teammate John Force and No. 1 qualifier Bob Tasca III, making another strong run in the final round to the huge crowd's delight.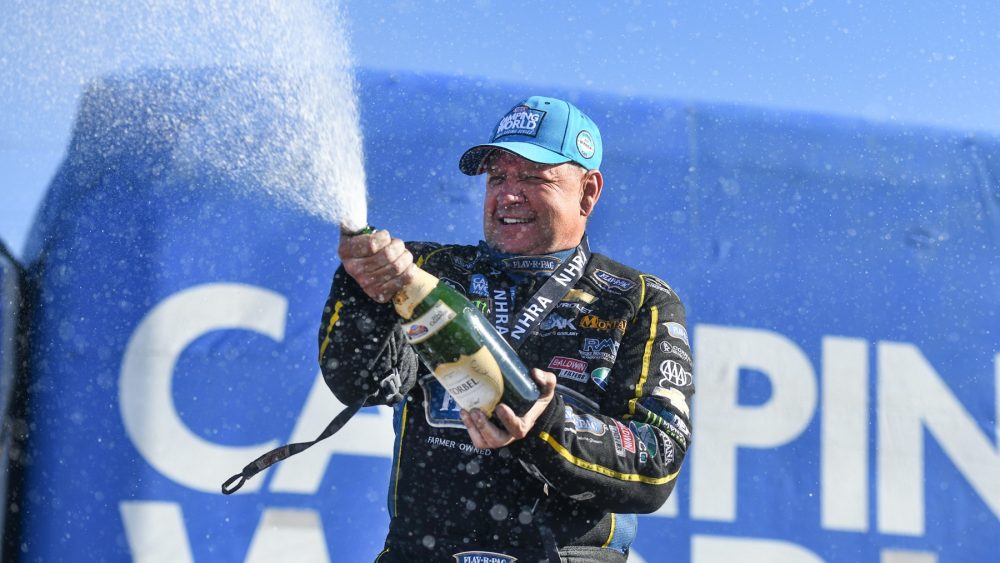 "We better get used to that because this whole Funny Car field is stacked from top to bottom, and to win one of these races, you're going to have to go through four hitters, and that's we did that today," Hight said. "It's a huge win. You can just tell when Jimmy is on to something, and he's got the confidence, and that gives me confidence.
"I just love coming here. The fans are great and to see this crowd we had for three days, that really pumps you up as a driver. They're back in the pits with you and that's just what makes NHRA drag racing so awesome."
Capps went to his 141st career final round thanks to round wins against Alex Laughlin, Blake Alexander and Alexis DeJoria. He'll race DeJoria in the Mission #2Fast2Tasty NHRA Challenge, with DeJoria winning the Challenge on Saturday in Phoenix. Hight will take on Green in a semifinal rematch as well.
Caruso enjoyed her own memorable day in Phoenix, picking up her first career victory with a run of 6.592 at 210.31 in her Powerbuilt Tools Camaro to slip past Bo Butner's 6.593, becoming just the second female to win in Pro Stock in NHRA history. The second-year driver impressed throughout eliminations, also giving the new KB Titan Racing team its first victory. She opened raceday by knocking off Deric Kramer, got past No. 1 qualifier Cristian Cuadra and then got past Matt Hartford on a holeshot. Caruso, who reached one final round a year ago en route to winning NHRA Rookie of the Year honors, was first off the line in the final round as well, securing a victory and a moment she won't forget.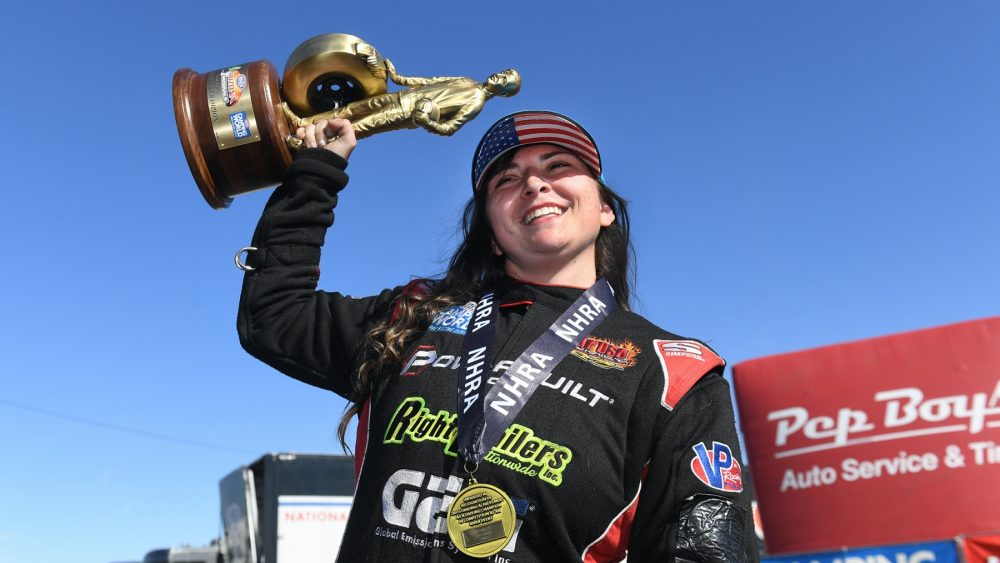 "It was so awesome to get the win," Caruso said. "I just went out there like it was another round and tried my best to do my job because I knew the guys were going to do their job. I'm just excited and thankful. I was really hoping we'd start the year off with a really good bang. There's just a whole bunch of people here that I couldn't have done it without, especially my team and our partners. This new team, working with them has really been great and I just wanted to hold up my end of the bargain."
Butner reached his first final round since 2020, which also took place in Phoenix, by defeating teammate and defending world champ Erica Enders, Fernando Cuadra Jr. and Kyle Koretsky. The next Mission #2Fast2Tasty NHRA Challenge in Pro Stock will feature Caruso taking on Hartford and Butner facing off with Koretsky.
The NHRA Camping World Drag Racing Series returns to action March 30-April 2 with the Lucas Oil Winternationals at In-N-Out Burger Pomona Dragstrip in Pomona, Calif.