Justin Ashley picked up the win in the Mission #2Fast2Tasty NHRA Challenge as part of the Lucas Oil NHRA Winternationals, also racing to the No. 1 qualifier position in Top Fuel to close out Saturday at In-N-Out Burger Pomona Dragstrip.
In the Mission #2Fast2Tasty NHRA Challenge, Chad Green (Funny Car) and Matt Hartford (Pro Stock) also picked up wins in the bonus event in Pomona. Cruz Pedregon (Funny Car) and Camrie Caruso (Pro Stock) qualified No. 1 at the third of 21 races during the 2023 NHRA Camping World Drag Racing Series season.
Ashley went 3.707-seconds at 330.15 mph in his 11,000-horsepower Phillips Connect Toyota dragster powered by National Debt Relief to beat Leah Pruett in the final round, earning the bonus purse and bonus points for the Countdown to the Championship playoffs. The run also gave Ashley, who won last weekend in Phoenix, his third career No. 1 qualifier and plenty of momentum heading into Sunday.
"This is probably the best Saturday I've ever had at the racetrack," said Ashley, who will race Krista Baldwin in the first round of eliminations on Sunday. "It's been pretty amazing and just a really positive step in the right direction. It's a new tune-up and a new combination, and my team has obviously done a great job learning and adapting and I thought you saw the results here in this last session."
Brittany Force finished No. 2 with a 3.712 at 328.86 and Pruett took third with a 3.725 at 331.04.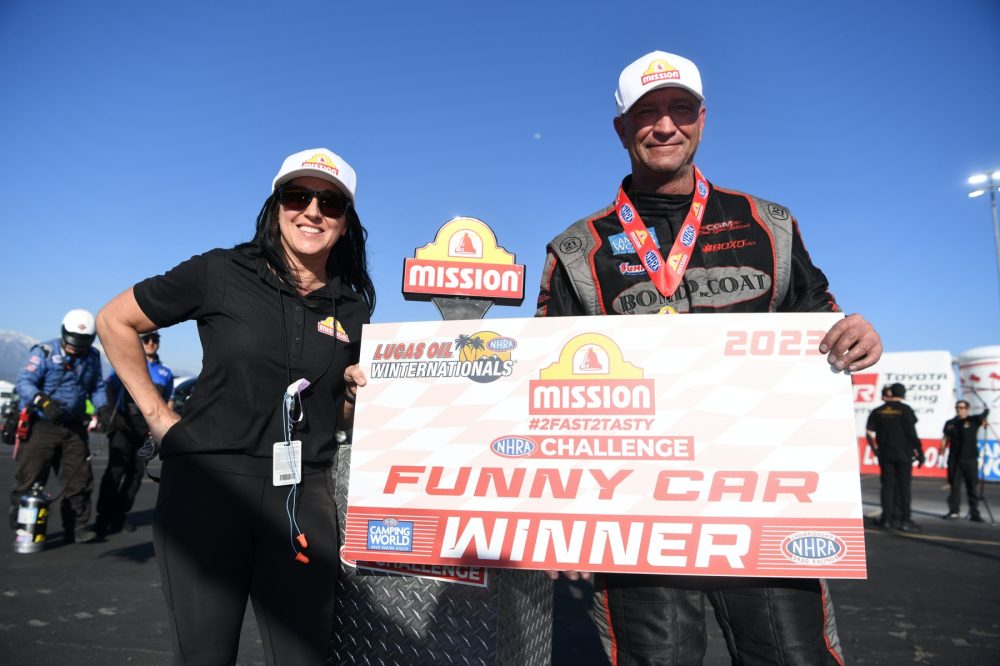 It was a memorable moment for Chad Green, who picked up the win in the Mission #2Fast2Tasty NHRA Challenge over Alexis DeJoria with a run of 3.974 at 316.08 in his 11,000-horsepower Bond-Coat Ford Mustang. Green knocked off Robert Hight, who finished third in qualifying, earlier and then got past DeJoria, who qualified second, with a strong run in the final round of the bonus event, enjoying the biggest moment in his young Funny Car career in the process.
"It's a really big moment for us," Green said. "It's our first win in Funny Cars as a team. [This season] is going a little better than I expected to start the season off, but we're not surprised. I mean, we've got a good car. We've got a good group of guys, and we're focused this year.
"It definitely proves we're for real and we do feel we can do some damage. We definitely don't have the car running as fast as we think we can get it running, but it's been really consistent."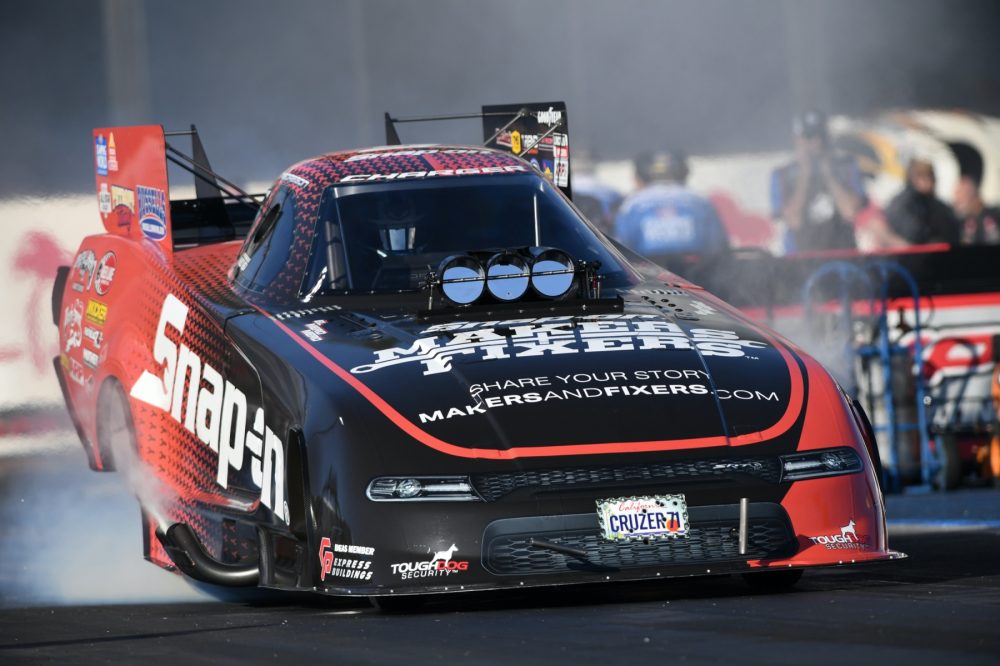 Pedregon's 3.865 at 302.28 from Friday in his 11,000-horsepower Snap-On Tools Dodge Charger Hellcat SRT kept the two-time champ at the top, giving him the top position for the first time this season and 63rd in his career. He'll open eliminations against John Force, looking to pick up his second straight win at In-N-Out Burger Pomona Dragstrip after closing out 2022 with a victory.
"I didn't think that .86 would hold up at all particularly last night because I shut the engine off and I questioned myself because thought, 'Man I probably could wring its neck out a little longer there.' I thought we left a little on the table there, but the weather warmed up just enough to keep the guys from getting there," Pedregon said.
Hartford enjoyed some redemption in the Pro Stock ranks, picking up a win in the Mission #2Fast2Tasty NHRA Challenge. He defeated Camrie Caruso, who beat him in the semifinals in Phoenix, and then Kyle Koretsky in the final round in his GETTRX Chevrolet Camaro, going 6.546 at 210.80 in the final round to earn the bonus points and bonus purse in the special race. Hartford also finished second in qualifying.
"I felt that we should have won in Phoenix if the driver had done his job and to come here and have a chance at some redemption, it's really run and NHRA and Mission did a phenomenal job of putting this together," Hartford said. "It was great, but all that being said, we've got a huge day ahead of us tomorrow."
Caruso did enjoy one highlight on Saturday in her Powerbuilt Tools Camaro, finishing as the No. 1 qualifier when her run of 6.518 at 211.79 from Friday held up. It gave the 2022 NHRA Rookie of the Year her second career No. 1 spot and plenty of excitement heading into eliminations, where she will meet Steve Graham in the opening round.
"I think we'll be just fine (on Sunday)," Caruso said. "My guys are really smart and they know what they're doing. I'm just going to continue to try and stay calm and not let anything rattle me. We're going to focus on trying to get win lights and see what we can put together on raceday."
Eliminations for the Lucas Oil NHRA Winternationals begin at 11 a.m. PT on Sunday at In-N-Out Burger Pomona Dragstrip.