Alex Laughlin, a Texas-based drag racer who's earned a reputation for his versatile driving skills, is finding his stride in the Funny Car category in the Camping World NHRA Drag Racing Series. He recently celebrated his first round win in the category this weekend at the Route 66 Nationals in Chicago, Illinois, behind the wheel of the legendary "Big Jim" Dunn's Funny Car.
Laughlin's victory came over veteran drag racer Matt Hagan, marking a significant milestone for Laughlin in his ongoing transition to the Funny Car discipline. This marked his first elimination round victory in his new class, a feat that underscores Laughlin's adaptability and determination.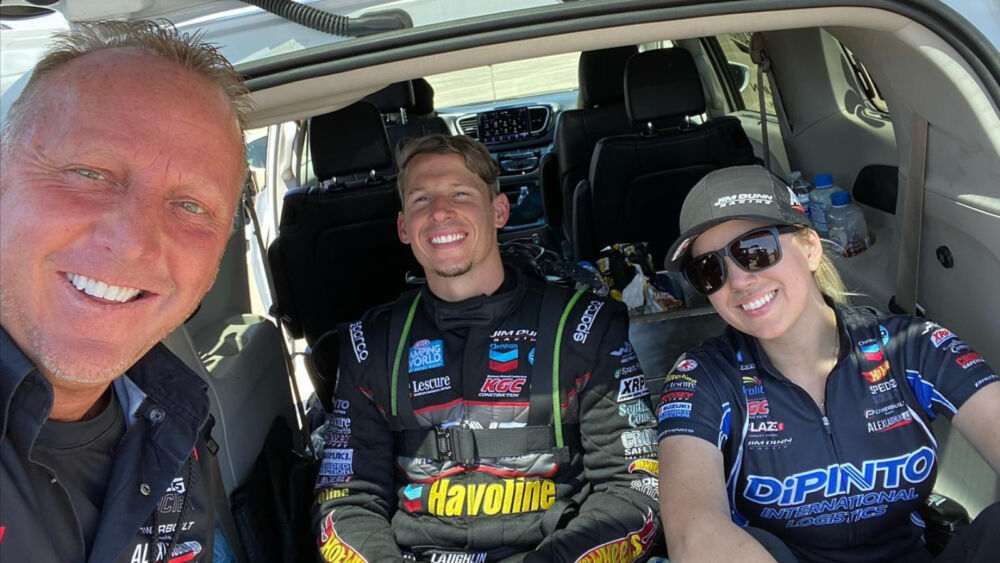 Hagan was off the line first and initially pulled away. However, Laughlin steadily closed the gap, passing Hagan around the 660-foot mark and securing the win. Despite a .089-second light, compared to Hagan's .065-second off the line, Laughlin posted up a surely impressive a 4.093, 304.87 mph effort that carried him to victory.
Following the milestone moment, Laughlin shared his always-optimistic perspective on his social media, expressing his satisfaction with the progress his team is making.
"Another good and progressional weekend in the books. It's been a journey as I continue to learn the new discipline of driving a Funny Car and every lap gets a little more comfortable," wrote Laughlin. "Locked in another round win, added some points back to the board, and leaving Chicago with our heads high, all smiles and looking forward to the next one in Epping, New Hampshire."
Laughlin's message highlights his appreciation for the crew's passion and the privilege of driving for one of the most legendary teams in the sport's history.
"I'm thankful for the passion and motivation of this crew, as well as the opportunity to drive the car of one of the most legendary teams in the history of the sport. Onward and upward. Let's go," Laughlin added.
Laughlin's latest achievement underscores his commitment to his new discipline and is a promising sign of what's to come in the rest of the season. His enthusiasm and dedication are sure to continue driving him forward in this thrilling journey.