It's been a year since Alex Laughlin stepped into a Top Fuel Dragster for the first time. He might not be experiencing the exact emotions as he was this time last year, but Laughlin is still full of excitement and determination as he comes up on his one-year anniversary.
"I feel so much better now," said Laughlin. "It is a balance of emotions between nerves and excitement. I'm not quite as tense as going into Denver as last year." Laughlin, who pilots the Havoline Top Fuel Dragster, made the jump in 2021 after sponsor commitments to race at the Mile High Nationals. He was set to drive an Elite Motorsports' Pro Mod, but after the team decided to pull out of the race and with Pro Stock not on the card, Laughlin was left without a ride.
"It's definitely not the same emotions," he continued. "I hadn't made enough runs, especially to feel comfortable [racing] in front of that many people." Laughlin was tired and worried this time last year. He could hardly eat or sleep leading up to the Mile High Nationals. "I had no choice but to hit the gas pedal and hold on."
Laughlin did just that. The 33-year-old held his own in the field, took what he learned from the weekend and pushed forward with making a career in Top Fuel.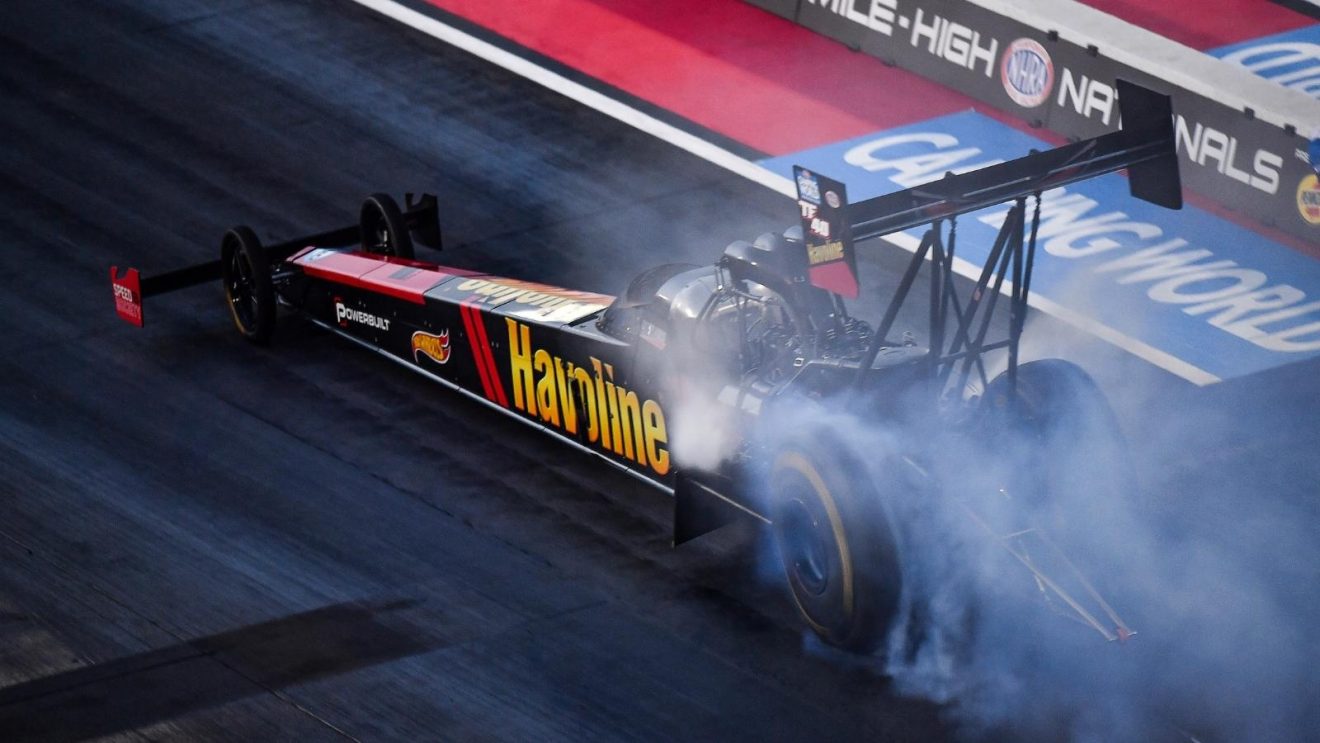 Now, the Texas native is looking forward to getting back into the car after an eight-week hiatus – something new for Laughlin. He's used to being on the road and following the NHRA Camping World Schedule. However, since Laughlin's surprising switch from fielding a Pro Stock car full time to a Top Fuel Dragster has changed his pace.
"This Top Fuel stuff is still so new it takes lots of runs to be able to slow it down and process it," Laughlin admits. "Just when I feel like I'm starting to get there, like toward the end of the 2021 season, but then having this time off again, it kinda feels like I'm starting fresh every time."
Laughlin has raced everything, except for a bike and a boat, he joked, but he finds the raw horsepower and magnitude of Top Fuel still to be incomparable.
Not only is Laughlin ready to get back into the cockpit, but he's also ready to get back to where it all started.
"Bandimere is one of my most favorite tracks. I've been going up there for a very, very long time. Not only for the national event but some other events going on up there drag racing-wise." As a matter of fact, the drag racer has been making trips down Bandimere Speedway's track for 15 years. "It's a beautiful place. It's so unique because of all the obvious reasons. It's on the side of the mountain, [plus] the altitude – it's a completely different animal. Denver will always be special to me just because that is where I made my first passes in Top Fuel."
The elevation at Bandimere Speedway is always a major storyline when the NHRA Camping World Series rolls into town. Laughlin said, "It's just totally different. Everything is its own animal for Denver." Laughlin's team, headed up by Scott Palmer, has been hard at work prepping for the trying conditions presented by the Mile-High Nationals. "Those guys have to do so much back at the shop to swap all of the engines over and get everything ready for Denver. Then have enough stuff in the works to swap everything back over for Sonoma and Seattle. It's a completely different setup, and every single component has to be changed."
The adrenaline seeker has set goals for himself now that he's had some time to settle into his new driving duties. When asked what those goals are, it's "going rounds more than anything." He's been able to get a couple of round wins since his debut in 2021. Laughlin acknowledged that it's tough to compete on the budget that he's been given. "We do run really well for what we've got. It is hard to keep up, so to be able to go some rounds is huge."
As far as Laughlin's season-long goals, he's ready to go all the way and race at the Finals in Pomona.
"Ultimately, what I would love more than anything is to be able to do well enough in these next three races and Indy (the U.S. Nationals) and be able to make it in the Countdown." He admits that he hasn't been paying much attention to the points because many variables are still at play. Currently, Laughlin sits 18th in the Top Fuel standings. "While I have sat many [races] out, there are a couple in the Countdown that I won't be making, so if I could sneak into the Top 10, then it would be cool to try and compete for a spot."
The Top Fuel pilot is thankful to have the support system of his family and his newly engaged fiancé, Cassie. "She's been able to come to pretty much every race, and that helps having her there," Laughlin said.
Laughlin wants people to know that driving a 330+ mph dragster is a job, and he takes it seriously. "A lot of people get the perception that it's just all for fun. It's a ton of work. It's a ton of commitment, and it definitely comes with a price." But Laughlin is quick to admit, "The good outweighs the bad."
"Havoline, Powerbuilt Tools, Hot Wheels, 360 Wraps and Speed Society – without all of those people, I wouldn't be able to do any of it," Laughlin confessed. "This is a very expensive sport to be involved in, and it's tough to get people to write the checks to even cover the expenses to get there. To be able to have the opportunity to be able to have these relationships is everything."