A lifelong drag racer, Wes Buck emerged on the drag racing landscape in 2005 as the General Manager of Eddyville Raceway Park – a budding 1/8th mile drag strip in Southeastern Iowa. Following a successful stint at the drag strip, Buck, along with partners Dave and Wyatt Haldin, launched the Drag Illustrated title in October of 2005. With a thoroughbred drag racing pedigree, extensive experience in business management, as well the required vision and work ethic, Wes Buck's goal since day-one has been to build and grow the sport of drag racing, and he is doing just that as the Editor-in-Chief of Drag Illustrated.
Drag Illustrated's Publisher, Scott Dorman, is a graduate of the University of Northern Iowa with a BA in Marketing. After working as a direct sales rep for HJ Heinz, Dorman worked in radio for several years and then started his own audio/video production company. With clients of all sizes, ranging from Wyeth pharmaceuticals and Norwest Bank to car dealerships and insurance agencies, he gained insight into marketing and advertising practices that get results at all levels, and with a wide range of budgets. Scott is also a popular musical performer in Nashville and has released several albums of original music.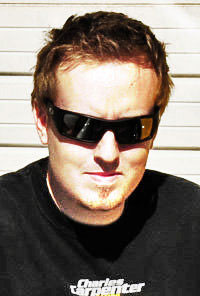 Though he has always had a passion and talent for visual media, Mike Carpenter hasn't ever let that interfere with his motorsports bloodlines. The son and crew chief of drag racing legend Charles Carpenter, Mike has fused his talent for graphic design with his passion for drag racing to become one of the preeminent young forces in motorsports media. A native of Charlotte, North Carolina, Carpenter has been immersed in the racing culture since birth. After obtaining a Bachelor of Fine Arts in Graphic Design from the University of North Carolina at Charlotte in 2006, he began his career with Drag Illustrated. Responsible for the design and production of the magazine, Carpenter has an inherent sense of the racing industry but has used his education and design philosophies to bring a clean, modern look to the pages of DI.
For as long as he can remember, Will Mandell spent every Memorial Day working in the yard with his father listening to the Indy 500 on the radio. A trip to Michigan International Speedway to see A.J. Foyt win both races of the Twin 200, coupled with a grandmother who lent him the money for a '68 Chevelle SS/396, has made Mandell a likely candidate to eventually wind up in the motorsports industry. Following a move from Toledo, Ohio, to Nashville, Tennessee, Mandell spent a majority of his adult life working in the music industry before removing himself from the rigors of regular touring. A longtime friend of DI Director of Sales, Scott Dorman, as well as the bass player for his band, Mandell was eventually introduced to Drag Illustrated and re-connect with his passion for motorsports. Leaning heavily on a love for cars and passion for people, Mandell has quickly made inroads to the racing industry selling advertising for DI.