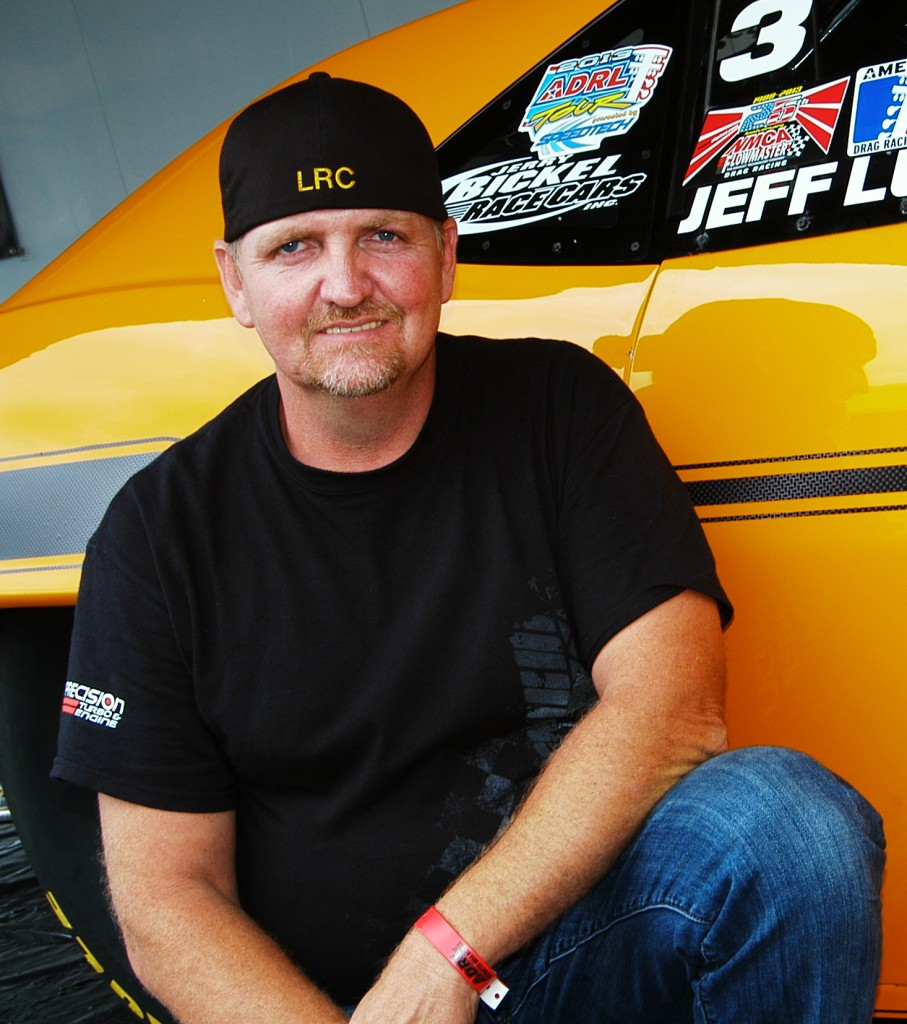 Jeff Lutz first unveiled his "Evil Twin" '57 Chevy at PRI in December, 2013. One thing was clear: he was looking to do big things with the car. At this year's Hot Rod Drag Week, he did just that.
Fully loaded, the new car weighs in at a scant 2,980 pounds with Lutz in the driver's seat. Under the hood is a 632 CI engine comprised of a Trick Flow block and Profiler heads, built by Domhoff Racing Engines. Twin Precision GEN1 Pro Mod 88 turbochargers supply the boost, and twenty four Precision injectors managed by a BigStuff3 system feed the dual methanol and gasoline fuel systems.
Lutz and his team at Lutz Race Cars built the "Evil Twin" chassis in-house specifically for the purpose of capturing the Hot Rod Drag Week win. Along for the ride are Mickey Thompson wheels, Strange Engineering Struts with Afco shocks, Jones Racing pulleys and belts, and a radiator and fuel tanks from Art's Radiator. Lastly, a Rossler Turbo 400 transmission was matched up with a ProTorque converter and Gear Vendors Under/Overdrive setup.
Outside, the bodywork is clean, classic, and definitely visually impactful. A stock appearing front end, as well as wheel tubs, from Unlimited Fiberglass and a wing kit from Racecraft Inc round out the car's immaculate appearance.
According to Lutz, the hardest part about Hot Rod Drag Week isn't necessarily the racing itself, it's making sure that the car stays running long enough to do it. Other than a good engine builder, the key, he says, is "making sure the thing runs cool and that the battery stays charged."
The week-long ultimate racing road trip has developed a cult following over the years. Diehard fans chase down cars and drivers to score an elusive souvenir signature or photo. Enjoying the craziness alongside his father, Jeff Lutz, Jr., also competed in this year's competition driving his old man's original '57 Chevy.
Despite the numerous distractions, Lutz was never derailed from achieving his main goal of winning the Unlimited Class. "When we showed up on Monday, our goal was to lay a big number down and have everyone chase us so they'd blow their sh-t up, and it worked out well!" says Lutz with a laugh.
While things went smoothly overall for Lutz and son, there were a few speed bumps along the way. Namely, a blown head gasket and busted radiator at Thunder Valley were two of the biggest troubles Lutz faced. Thankfully, Justin McDaniel and Shawn Ellington pitched in to get things sorted out. "Those guys saved my whole week! We got in the staging lanes with literally minutes to spare," he recalls of the insane pace at which the team worked to repair the "Evil Twin". Additional support from friends Scott Murry, Crazy Bob, Ben Ross, and Lutz's wonderful wife Christine allowed the '57 to remain in the competition.
On the track, Lutz battled to stay ahead of the other Drag Week competitors. During one of the midweek session burnouts, Lutz realized that the Chevy's tires were completely wiped out. He opted to turn down his tune and run his car more conservatively. Lutz needed a 7.01 to stay ahead of Doug Cline, and, pedaling the car, managed to squeak out a 7.003 ET critical pass.
"To finally pull out a win in such tough competition was really cool," says Lutz of what it was like to finally take home the coveted Unlimited Class title and the quickest average ET to date. After all of the results from the five races had been tallied, Lutz's average was 6.845 at 212.13 MPH.
Jeffrey, the younger Lutz, handled himself like a pro throughout the week. He finished fourth in the Unlimited Class, and even scored his first 200 MPH pass. The proud father isn't ashamed to admit that he had tears in his eyes as he watched his son race at Thunder Valley. "To me, he's still my young kid and I never gave him the credit he deserved. He's come such a long way," Lutz reflects.
Lutz plans to sell off the winning '57 "Evil Twin" Bel Air for the cool asking price of $200,000. Once the car is gone, he'll start work on his next bullet. Challengers, beware! Lutz warns that "when Larson's sitting in his Pro Mod S10 on the starting line next year, he just may look to his right and see another Pro Mod." Shots have been fired, and the next Hot Rod Drag Week will commence in just under a year.