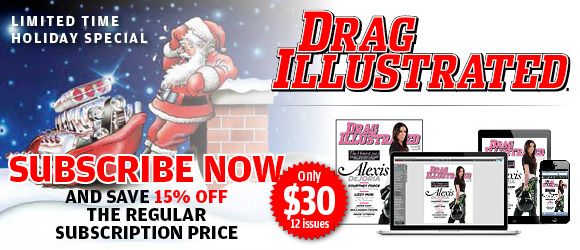 Happy Holidays!
For a limited time SUBSCRIBE NOW and receive Drag Illustrated for only $2.50 per month! Each issue of Drag Illustrated is filled with inspired, thought-provoking commentary, in-depth interviews, feature articles and award-winning photography – all in a signature mix of outlaw, grassroots, sportsman and professional brands of drag racing that will keep you fired up all through the cold season and beyond!
Your subscription includes:
Convenient monthly home delivery of the full-color, all-glossy, perfect-bound 148-plus page magazine
Unlimited access to online archives
Unlimited access to the digital edition on all devices
Click

below

to take advantage of special

LIMITED TIME
pricing only during the 2013 Holiday Season!
Offer expires December 26th, 2013!