Last year as a rookie Camrie Caruso raced professionally for the first time at Bristol Dragway, looking to put tough memories of her father's racing career at the famed facility in the past. As a third generation drag racer Caruso is following in her grandfather Papa Joe and father Marc's tire marks. During her father's last race at Bristol Dragway the Pro Mod driver suffered a broken back that put the brakes on his professional racing career. The elder Caruso is an active supporter at every race for his daughter, who will be campaigning the Tequila Comisario Chevrolet Camaro at the Thunder Valley Nationals.
"I really didn't have a great feeling about racing in Bristol last year because of my dad's accident," said Camrie Caruso. "I just tried to put those memories out of my head and try and make my own memories. We qualified pretty well and we went a couple rounds so that definitely has me more positive to return this year."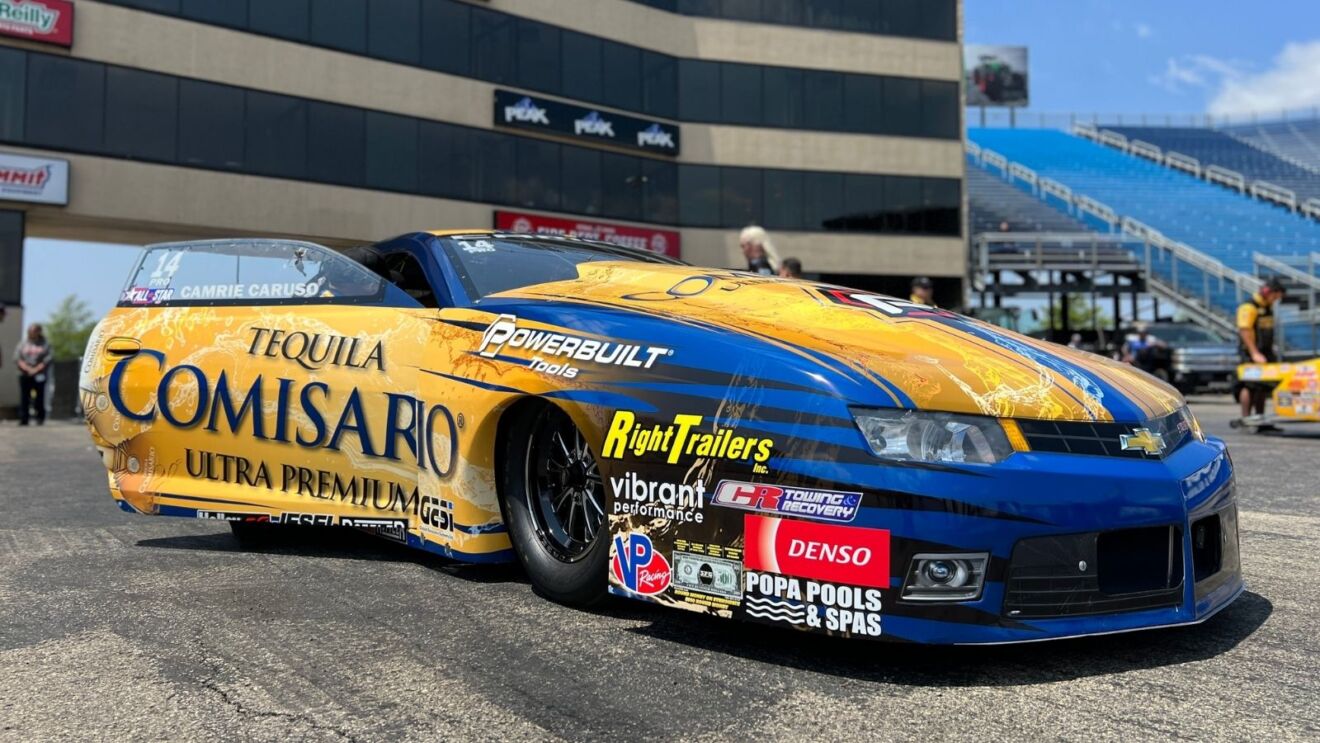 Last year Caruso qualified No. 2 and raced to the quarterfinals after defeating Chris McGaha in the first round before dropping the second round race to Dallas Glenn. Now Caruso and Glenn are teammates at KB Titan Racing and they have combined this season to win four Pro Stock races and the NHRA Pro Stock Allstar Callout. Caruso tallied one of those wins and the victory two weeks ago at Route 66 Raceway in the first Pro Stock Allstar race.
"We have a lot of momentum coming into Bristol this year with our Arizona Nationals win and then the big Allstar race win in Chicago," said Caruso. "I think that win in Chicago was huge because that was eight of the best Pro Stock drivers this season and this Tequila Comisario KB Titan Racing team came out on top. We had to beat three tough drivers to get the win and I could not be prouder of my team for giving me such a great racecar."
As the reigning Rookie of the Year Caruso as continues to develop as a driver securing her second career No. 1 qualifier at the NHRA Winternationals and competing in the Mission #2Fast2Tasty Challenge picking up a critical championship point for her effort. Caruso will be looking to race to at least the semifinals in Bristol to earn another spot in the race within a race at the Summit Racing Equipment Nationals in Norwalk following the Thunder Valley Nationals.
"Getting to race in the Mission #2Fast2Tasty Challenge is a big deal and I want to thank the NHRA and Mission Foods for putting that program together," said Caruso, who has been featured on marketing materials in both Chicago and Epping, New Hampshire. "It is great to have the chance to win extra money and championship points, but it is cool to see yourself in a Wal-Mart in Chicago or Epping. We took the display from the Wal-Mart in Epping to keep back at the shop. We did some social media posts about being in the Wal-Mart first."
For the second year pro the swing through many racetracks for the second time has allowed Caruso to relax and focus on driving and the competition. The move to KB Titan Racing has also allowed Caruso, who managed her independent team all last season, the chance to let go of some distracting responsibilities.
"My rookie year I had a lot on my plate and this year has been amazing with KB Titan Racing," said Caruso. "I have teammates to lean on and we have so many great crew guys and guys back at the shop. I wouldn't be here without everyone that supported our program last year but the KB Titan Racing operation is only going to get stronger as the season goes along. Dallas and I have gotten some wins and Deric Kramer won one of the four-wide nationals. I know Greg (Anderson), Kyle (Koretsky), Matt (Hartford) will be in the winner's circle soon."
Caruso, who is sitting No. 6 in the Pro Stock point standings, will get her first crack at Bristol Dragway with two qualifying runs on Friday followed by two more qualifying runs on Saturday. At the conclusion of qualifying on Saturday Caruso and the rest of the Camping World Drag Racing Series competitors will participate in free autograph session for the fans. The quickest 16 Pro Stock racers will battle it out on Sunday for the elusive Wally trophy. The race will be broadcast nationally on FS1.